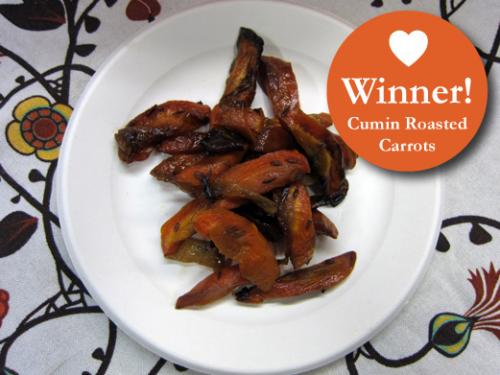 April Howard won many tastebuds over with her Cumin Roasted Carrot recipe - taking first place in the We ♥ Local Food Savory Carrot Recipe Competition on Saturday at the Burlington Winter Farmers' Market.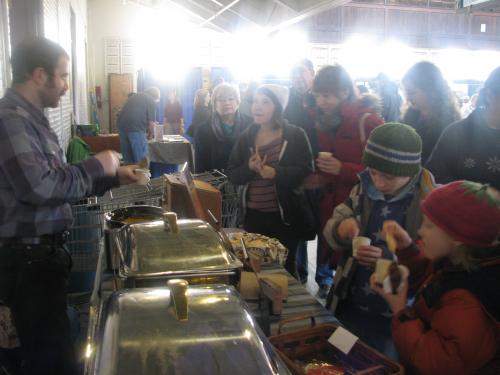 Look at all those happy carrot eaters!
April had some tasty competition: her carrots were up against: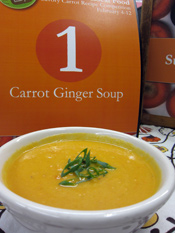 Carrot Ginger Soup
Recipe submitted by Sally Henkel
People loved this creamy soup that can be made with a local soymilk or a non-so-local coconut milk base.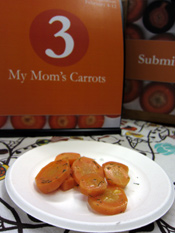 My Mom's Carrots
Recipe submitted by Theresa Lorenz
 By boiling the carrots in apple cider vinegar, these carrots are tangy and almost pickled, but still manage to be wonderfully comforting with butter and dill.
In the end, however, April's recipe won the hearts of the Farmers' Market tasters.
*** WINNING ENTRY ***
Cumin Roasted Carrots
Recipe submitted by April Howard
Botanically, cumin and carrots are in the same family and there is clearly something amazing in how their flavors blend in this straightforward dish.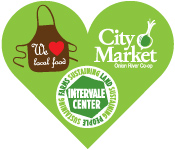 A wonderful branch of the recipe contest were the sales of hearts for a dollar for the Intervale Center. Last year we sold hearts to support the Intervale and were pleased to sell just over 500 hearts. This year, one dollar at a time, our cashiers asked each and every customer if they wanted to support the Intervale. In the end, $3,081 was raised.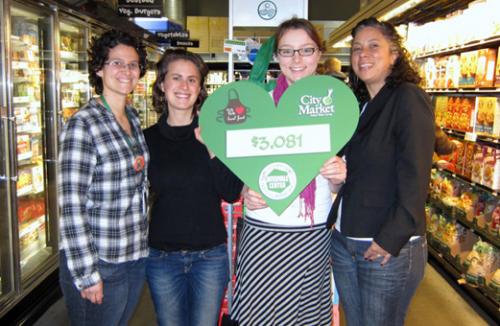 Cashier Liz Merwin holds the big heart for the Intervale. She alone sold over 500 hearts! 
It's so wonderful to live in a community that ♥'s local food as much as Burlington does!