Rally for Change
City Market has updated donations at the register starting October 1, 2014! Previously, we selected a different non-profit each month and donated 5 cents for each bag our customers reused (our "Change for Local Non-Profits" program). Every register also included tear off coupons so customers could donate to the Chittenden Emergency Food Shelf. In addition, each year in February we sold $1 Hearts for the Intervale Center and in September $1 Lunch Trays for Hunger Free Vermont, with all donations going to each respective organization. We've consolidated all of these programs into our new "Rally for Change" program which allows customers to "round up" their order at each register, each time they check-out at the Co-op.
Rally for Change
In the name of education, opportunity, and streamlining how we do things here at the Co-op, we created a Rally for Change program! This program allows customers to "round up" their payment at the register (e.g., a $25.42 checkout could be rounded up to $26 for a $0.58 donation). The Co-op will then donate this "round up" change to a variety of local non-profits each month (so, not just one!) that are doing amazing work in our community. Want to round up to the nearest five or ten dollars? You can do that too! Each month, we'll share who will be receiving the donations (in our newsletter, with store signage and through staff education).
With more than 4,000 transactions each day through our registers, we all have the opportunity to share what we think of as "small change" to rally for bigger community-wide change. This new Rally program will take the place of the "tear off" coupons we have at the registers and will also take the place of our Change for Local Non-Profits (or bag refunds) program.
Not to worry, a large percentage of each month's donation will go to the Chittenden Emergency Food Shelf and we anticipate that this program will actually increase their donations. Through this new program, we will also continue to offer donations to local non-profits that are on the waiting list for our previous "Change for Local Non-Profits" bag refund program (and any new ones that we add to the list!). Here's how the donation percentages will work out each month:
40% to the Chittenden Emergency Food Shelf, every month
50% to an organization that aligns with the Co-op's Global Ends
10% to a local non-profit that may not directly align so closely with our Global Ends, but still works to make our community a better place (much like the Change for Local Non-Profits Program)
This new program gives our cashiers and staff an opportunity to engage with our customers and together we'll both support and learn more about the organizations that make our community a better place to live. We're excited to give it a try and are interested to hear what you think!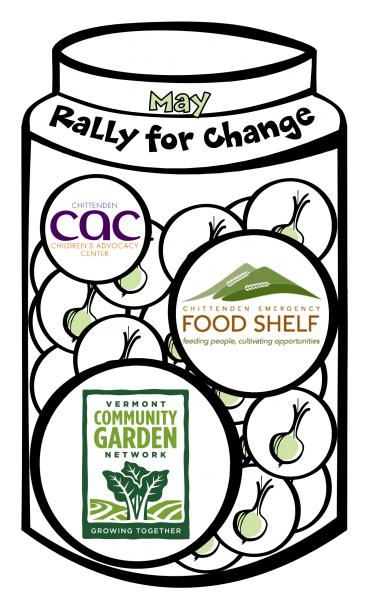 May's 50% Partner:
Vermont Community Garden Network (VCGN)
Vermont has nearly 400 community and school gardens that feed tens of thousands of people. The Vermont Community Garden Network (VCGN) is dedicated to the growth and success of these vibrant growing and learning spaces, which are located in towns, neighborhoods, at schools, housing sites, food shelves, senior centers, workplaces, and more. No other activity increases food security, gets people outside, builds healthy soils, and strengthens community spirit – all at the same time.
From its base in Burlington's Old North End, VCGN offers workshops, technical support, online resources, grants, and networking opportunities for the state's garden leaders and hands-on garden education for children, families, adults, and seniors. We delight in connecting people to their food – and to each other.
VCGN's hands-on garden education programs include the Community Teaching Gardens and partnership garden programs with the VNA Family Room and HANDS (Helping and Nurturing Diverse Seniors) in Burlington, and Gardens For Learning sites all over the state where children at risk of summertime hunger learn about gardening, nutrition and cooking.
May's 10% Partner:
Chittenden Children's Advocacy Center (CCAC)
The Chittenden Children's Advocacy Center (CCAC), a program of the National Children's Alliance, is a child focused, Chittenden County based program in which law enforcement, child protection, prosecution, mental health, medical, and victim advocacy work together to make team decisions about the investigation, treatment, management and prosecution of child abuse cases. This team approach helps give a more complete understanding of each case and allows us to respond in the most effective way to child victims and their families.
The primary goal of the Children's Advocacy Center is to ensure that children are not further traumatized by the intervention system designed to protect them.
This program has many benefits, with an approach that allows for faster follow-up to child abuse reports, more efficient medical and mental health referrals, fewer child interviews, more successful prosecutions, and consistent support for child victims and their families. The Children's Advocacy Center makes victim support and advocacy services available to all our clients, as well as specialized mental health services for children and non-offending family members.
Past Recipients
Do you run a local non-profit that aligns with our Global Ends?
Your organization can apply to become a Rally for Change 10% Partner. We are currently filling slots 2 years out (it's a popular program and our community has many amazing non-profits!). Visit our donations page to learn how to apply.