Rally for Change
Anytime you check-out at City Market, you can choose to "round up" your total to the nearest dollar. Each month, we support Feeding Chittenden and other organizations working to strengthen our community.

In May, you collectively donated $19,627.93!
$9,813.97 went to Co-op Seedling Grant
$7,851.17 went to Feeding Chittenden
$1,962.79 went to Vermont Adult Learning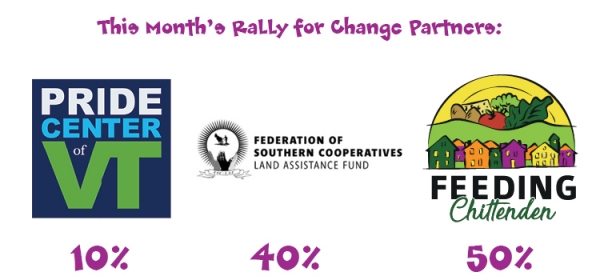 June's 50% Partner: 
Over the last year, Feeding Chittenden has pivoted from a congregate meal site to curbside pickup of pre-bagged and boxed groceries, as well as increased deliveries to older adults, people who have a disability, are sick or injured, or are unable to leave their home. Additionally, a hotline for emergency deliveries was created to get immediate hunger relief to households who could not visit our location and had nowhere else to turn for help.  
In response to the inquiry around expanding food access, Feeding Chittenden is evolving from a Food Shelf to a Food Access Center, with the intent to reduce barriers for vulnerable Vermonters in need of assistance, including New Americans, Veterans, people of color, people experiencing homelessness, and children.  Feeding Chittenden is helping to coordinate communities of practice around culturally responsive foods with the intent of introducing a more inclusive, human centered approach to food distribution.  Our order-ahead online system will allow community members to go to our website, select the foods that best meet their needs, and then schedule a time to pick up groceries at our location in the Old North End or have them delivered right to their door.  We are currently piloting this initiative with other programs within Champlain Valley Office of Economic Opportunity, our parent organization.
While our Food Shelf is our flagship program, we also operate the following programs and services:
- Grocery Delivery: helping older adults and people who stay at home due to limited mobility or fragile health access our services through deliveries of groceries and prepared meals
- Food Rescue: fighting food waste locally by working with local markets and farmers to save ~10,000 lbs of edible, nutritious food every month 
 - Hot Meal Program:  providing hot to-go meals each weekday morning
- Community Kitchen Academy: providing culinary job training and support to people who are un-employed through a partnership with the Vermont Foodbank
- Good Food Truck: serving meals, groceries and outreach services in collaboration with our CKA program
-Service Coordination: providing program referrals, case work and support to our guests who need additional services.
Learn more about Feedling Chittenden.
June's 40% Partner:
The Federation of Southern Cooperatives/Land Assistance Fund
The Federation of Southern Cooperatives is a non-profit cooperative association of black farmers, landowners, and cooperatives. We are organized by state associations with field offices serving a primary membership base in the Southern States. The majority of our farmers, landowners, cooperatives, and credit unions are in Georgia, Mississippi, Alabama, Florida, and Louisiana. Our Largest individual membership base is in South Carolina. Our largest co-op membership base is in the state of Mississippi.
Our mission is to be a catalyst for the development of self-supporting communities through cooperative development, land retention, and other initiatives that increase income and other opportunities.
For decades, The Federation of South ern Cooperatives/Land Assistance Fund has been working to reverse the trend of black farmer-owned land loss across the rural South through these areas:
The development of cooperative and credit unions as the means for people to own their futures by enhancing their financial capacity at home.
Saving, protecting and expanding the landholdings of black farmers and landowners throughout the South.
Supporting, developing and advocating for public policies and programs to benefit our members and the rural communities they serve.
Learn more: https://www.federation.coop/about_us
June's 10% Partner:
Pride Center of Vermont (PCVT) is the region's most comprehensive community center dedicated to advancing community and the health and safety of Lesbian, Gay, Bisexual, Transgender and Queer (LGBTQ+) Vermonters. PCVT was started in 1999 by a group of Vermont undergraduate students.
Originally named RU12? Community Center, the group worked from their kitchen table, where they answered phone calls and planned events for the LGBTQ+ community. The Pride Center was a completely volunteer run organization until 2002, when the first Executive Director was hired.
Today, we have seven core programs, a broad range of social groups, remarkably successful events, a proud history of fighting for some of the strongest and earliest LGBTQ rights in the country, and a Center space that draws LGBTQ Vermonters from across the state. The Pride Center's programs and services strive to meet the distinct socio-economic, health, and safety needs of our LGBTQ+ community.
Our drop-in resource center, community meeting spaces, 3,000-volume lending library, David Bohnett Cyber Center, and social events all help to build community and create increased access to information and resources for all our members. Community members are also able to access the Vermont Queer Archives, which preserve VT's unique LGBTQ+ history, at our South End (Burlington) location. 
Learn more at: https://www.pridecentervt.org/.
Past Recipients