Rally for Change
Anytime you check-out at City Market, you can choose to "round up" your total to the nearest dollar. Each month, we support Feeding Chittenden and other organizations working to strengthen our community.

In November, you collectively donated $16,134.37!
$8,067.18 went to the Co-op Seedling Grants Program
$6,453.75 went to Feeding Chittenden
$1,613.44 went to Salvation Farms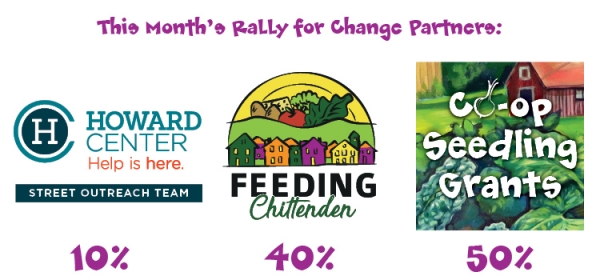 January's 50% Partner: 
When you choose to round up during the month of November, you are choosing to support local projects working to strengthen the food system through our Co-op Seedling Grants Program. Over the years, grant funding has been used to support the creation of farm to school programming at various locations, the construction of a fresh produce stand and mobile pantry trailer at the Chittenden Emergency Food Shelf, trail extension and kitchen construction at the Intervale Center, a job training program at Salvation Farms, and many other worthy projects. Thank you for rounding up this month and helping us support the work of the many incredible organizations in our community!
You can find more information about the Co-op Seedling Grant program on our website here: https://www.citymarket.coop/co-op-patronage-seedling-grants.
January's 40% Partner:
In 2018, CEFS embarked on a listening campaign to gather input on our future direction from our program participants, neighbors, volunteers, donors and other stakeholders. Through this campaign, we collected information on the changing needs of those we serve and our role in the broader community.
Feedback from these sessions focused on our role as a source of food, community and opportunity for those we serve.
We also heard over and over during these listening sessions that we were seen by both those we serve and those we work with as "more than a Food Shelf" and that the scope of our programs was not accurately reflected in our name.
The feedback we received through our listening sessions mirrored the experiences that we have had regularly with community members – including our guests, volunteers, supporters, etc. – who are nearly always surprised during their first visit to our organization when learning about our variety of programs, the volume of people who we serve every day and our mission of providing more than just food to people who are facing food insecurity and hunger.
While we operate the Chittenden Food Shelf as our cornerstone program, we also operate the following programs and services:
            - Good Food Truck: bringing meals, groceries and outreach services to local neighborhoods throughout Chittenden County
            - Homebound Grocery Delivery: helping older adults and people with disabilities who are homebound access our services through deliveries of groceries and prepared meals
            - Food Rescue: fighting food waste locally by working with local markets and farmers to save ~10,000 lbs of edible, nutritious food every month
            - Hot Meal Program:  operating 6 days a week and providing thousands of fresh, buffet-style meals each month
            - Community Kitchen Academy: providing culinary job training and support to people who are un-employed through a partnership with the Vermont Foodbank
            - Service Coordination: providing program referrals, case work and support to our guests who need additional services.
January's 10% Partner:
Howard Center Street Outreach Team
Howard Center's Street Outreach Team helps people living in and around Burlington overcome barriers and access the mental health and social services supports they need. The team helps by connecting people to crucial social, mental health, and health care services that individuals would be unlikely to access without assistance, or by providing the support directly when no other option exists. Street Outreach does this by providing high quality, street-based and mobile outreach services across all community settings. When people experience obstacles accessing the services they need, Street Outreach is there to help.
The team maintains a constant presence in the Church Street Marketplace and downtown, building trusting relationships with individuals and businesses who often seek out the team's support. When Burlington merchants meet someone in their store or on the street who needs services they often call Street Outreach who provides positive, compassionate support in a way that helps to reduce stigma and strengthen community. The team also enjoys many long-term relationships with people in the downtown community, providing regular contact to support people, monitor progress, and identify decline so help can be offered quickly.
Street Outreach complements the work of police when a call is more a social service need than a police issue. The team helps those experiencing concerning or disruptive behaviors that would otherwise require emergency services by responding quickly as a preventative measure to deescalate challenging situations involving citizens in distress. The team also joins police to assist with de-escalation, consultation, and referral or is sometimes contacted by an officer after a police call for follow-up services.
Founded in 2000, Street Outreach serves hundreds of people every year and its effectiveness has inspired several other cities across the county to create similar programs. Street Outreach is partially supported with local, state, and federal dollars. Local donations help to fill the remaining funding gaps. Thank you to City Market for their support and thank you for rounding up at the register this month to support the team!
Howard Center helps 16,000 people in over 60 locations throughout Vermont each year with mental health, substance use , and developmental services. Howard Center's 24/7/365 mobile crisis service, First Call for Chittenden County, is available to meet the needs of Chittenden County children, adults, and families in crisis at 802-488-7777. Howard Center is a funded agency of the United Way of Northwest Vermont. Help is here.
Past Recipients