Rally for Change
Anytime you check-out at City Market, you can choose to "round up" your total to the nearest dollar. At the end of the month, we donate 50% of those funds to Feeding Chittenden (previously Chittenden Emergency Food Shelf), 40% to an organization that aligns with our Global Ends, and 10% to a local non-profit.

In August, you collectively donated $19,208.34!
$9,604.17 for Feeding Chittenden
$7,683.34 for Vermont Fresh Network
$1,920.83 for SEABA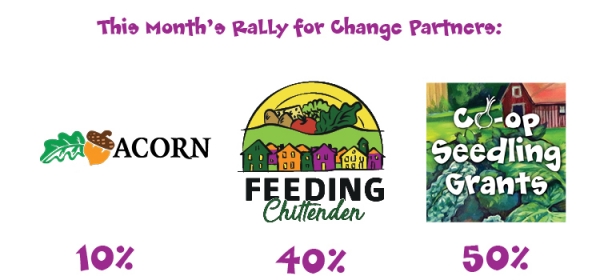 September's 50% Partner: 
When you choose to round up during the month of September, you are choosing to support local projects working to strengthen the food system through our Co-op Seedling Grants Program. Over the years, grant funding has been used to support the creation of farm to school programming at various locations, the construction of a fresh produce stand and mobile pantry trailer at the Chittenden Emergency Food Shelf, trail extension and kitchen construction at the Intervale Center, a job training program at Salvation Farms, and many other worthy projects. Thank you for rounding up this month and helping us support the work of the many incredible organizations in our community!
You can find more information about the Co-op Seedling Grant program on our website by clicking here.
September's 40% Partner:
In August, Feeding Chittenden received a total of $8,289.65 through July's Rally for Change register round-ups.
City Market's Rally for Change donation during the month of July helps to provide food to the large number of people we have coming to our doors and in need of deliveries. Feeding Chittenden is meeting the increase in demand through the creation of our Food Access Center, a new mode of food distribution that will stretch our services farther out in the community than we ever have before. As we look forward we anticipate our numbers to continue to climb as unemployment benefits begin to decline and the weather begins to cool down. We are preparing for all the unexpected turns during the coming months and would like to thank you and your team for continuing to support our mission. City Market's is an integral partner in Feeding Chittenden's response to COVID-19 and our efforts to expand our distribution.
See how we are feeding the homeless during COVID-19.
More about Feeding Chittenden:
In 2018, CEFS embarked on a listening campaign to gather input on our future direction from our program participants, neighbors, volunteers, donors and other stakeholders. Through this campaign, we collected information on the changing needs of those we serve and our role in the broader community. 
Feedback from these sessions focused on our role as a source of food, community and opportunity for those we serve. 
We also heard over and over during these listening sessions that we were seen by both those we serve and those we work with as "more than a Food Shelf" and that the scope of our programs was not accurately reflected in our name. 
The feedback we received through our listening sessions mirrored the experiences that we have had regularly with community members – including our guests, volunteers, supporters, etc. – who are nearly always surprised during their first visit to our organization when learning about our variety of programs, the volume of people who we serve every day and our mission of providing more than just food to people who are facing food insecurity and hunger. 
While we operate the Chittenden Food Shelf as our cornerstone program, we also operate the following programs and services:
            - Good Food Truck: bringing meals, groceries and outreach services to local neighborhoods throughout Chittenden County
            - Homebound Grocery Delivery: helping older adults and people with disabilities who are homebound access our services through deliveries of groceries and prepared meals
            - Food Rescue: fighting food waste locally by working with local markets and farmers to save ~10,000 lbs of edible, nutritious food every month 
            - Hot Meal Program:  operating 6 days a week and profviding thousands of fresh, buffet-style meals each month
            - Community Kitchen Academy: providing culinary job training and support to people who are un-employed through a partnership with the Vermont Foodbank
            - Service Coordination: providing program referrals, case work and support to our guests who need additional services. 
After working with FourNine Design to explore rebranding, we determined that the name "Feeding Chittenden" would better reflect the varied work and advocacy we undertake to help all members of our community who are facing food insecurity and hunger. 
"Feeding Chittenden" has long been our website URL – www.feedingchittenden.org – and has been our tag on our various social media channels. Our supporters in the community are already familiar with this name, and we hope that this will ease our transition.
September's 10% Partner:
Addison County Relocalization Network (ACORN)
ACORN (Addison County Relocalization Network), founded in 2005, is a small community non-profit whose mission is to promote the growth and health of local food and agriculture in Vermont's Champlain Valley by 1) providing marketing support to our farmers and food producers, by 2) educating our community about healthy food and agriculture, and by 3) improving access to healthy food for all members of our community. To keep operating costs low, we have a working Board with no full-time staff or office.
ACORN is running the second year of the Farmacy "Food is Medicine" Program, providing 65 patient families with a 12 week CSA share of locally grown produce to help alleviate food insecurity and diet-related illness including Type II diabetes and heart disease. We are partnering with the Vermont Department of Health, four local health care providers, and three local farms (New Leaf Organics, Firefly Fields and Lester Farm and Market).
As a result of COVID-19 and the cancellation of two of our legacy programs, the annual Tour de Farms bike ride and the print publication of the Champlain Valley Local Food and Farms Guide, ACORN lost two-thirds of its revenue. We responded by launching an experimental 5-week Online Farmers' Market in Bristol and Middlebury, which shuttered once farmers' markets re-opened. We also realized the need for an improved aggregation and distribution infrastructure for the digital space, which led us to collaborate with Middlebury College students on two digital projects.
The first project, a mobile-friendly app, will transition ACORN's annual Champlain Valley Local Food and Farm Guide, formerly a print publication, to the digital space. It will be an improvement on the current Google Map we created at the onset of COVID-19. This app will allow folks to search for local food and farm products by category, town or map, connecting farmers with eaters using just a few swipes of a phone or tablet. This is planned to launch by Fall 2020. 
The second project is a free, not-for-profit, online platform that connects food producers, wholesalers, retailers and restaurants from the Champlain Valley with community members and businesses by providing a centralized online ordering system with an embedded pick-up and delivery mechanism. This platform will strengthen connections within the local economy and decrease several of the barriers that separate consumers from locally-produced food. 
ACORN looks forward to forging more community partnerships and collaborations to continue to strengthen our region's local food and farm economy.
Past Recipients