All About the Beans
Submitted by
cnunziata
on Tue, 01/27/2015 - 13:04
In Vermont, we are fortunate enough to have some locally-produced staple foods such as eggs, cheese, yogurt, and bread available year-round, but as the cold months of winter progress, it becomes more and more challenging to eat locally. As the variety of local produce diminishes, we are left daydreaming of the return of the green landscape and the bounty that our dedicated farmers provide.
In the meantime, some local options remain, particularly the dried bulk variety. While the Produce Department is the rock star of local foods for most of the year, during the winter months the Bulk Department certainly deserves its own 15 minutes of fame. So, for right now in this blog post, it is all about the beans (sing along: all about the beans, 'bout the beans…). Beans may not be the first things to come to mind when pondering locally produced foods, but they certainly are worth the attention they are receiving in this writing, which I hope will inspire you to feature them on stage in your kitchen soon.
In late November, a beautiful variety of local organic heirloom beans hit the shelves; well the bulk bins, really. Located in Glover, Vermont Morningstar Farm is a certified organic farm run by Seth and Jeannette Johnson, which produces eight varieties of local organic beans for City Market's Bulk Department. Look for these varieties: black turtle, kidney, king of the early, Jacob's cattle, tiger's eye pinto, marfax, and yellow eye.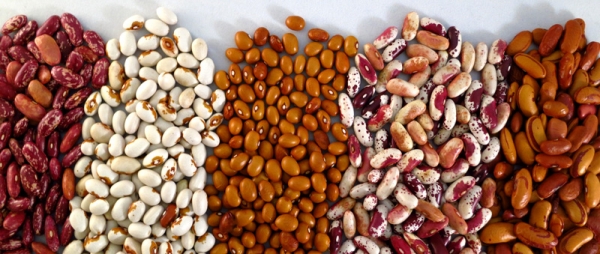 From Left to Right: King of the Early, Yellow Eye, Marfax, Jacob's Cattle, Tiger's Eye
Description of Varieties
Black Turtle- small black beans which are extremely versatile. Enjoy this variety in burritos, quesadillas, huevos rancheros, dip or soup.
Kidney- large reddish beans which are great for heartier dishes such as chili, beans and rice, stew, minestrone and stuffed squash or peppers. Kidney beans, and similar varieties such as king of the early, Jacob's cattle, and tiger's eye, are great if you want a firmer beans that will keep their shape and stand out in the dish
King of the Early– resemble kidney beans in taste and appearance but with white specks. Much of the color fades in the cooking and soaking process, but they remain multicolored. Use in similar dishes as kidney beans.
Jacobs Cattle – resemble kidney beans but these are multi colored ranging from light brown to light red in color. Much of the color fades in the cooking and soaking process, but they remain colored in cow-like speckled pattern. Use in similar dishes as kidney beans.
Tiger's Eye – very attractive golden brown beans with a darker brown outline. These beans resemble a kidney bean in shape and texture. Most of the color fades in the cooking and soaking process. Use as you would kidney beans.
Pinto - small brownish beans; most commonly used in refried beans. Also use in baked beans, dip or soup.
Marfax- appearance and taste similar to pinto beans; use in similar dishes.
Yellow Eye – similar in appearance to cannellini beans but with a golden eye shape in the center. These are a smaller variety of beans that are quite soft when cooked. Use in dips, soups and spreads.
New to cooking some of these varieties of beans? Well, you will find that the same general rules apply. Dried beans should be soaked in advance of cooking, and there are two methods of doing so. One method is to place the beans in a pot with 3 times the amount of water as beans and soak them overnight. Or, try the quick-hot soak method: start with the same proportion of beans to water and then bring the water to a boil; once boiling turn the heat off and soak the beans in the hot liquid for an hour and a half. In either the case the beans will now be ready to cook.
Once the beans are presoaked you will rinse them in three changes of cold water and again add three times the amount of water to the pot. Cooking time varies based on the type and size of the beans, but in general, expect to cook on a low boil for 1-2 hours, skimming any foam that develops on the surface off as the beans cook. Cooked beans yield 3 times the amount as the dried beans; so if you cook 2 cups of dried beans you will be left with 6 cups cooked. Because it takes a while to cook beans, I like to do so in large batches. I usually use 2 cups of cooked beans in a recipe immediately (see recipes below) and either freeze the surplus or incorporate them into other meals throughout the week.
Some people stray from beans due to the gassiness that beans get a bad rap for. Well this is avoidable! Gassiness is due to a coating of phytic acid on the beans, which is there to prevent the beans from being digested by animals who would otherwise replant the beans (spread the seeds). But we want to digest the beans and reap all of the nutritional benefits (discussed below). Luckily the soaking and rinsing of beans described above greatly reduces the phytic acid. I also rinse my cooked beans a final time in a few changes of cold water.
Speaking of nutritional benefits, beans are loaded with soluble fiber, carbohydrates and protein, while being low in fat. While they are not a complete protein, enjoying them with a grain will add the amino acids needed to correct this. Beans also contain iron, magnesium and zinc and folate.
With so many varieties of local beans available, why not try a different one each week? This will help to pass the time until spring, while providing locally produced delicious and nutritious meals for your family. Got a creative culinary knack? Enter our We ♥ Local Beans Recipe Contest for a chance to win a $100 gift card to City Market and Le Creuset Stoneware Bean Pot from Kiss the Cook. Bean appetite!
Recipes
Puerto Rican Red Beans and Rice
Adapted from Delicious Living Magazine
2 Tablespoons grapeseed oil
1 medium yellow onion, chopped
2 cloves garlic, minced
1 Anaheim pepper, chopped, seeds in
1 tomato, diced
1 teaspoon oregano
2 Tablespoons cilantro, chopped
2 cups of cooked beans (kidney, Jacob's cattle, tiger's eye, or king of the early)
¼ pound of butternut squash, peeled and seeded, cut into 2 x 2 cubes
1 8oz. can tomato sauce
1 cup water
3 cups cooked rice (short –grain brown or white)
Avocados slices and cortijo cheese (for garnish)
1. Heat one tablespoon of oil in a saucepan over medium-high heat. Add onion, garlic, peppers and tomato. Sauté until the mixture softens and begins to caramelize, about 20 minutes.
2. Reduce heat to medium and add the oregano, cilantro, beans and squash. Sauté for 2 minutes. Add tomato sauce and enough water to cover. Add salt and pepper, to taste. Simmer covered for 25 minutes.
3. In a large frying pan wok, heat the remaining tablespoon of oil. Add the bean mixture and rice and cook until the rice absorbs the liquid, about 5 minutes. Add cilantro.
4. Garnish with avocado and cortijo and serve.
Refried Beans
Adapted from Moosewood Cookbook
Makes 6 to 7 cups of baked beans.
2 cups of cooked pinto, black turtle or marfax beans
2 – 3 Tablespoons grapeseed oil
2 cups onion, minced
5 - 6 cloves of garlic, minced
2 Tablespoons cumin
1 Tablespoon chili powder
1 ½ teaspoon salt
Black pepper
1. Heat the oil in a large pan. Add onion, half the garlic, cumin chili powder and salt. Sauté over medium heat until the onions are soft, about ten minutes. Add remaining garlic and season with salt and pepper.
2. Turn the heat to low, add beans and mix well. Mash and continue to cook for a few more minutes. Serve hot or store in the refrigerator or freezer.
Maple Baked Beans
Recipe by Anne Lazor and adapted by Jeanette Johnshon. Published in the Burlington Free Press
2 ½ cups (about 1 pound) dry beans, such as yellow eye or Jacob's Cattle
1 onion, peeled and quartered
1 to 2 teaspoons mustard
1 teaspoon salt
½ cup maple syrup
Splash of tamari
2 to 3 tablespoons vegetable oil or butter
1. Soak beans overnight and drain. Put beans in a large cooking pot covered with ample fresh water and bring to a boil. Cook for about 30 to 45 minutes or until the skin of a bean pulls back when you blow on it.
2. Preheat oven to 325 degrees. Drain and transfer beans to a baking crock with the onion, mustard, salt, maple syrup, tamari and oil or butter. Add just enough fresh water to cover.
3. Cover and bake at 325 degrees for up to 3 hours until beans are cooked to your liking. (You might need to add a little water.)
Dominican-Style Slow Cooker Beans
Inspired by Jeanette Johnson's sister's mother-in-law, Maribel Contreras.Published in the Burlington Free Press
Makes 6 to 7 cups of beans.
2 ½ cups (about 1 pound) dry beans, any variety
1 tablespoon olive oil
1 medium onion, chopped
1 red or green bell pepper, diced
2 fat cloves garlic, minced
1 tablespoon dried oregano
1 teaspoon dried basil
Pinch cayenne pepper
1 cup plain tomato sauce
Salt to taste (at least a teaspoon)
1. Soak beans for at least 3 to 4 hours or overnight, drain and put into a slow cooker.
2. Heat oil in a large skillet set over medium-high heat and add onion and bell pepper. Cook, stirring occasionally, until vegetables are softened, about 7 minutes. Add garlic, oregano, basil and cayenne pepper and cook another 2 minutes, stirring. Scrape vegetable mixture into slow cooker and add tomato sauce plus water just to cover. Add salt and stir to combine.
3. Cover and cook on high for 5 to 6 hours or until beans are tender. Taste and add salt as needed. Mash beans gently, leaving some intact. Serve over rice with tortilla chips.
Multi Bean Salad
Adapted from Moosewood Cookbook
4 cups cooked beans soaked (such as a combination of Jacob's cattle, yellow eye, and black turtle)
6 Tablespoons olive oil
1 Tablespoon minced garlic
4 Tablespoons lemon juice
6 Tablespoons red wine vinegar
1 ½ teaspoon salt
Black pepper, to taste
¼ cup fresh parsley, chopped
2 medium stalks celery, finely chopped
1/3 cup red onion, finely chopped
1 small bell pepper, finely chopped
1 small cucumber, chopped
1. Combine oil, garlic, lemon juice, vinegar, salt and pepper in a large bowl.
2. Add beans and remaining ingredients and marinate for at least 2-3 hours. Serve cold.