Champlain Valley Creamery Cheese Tasting
Submitted by
sbhimani
on Tue, 11/11/2014 - 10:50
Last week, City Market staff members had the pleasure of attending a brief cheese tasting with Carleton Yoder of Champlain Valley Creamery.  Located in Middlebury, Champlain Valley Creamery has been making certified organic cheeses and cream cheese for the past 11 years.  The milk that Champlain Valley Creamery uses comes from Blissful Dairy in Bridport, VT.  Blissful Dairy is certified organic and also supplies Organic Valley with milk.
Carleton stated that he's always looking for ways to make different kinds of cheese than what is currently available from other Vermont cheesemakers, and he's always looking at how he can take "waste" (such as skim milk or whey) and turn them into products or give them a useful purpose.  To this end, he sells his whey (a byproduct) to Full Moon Farm in Hinesburg, VT, which is then used as pig feed.
Fun fact: the milk jug featured on the Champlain Valley Creamery cheese labels is an accurate portrayal of part of the cheesemaking process at Champlain Valley Creamery.  To move milk to processing tanks, Carleton lugs the milk in large milk jugs (more photos of the jugs are on their website).
City Market staff members tasted 5 Champlain Valley Creamery cheeses: Old Fashioned Cream Cheese, Organic Champlain Triple, Organic Queso Fresco, Pyramid Scheme, and Organic Queso Anejo.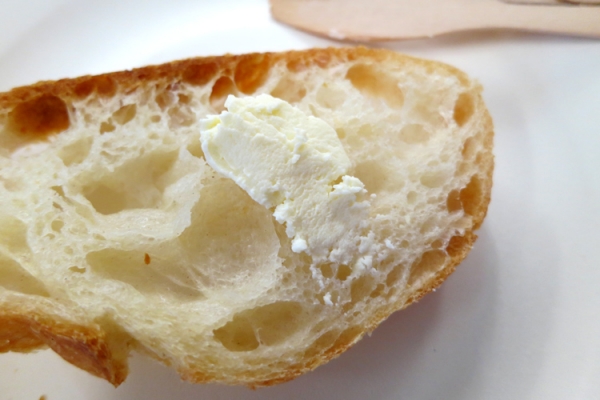 Champlain Valley Creamery Old Fashioned Cream Cheese
Champlain Valley Creamery first started their business by making their Old Fashioned Cream Cheese, which is a soft cream cheese because it's made without stabilizers or preservatives.  It's made with cultured fresh milk and cream and is satisfyingly spreadable and creamy.
The second product that Champlain Valley Creamery started making was their Organic Champlain Triple, which is a 2 week old cheese that is a soft-ripened triple cream with a bloomy white rind.  Along with the Cream Cheese, the Champlain Triple is Champlain Valley Creamery's flagship cheese. It's rich and creamy with an earthy rind and a slight mushroom flavor.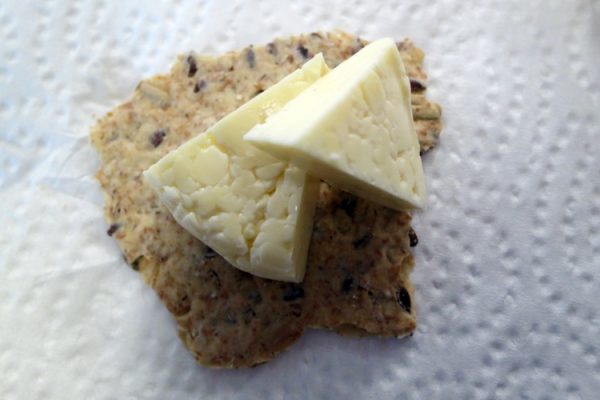 Champlain Valley Creamery Organic Queso Fresco
The third cheese Carleton started making was the Organic Queso Fresco.  Part of the reason Carleton started making this cheese was because it uses skim milk, which was one of Carleton's byproducts from making Cream Cheese and Champlain Triple.  This cheese is a traditional Mexican cheese, great for shredding, and the name "Queso Fresco" means "fresh cheese." It's soft and milky with a fresh milk flavor and an acidity that gives it a bit of zing.  Eating it as we did (cubed, not shredded) reminded us a bit of cheese curds – pleasingly squeaky!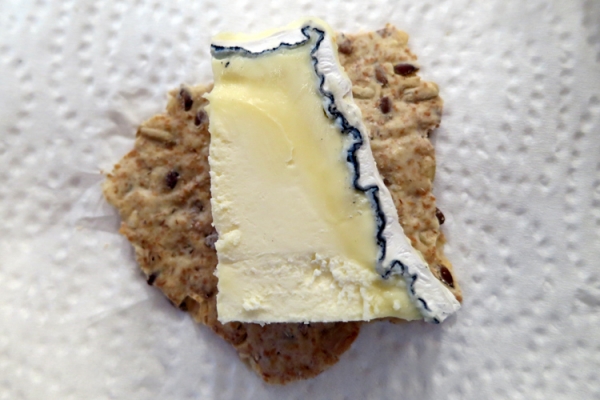 Champlain Valley Creamery Pyramid Scheme
The fourth cheese in the Champlain Valley Creamery line up is Pyramid Scheme.  Unlike Champlain Valley Creamery's other cheeses, this one is not certified organic, since activated charcoal is not allowed in organic products.  The activated charcoal in this product is found in the light dusting of ash between the paste and the rind.  The ash is used because it slightly raises the pH which then changes what bacteria and mold will grow on the cheese.  This cheese is triple cream, aged about 2 weeks, and is very creamy with a grassy undertone.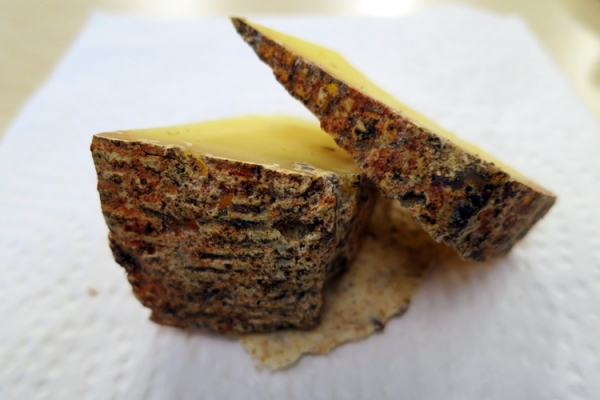 Champlain Valley Creamery Organic Queso Anejo
The fifth cheese we tasted, and Champlain Valley Creamery's newest cheese, is Organic Queso Anejo.  This is another Mexican-style cheese, but unlike Queso Fresco, Queso Anejo is aged about 4-7 months.  It's the driest cheese in the Champlain Valley Creamery line up, which makes it good for grating.  The unique aspect of this cheese is that it is dusted with paprika, which lends a reddish color between the paste and the rind.  The rind of this cheese is pretty gnarly, but entirely edible. Staff members really enjoyed this cheese, both for how different it is from other cheeses on the market, and for its rugged appearance, but approachable taste.
You can find Champlain Valley Creamery cheeses in our Cheese Case. Have a question about these cheeses? Ask one of our friendly Cheese Department staff members!