Blue Planet, Green Choices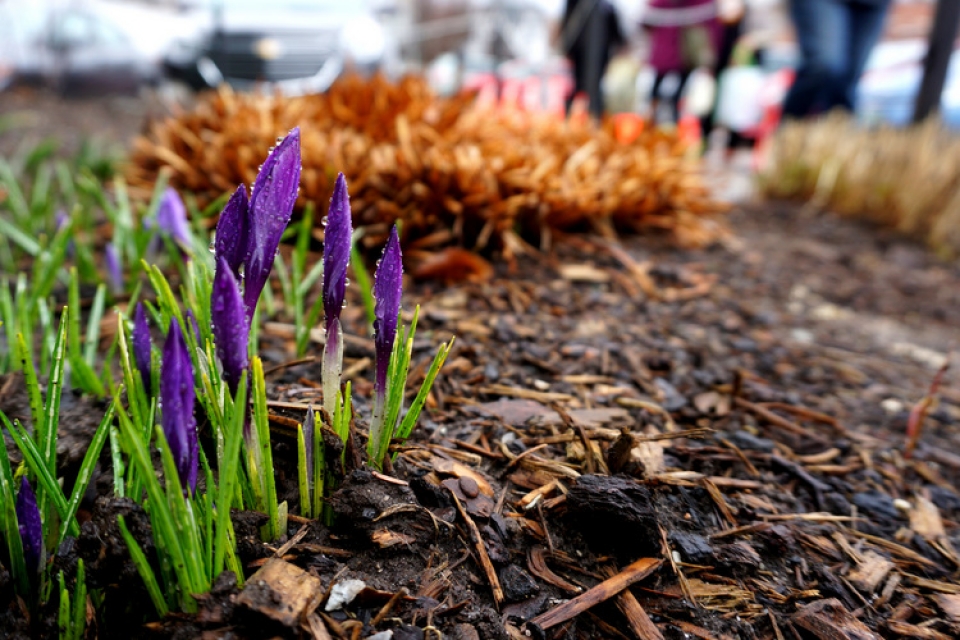 By John Tashiro, General Manager
Here at the Co-op, we are starting to get a little anxious for the arrival of some warmer weather. The spring season is certainly an exciting time as we anticipate the return of the vast variety of local produce and products from our farmers and producers!
The month of April holds a particularly special place in my heart with the celebrations of the globally recognized Earth Day on April 22nd. While the day may come and go for some, I try to celebrate its spirit every chance I have by recognizing how truly magnificent our planet is! Starting Monday, April 17, City Market will celebrate Earth Week with our partners Cabot Creamery Cooperative and Seventh Generation by offering free reusable bags to customers all week long (until supplies last, of course).
Known as the "blue planet" due to its abundance of water, Earth is an incredibly complex and vibrant ecosystem, where living organisms interact with each other and their environment to create the ideal conditions for life. Just warm enough and having lots of water, but not too much, the planet is indeed perfect, and actually in serious trouble. In a time when information is more accessible than ever, we now better understand the consequences of our actions and the impact they are having on our planet and our survival as a species. 
You have probably heard the phrases "global warming" and "climate change". Global warming refers to the recent and ongoing rise in global average temperature near Earth's surface. There is no question that our planet is warming with the average temperature having risen by 1.5°F over the past century. The average temperature is projected to rise another 0.5 to 8.6°F over the next one hundred years. It is caused mostly by increasing concentrations of greenhouse gases in the atmosphere. While this warming is causing potentially dangerous shifts in climate and weather patterns, global warming itself represents only one aspect of climate change.
Climate change refers to any significant change in the measures of climate lasting for an extended period of time. In other words, climate change includes major changes in temperature, precipitation, or wind patterns, among other effects, that occur over several decades or longer. Many places have seen changes in rainfall, resulting in more floods, droughts, or intense rain, as well as more frequent and severe heat waves. The planet's oceans and glaciers have also experienced some big changes – oceans are warming and becoming more acidic, ice caps are melting, and sea levels are rising. As these and other changes become more pronounced in the coming decades, they will likely present challenges to our society and our environment.
This year's Earth Day theme is environmental and climate literacy, recognizing that education is the foundation for progress. I am a firm believer that every action, whether big or small, can make a difference and that lots of actions end up becoming something pretty significant. If you are wondering what actions you might consider for Earth Day and Earth Week, here is a link that may prompt some ideas http://www.earthday.org/take-action/.
Speaking of action, we are continuing to make amazing progress with our construction in the South End. The structural steel is now complete and you can really start to see the outline of the store. Here are a few examples of how we're minimizing our impact on the planet during this project:
Overall Construction and Design
·Use healthy building products that are durable, sustainable, and reduce concerns for indoor air quality. This extends from specifications of paints and finishes, to use of polished concrete and wood ceilings in public areas and minimized use of finishes that can trap pollutants such as carpet.
·Our waste and storm water plan was designed to eliminate the water run-off that was moving through a contaminated site and draining directly to the brook and subsequently into the lake untreated. Now it will flow south thru our wastewater system and into the City's system that will deliver clean water to the lake.
Refrigeration
·The system will be a transcritical CO2 system which is not only more energy efficient, but it also uses a gas that has a very low GWP (global warming potential).
·Enclosed refrigeration units on the retail floor that will increase our energy efficiency.
·We will reclaim heat from the refrigeration process to warm water before it reaches our boiler, capturing otherwise wasted heat energy.
Lighting
·Office spaces will be outfitted with LED lighting and a motion sensor control system.
·The retail space will include Solartube skylights and large windows, taking advantage of natural daylight.
We're still on schedule for a late fall 2017 opening and will keep you posted with our exciting progress. You can always find up-to-date information on our website at www.citymarket.coop/southend.
Remember that April 21 through April 30 is Vermont Restaurant Week and we're once again a proud premier sponsor. We're biased, but our favorite event of this week long extravaganza is our partnership on The Dish. This year we'll have a lively discussion on the benefits and pitfalls of restoring grain production to the northeast. Join us all week long and Wednesday, April 26 at ArtsRiot for The Dish: Going with the Grain!
As always, thank you all for all of your continued support! We look forward to seeing you at the Co-op under sunny spring skies.