Milton Town School District: Feed the People Project
2015 Co-op Patronage Seedling Grants
Milton Town School District: Feed the People Project - Initial Grant Award: $8,278 (actual check: $11,068.63)
Milton Town School District (MTSD) will be using the grant funding to "bring the farm to the school" by building a hoop house at the high school to grow produce for the district's cafeterias. The school district lost its largest local produce supplier this past school year, and since then, they've struggled to supplement not only the beautiful food but also the direct farm-to-school connection they had made with the farmers.
MTSD will be partnering with the mentoring program at Milton Family Youth Coalition to utilize their pairs for maintenance and harvesting over the summer, and the Milton Family Center with their early education programs and community food shelf. School foodservice will purchase the produce directly from the biology department, and then prepare and serve the produce across the district, to over 2,000 staff and students. The funds from these sales will pay for the utility and maintenance costs to efficiently sustain the program. Students will graduate with an understanding of where their food comes from, and an appreciation for all the work that goes into it. They will that environmental awareness to make educated decisions as informed community members.
---
2016 Update!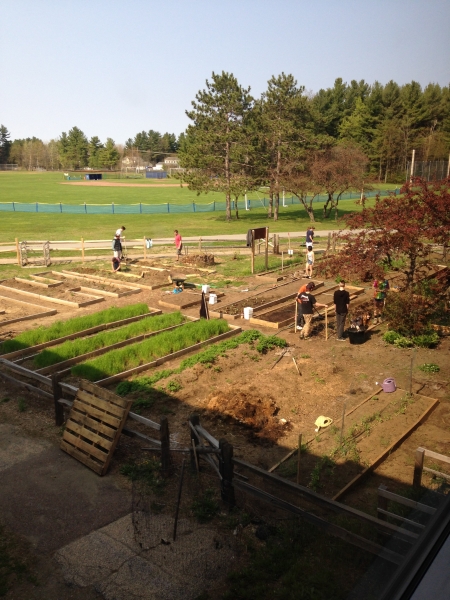 Although the Milton Town School District is currently still working with the town of Milton to get the permitting process going, they have taken some positive strides and are preparing themselves for when the time arrives. The Miton Town School District has expanded the size of their old garden, created educational sings, built fences around the garden and added raised beds for the Milton High School. Students also designed and created a map for the cafeteria that displays where their local purchases come from throughout the state of Vermont.