September & October South End Member Artist: Kara Torres (Fine Forager)
Submitted by
aluedersdumont
on Mon, 09/02/2019 - 12:37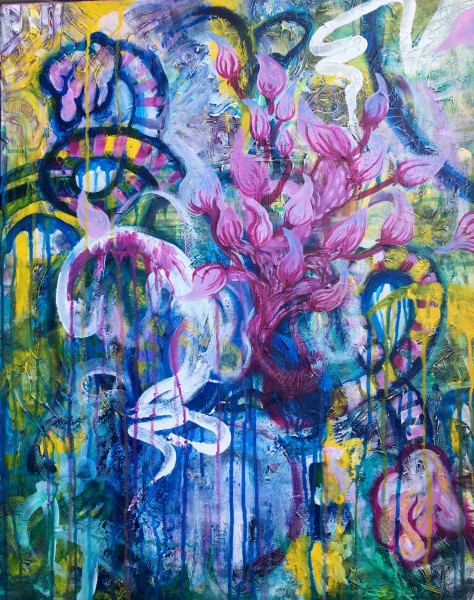 My intuitive painting practice is heavily reflective of my childhood growing up in rural Vermont. I began painting as a way of processing my anxiety and working through the negative messages I received about my gender and sexuality.
Generally, I start a painting with no plan for what I'd like to create. I choose a few colors that I like, focus on a specific memory, and start mapping out a visual representation of it. I often listen to music and harness the sounds within the texture and composition of the painting, varying brush strokes and sometimes even carving into the paint or painting directly on canvas with the tube of paint. As I paint, I find recognizable forms emerging, often highly-recognizable emblems of childhood and femininity, such as teeth, bows, and flowers; however, my work subverts assumptions of gender by presenting these symbols in a context that expresses passion and self-determination, defying the objectification of female humans. 
Kara Torres, a.k.a. Fine Forager, has been active in the Burlington art scene for the past four years. They were honored with a 6-month residency at New City Galerie during the 2016/17 winter and received first place in the Art's Alive Festival of Fine Arts in 2018. Kara just installed their second solo show, "Myopia," at the Gallery at Main Street Landing. The artist works primarily in acrylic paint on large-scale canvases, addressing topics relating to gender, sexuality, and childhood.
To contact Kara about a piece, email Karamtorres@gmail.com
Instagram: @fine_forager