April & May Downtown Member Artist: Marcel Etienne
Submitted by
aluedersdumont
on Thu, 04/01/2021 - 09:57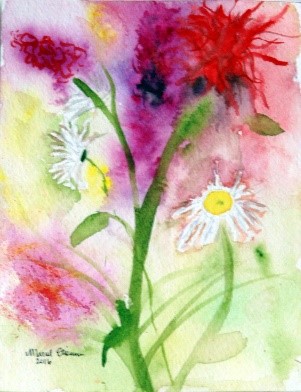 When I paint I submerge myself in color. I look at a blank canvas and think of the possibilities of what I can do: how much white, how much color, how far to stretch realism into abstraction. Sometimes I may start with a sketch, other times I just start slapping on colors and see where it goes. My paintings are visceral, not intellectual: I want the viewer to feel subliminal pleasure from an explosion of colors.
I get my inspiration from the natural colors in nature, and am particularly drawn to the beauty of flowers. Flower shapes don't have to be perfect because a flower is not perfect. I don't overthink the process. I let my inner child come through, giving my artwork a gentle and pleasant simplicity.
Sometimes the artwork that comes out the best are the ones that are done most intuitively, freely and without much thought. Not having too much pressure can loosen my imagination, opening up a world of fantasy. 
Why paint a scene with traditional colors when you can make foliage purple, with splashes of orange in it? The shape will make the viewer know what it is even without the traditional colors. This is something I aim for in lots of my pieces. A non-distinct beak and some loose feathers fading in the background with splashes of complementary colors colliding within each other will make the viewer think it's some kind of bird, but the abstract shapes in the background can be a city in the background—or is it depicting the movement of the flowing bluebird?
When I have finished a painting, I will often set it on the windowsill and look at it several times to make sure it's done. A true original piece of art cannot be called done when the artist is simply finished the project.
Marcel Etienne is a UVM graduate with a B.A. in Studio arts where he studied all mediums of part, but was specifically interested in painting, drawing and digital art. Before living in Vermont he was living in Paris, France for six years. Marcel Enjoys painting Vermont landscapes, animals, botanicals, and experimenting with color. Watercolor is his preferred medium, and he is admired for his beautiful use of colors and shapes that form when he paints. Custom paintings are available upon consultation.
To learn more or inquire about a piece contact:
Website - www.MarcelEtienne.com