Leah Soderquist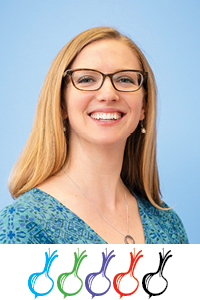 Why would you like to serve on the City Market Board? What excites you about becoming a Board Member?
I am excited to use my professional skillset engaging community to advocate for access to healthy food for all. I strive to be a thoughtful and committed member of our community and will carry this intention into my service as a Board Member. My professional experience serving one of Vermont's most vulnerable populations, seniors, will help me work to bring a lens of equity and inclusion for all. 
City Market's impact as a community-owned enterprise inspires me to think differently about local and national advocacy and inspires me to deepen my interest in cooperative principles as a framework for guiding leadership and democratic decision-making. As a board member, I will be excited to dedicate my time, talent and passion to balance business needs with our community's shared vision and City Market's global ends.
Please describe any professional skills you have that will help you to be an effective Board Member. How would you help the Board to balance the business needs of a $50 million business with the need to meet our Global Ends as a community-owned cooperative?
As a Community Impact Manager at United Way of Northwest Vermont, I have the pleasure of working with nonprofits, government agencies, businesses and dedicated volunteers on the most complex issues facing our region. I develop tools to advance the inclusion of seniors and adults with disabilities in community planning and service design and believe that to be a healthy and thriving community, we need to welcome all into the process. Prior, I worked at 1% for the Planet, a global environmental nonprofit that cultivates business philanthropy to environmental causes. During this time, my skillset was focused on fundraising initiatives to advance organizational growth and the development of philanthropy partnership between businesses and nonprofits to work together to achieve a shared vision for a healthier environment. 
City Market sits at the intersection of business and nonprofit, the individual co-op member and our community at large. My professional experience has taught me that community is most diverse in thought, innovative in solutions, and collaborative in its vision for change at this intersection. As a City Market Board Member, I will apply the professional skills I have learned to amplify City Market's business strength in fueling our ability to meet our Global Ends.
Describe your prior involvement with community organizations and/or cooperatives. What did you learn from these experiences?
I have witnessed the power of food in bringing people together to provide a platform for healing. Vermont's progressive thinking around food, nutrition, and agriculture has embraced food culture as a keystone for a healthy community. As a serial potluck attendee and frequent dinner party host, I feel a sense of responsibility to ensure that all our community members have an opportunity to be nourished by this keystone. Through experiences volunteering at the Interval Center, sharing meals with the residents of Burlington Dismas House or cooking dinner for Outright Vermont's youth group, I have found a meaningful way to support community need and share my passion for food and the fellowship that it brings.
What opportunities and challenges do you see in the future of City Market?
No matter what the opportunity or challenge may be, it will be imperative for City Market to seek out business opportunities and community investments that reflect our unique local community and Vermont's agricultural landscape. 
Locally, I see Vermont's rural landscape and our aging population as an opportunity for discovering new and different ways to reach potential consumers. City Market has the opportunity to embrace the growth of technology and e-commerce for food delivery to better serve our aging population, many of whom do not drive. Globally, our food system is threatened by our inaction on climate change. Vermont's agricultural landscape needs system-wide investments to build resiliency in our food production that supports healthy farmers, farms and the working landscape. 
I believe it is City Market's responsibility to take bold steps on local and global issues that advance food equity as neighbors struggle to put food on the table, build resiliency in our food system and to advocate on behalf of progressive social and environmental issues to ensure a healthy and safe community for all.
Click
here
to view Leah's resume!