June Health Genie: Treating Muscle Soreness
Note: These articles are not meant as a substitute for proper medical advice. Please consult with your medical practitioner before using any type of remedy, herbal or otherwise.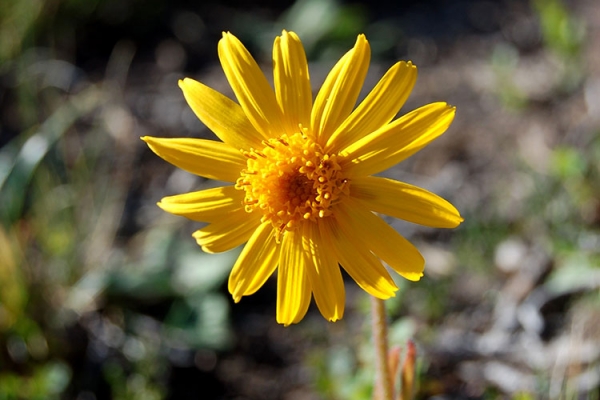 Dear Health Genie,
I ran the Vermont City Marathon over Memorial Day Weekend, and my muscles took awhile to recover. In the future, what can I do to help them recover more quickly?
Thanks,
Runner Rita
Dear Runner Rita,
With the longer and warmer days, it is hard not to overindulge in spring's physical activities.  However, jumping right back into those summer activities after a slower, less active winter can result in injury or muscle soreness.  At City Market, we get numerous customers coming in this time of year with muscle and joint complaints, but don't let those aches and pains stop you! We encourage your summer-filled activities and are here to help you cope with any soreness you may experience. Here are some suggestions for your post-fun recovery:
The Basics:
Post activity stretch: Although there is some debate, stretching after a workout can help reduce day-after muscle soreness and stiffness.  If you are not up for a stretch, some sort of cool down activity will help, even if it is just a short walk.  This will help loosen your muscles and keep your circulation moving.  Since the blood carries nutrients, keeping good circulation in recently worked muscles will ensure proper nutrient availability to aid in the recovery and repair process.
 
Make sure you eat a good meal both before (but no earlier than 2 hours prior to your workout) and after you work out so your body can utilize the energy and nutrient availability in your recovery process.  A stronger appetite is normal after a lot of physical activity for this very reason - the body craves that extra nutrition and energy. 
 
Sleep is another way to encourage the body's healing process. After a long hike or the first paddle trip of the season, you will probably notice that the next night or two you need more sleep than usual.  The body uses this resting time for deep muscle repair. 
 
Drink more water. Listen to your thirst, as drinking water before, during, or after your workout will help keep your body hydrated and aid in bringing nutrients to your muscles.
The Herbs/Recovery Aids:
Herbal Arnica Montana:  Arnica is a mountain daisy that has been used for centuries to naturally relieve pain.  Arnica can be used both topically and internally and is available in both herbal and homeopathic forms. Applied as an herbal cream or gel, Arnica promotes wound healing, is anti-inflammatory, and reduces swelling.  Wild Hill Soap and Herbals, a local company in Chelsea, VT, makes an Arnica muscle relief rub with olive oil that is infused with Arnica (along with other herbs like St. John's Wort, Chamomile, Comfrey, and Calendula). Another company from Washington, Moon Valley Organics, makes an Arnica, Cayenne, Ginger, Lobelia product.  Both would be great for massaging the muscles following a period of intense exercise and for the following days of soreness.  In addition, this form of herbal topical Arnica can also be massaged over sprains, strains, and arthritic joints.  Adding a hot pack after the massaging will allow for deeper penetration of the oils.
 
If you enjoy the "heat" sensation, there are also products with the analgesics (or painkillers) Cayenne, Camphor, and Menthol, which will first bring a cool and then hot sensation.  The most well-known natural icy/hot is Tiger Balm.  Tiger Balm has both Camphor and Menthol in an oil base.  Another popular and strong analgesic is Elemental Herbs' herbal cool.  In addition to Menthol, it contains Arnica, Balsam and Saint John's Wort oil.  And for those who aren't fans of the Menthol smell or its heating quality, there is Badger Balm's Sore Muscle Rub.  It doesn't heat up like the others, but the Cayenne has a subtle undertone of warmth and it won't smell as strongly as the other two.
 
Homeopathic Arnica: This is the more commonly used form of Arnica.  Many chiropractors, physical therapists, and personal trainers recommend both the internal and topical form of Arnica.  It is used to treat the same symptoms as the herbal counterpart, but in addition, it is good for bruising/discoloration, muscle pain, and recovery from injury. 
 
Other homeopathic topical options: Many companies combine homeopathic Arnica with other homeopathic herbs for a more "full spectrum" approach.  For example, Topricin combines Arnica with ten other herbs to bring relief to specific areas like the lower back, hip, spine, elbow, knee, wrist, and shins.  It can be used for carpal tunnel to arthritis to fibromyalgia.  It's good for cramping, spasms, and itching.  It is also good for sciatic pain and other nerve injuries.  Another product, "Traumeel" combines Arnica with eleven other herbs such as Echinacea, St. John's Wort and Calendula.  Both are great options if you are looking for extra treatment beyond Arnica.
Internal Recovery Aids:
Lastly, there are some internal supplements that can aid in the inflammation response and recovery process. Of course, check in with your health care provider to make sure it is a good idea to incorporate these products into your lifestyle. 
First, electrolytes can help add back important minerals that are excreted in the sweat.  There are simple electrolyte powders that can be added to water or taken in pill form.  Another popular method is eating bananas after exercise, as they provide magnesium and potassium (which can help prevent cramping). 
 
Any products that help "cool" the body will aid in cooling or slowing down the inflammation response.  Popular products are New Chapter's Zyflamend, Aloe Vera juice, Megafood's Extinguish, and Solgar's 7. 
 
Eating protein rich foods or supplementing with a protein drink will help build and repair muscles.  Some of the most popular protein drinks are Garden of Life's Raw Fit with 28 grams of protein per serving and Vega's all-in-one shake at 15 grams of protein per serving. 
 
Cordyceps: Cordyceps is a medicinal mushroom just making its way into the mainstream marketplace.  Cordyceps has a history of use by the Chinese and Tibetan cultures.  The professional athlete world has caught on to them probably due to the press about Chinese athletes breaking a few world records (specifically in running) and crediting Cordyceps.  Although more research is needed, the preliminary idea is that Cordyceps dilate the bronchial passageways allowing for higher oxygen intake, better circulation, and improved muscle recovery.  
No matter the activity or level of involvement, it is good to have a few post-activity "go-tos". Whether it's an anti-inflammatory supplement and a protein bar, an electrolyte drink and a good stretch, or just a solid night's sleep and plenty of water, helping your body recover will ensure a less painful day after and allow you to get back to the activities you love sooner!
Yours,
The Health Genie
Interested in learning more about DIY treatments? Check out our upcoming class DIY Bug Spray, Muscle Rub, and Other First Aid Essentials on Wednesday, June 18, 6:00-7:30pm.