Start a New American Tradition: Bring Bitters to the Table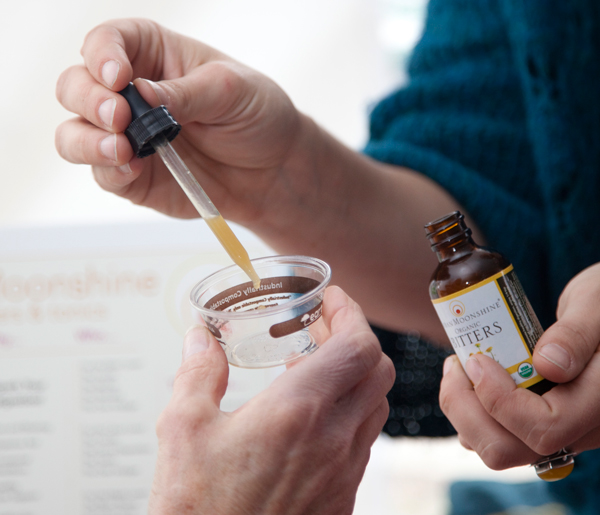 By Guido Masé, RH (AHG), Chief Herbalist at Urban Moonshine
Come early evening, around six o'clock, when the sun is still strong but a cool breeze begins to lift the heat of the day, Italians gather at the local bar for aperitivi. Sitting under striped awnings, they sip from wine glasses full of a light, sparkling drink made from seltzer water and mild bitter preparations. The glasses vary in color from dark brown, through red, and into an almost electric orange, reflecting the ingredients they contain. These drinks are preferred over strong cocktails, and are really the beginning of the evening meal as they support digestion and can help prevent indigestion and heartburn. After the aperitivi, a short walk through narrow streets leads to the main restaurant, where the real eating begins: three, often four courses featuring rich cream and meat sauces, lots of prosciutto and thin cuts of beef, plenty of seafood and crisp vegetables. Visitors are often encouraged try aperitivi, as the rich (and abundant) combinations of food can be too much for the digestion, and the bitter drinks before meals really help.
After dinner, many finish with a short glass of amaro, a stronger preparation that still features bitter roots and leaves. These formulas immediately relieve heartburn and over fullness, ensuring a restful and pleasant night following the big meal. Aperitivi or amari have a standard template: something bitter like gentian root, or artichoke leaf or dandelion is combined with something aromatic like citrus peel, fennel seed, or angelica root. Aperitivi often feature a little more of the latter: sour and warm chinotto oranges, orange peel of Campari, or clove and cardamom of Crodino. These aromatic ingredients serve to relieve nausea, relax the belly, dispel bloating, and, blended with bitters, get us ready to eat well. Amari are usually more bitter, helping to resolve symptoms that come from overeating, exposure to new or unusual foods, or just poor digestion.
It's interesting to note that this basic formula is hardly unique to Europe. Bitter oranges, still used for Italian aperitivi, are descendants of Chinese Citrus trifoliata, a classic aromatic-bitter remedy. In India, digestive remedies are still prepared from chiretta ( Andrographis) and fennel seed, combining a very bitter plant with a warm, relaxing aromatic. These combinations stimulate digestive function while also relaxing the belly, easing gas pains, and alleviating nausea. They are important cultural adjuncts to full, delicious, rich meals, and their use is valued to this day.
Guido Masé is a clinical herbalist, herbal educator, and garden steward specializing in holistic Western herbalism, though his approach is eclectic and draws upon many influences. Guido works clinically and teaches at the Vermont Center for Integrative Herbalism.  He and his students offer free herbal consultations at City Market on Monday evenings.