Baby Care Product Safety: Getting Your Wee Ones Off to a Clean Start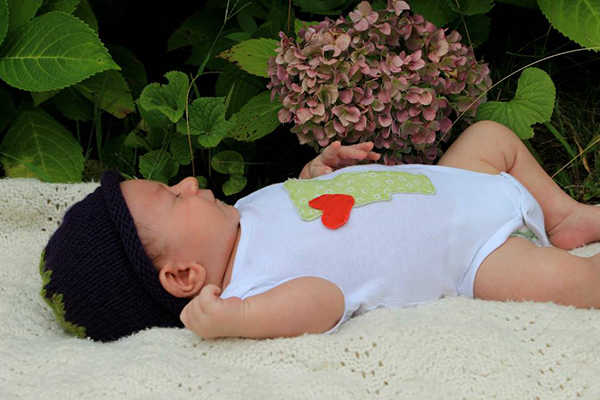 By Cristi Nunziata, Herbal Education Coordinator
A growing number of people are becoming more conscious about what they are putting in their bodies, buying only seasonal, local, organic, and non-GMO foods. But what about what we put on our bodies? And more importantly, on the bodies of our babies? While one would assume that baby care products consist of only the mildest and safest ingredients possible, unfortunately, that is not always the case.
Take Johnson & Johnson, the most recognizable brand of baby care products, for example. They released a statement in January confirming that they had met their goal of eliminating two potentially harmful ingredients from their products The controversial ingredients: quaternium -15, a precursor to formaldehyde, and 1,4-dioxane, both of which are considered carcinogens.  These have been eliminated from their No More Tears Shampoo. The company has also pledged to remove parabens from their products in the near future. The author of a recent article published in Delicious Living Magazine states that because a baby's skin is five times thinner than that of an adult's, allergen and carcinogenic ingredients, such as quaternium -15 and 1,4-dioxane, are problematic due to the potential for absorption into their little bodies.
While Johnson & Johnson has taken a step in the right direction, many will not be left with a warm fuzzy feeling in response to this news. What were such ingredients doing in products that go on our children to begin with? If Johnson & Johnson is the gold standard of baby care products, what does this say about the other products on the market?
As is commonly heard these days, we have the ability to vote with our food dollars. This philosophy also applies to baby care products. The reformulation of Johnson & Johnson products was in fact due to consumer demand.  In order to vote with our baby care dollars, we must become informed about what the products contain.
Looking at the ingredients on any baby care product label may be daunting, as they tend to list unpronounceable ingredients. Here is one way to decipher those labels: visit the Environmental Working Group's Skin Deep Cosmetics Database, which contains a section for products marketed to babies and moms. The database rates the safety of thousands of products on a scale of 0-10, 0 being safest and 10 being the most hazardous. One can easily see the rating and follow the link to an individual product to learn what ingredients may be controversial.
At City Market, we sell many wonderful and safe products for babies. Double check the product on the safety database, or talk to our Wellness staff for guidance in the decision making process. However, bear in mind that the database is not fool proof. German companies, such as Weleda, list fragrance, which EWG flags as controversial, but often is nothing more than essential oils, which are generally safe.
While carefully reading and researching ingredients ensures that you are protecting your baby from potentially harmful ingredients, you may take it a step further by making your own baby care products. Doing so allows you to not only selectively choose your ingredients, but also gives you the opportunity to purchase organic, fair trade versions of these raw ingredients, truly voting with your baby care dollars.
While there are so many toxins in our environment that we cannot avoid, there are many ways we can limit those that we consume through our diets and absorb through our skin. As daunting as it may initially seem, getting our babies off to a clean start is actually quite simple! To learn more, keep an eye on our calendar for upcoming classes on this subject.
 
References
Environmental Working Group. Skin Deep Cosmetics Database.2014. Web. Jan 26 2014.
Rubino, Jessica. "You're Beautiful Baby". Delicious living Magazine. October 2013: Print.
Thomasian, Katie. "The 'No More Tears' Shampoo, Now With No Formaldehyde." New York Times. Jan 2014. Web 25 Jan 2014.