Community Teaching Kitchen
With the opening of our new store comes the unveiling of our Community Teaching Kitchen! Located in City Market's South End store, the Community Teaching Kitchen is an educational space designed to build community through conversation, cooking, and skill-building. This space will primarily be used for City Market's monthly classes and events and for hosting private classes for our Community Outreach Partners, local schools, and non-profits. Check out our class schedule here! Questions? Contact learn@citymarket.coop
This space will not be available for rental. If you are interested in this space, please contact our Assistant Outreach and Education Manager, Carrie at CPutscher@citymarket.coop to discuss possible opportunities for co-facilitation of private classes and collaborative events. Please note that priority for collaborations of this sort will be given to our Community Outreach partners, area non-profits, and local schools.
Image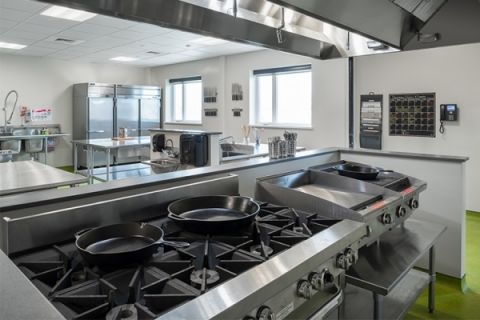 The Community Teaching Kitchen is an educational space designed to:
Build community through conversation, cooking, and skill-building;
Offer affordable cooking classes and increase access to educational opportunities designed to meet a variety of skill levels;
Facilitate learning opportunities for all community members to gain confidence in the kitchen;
Provide opportunities for cross-cultural exchange through exploration of global cuisine;
Engage the community on topics of food, health, wellness, and the cultural significance of food around the world;
Promote the use of seasonal, local ingredients when possible with a focus on products from our local farmers and vendors; and
Minimize food waste and explore creative ways to repurpose the by-products of cooking.