Caroline Keller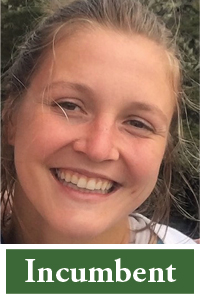 View Caroline's resume here.
Why would you like to serve on the City Market Board? What excites you about becoming a Board Member?
Having served as a Board member for the last 3 months, I have gained a new perspective and appreciation of City Market and its hardworking staff. I am sincerely inspired and motivated by this incredible group of people. In 3 months, I've learned a lot as well as learning I have a lot more to learn! City Market has been a strong ally in strengthening my connection with our local food system and community. My love and gratitude for City Market, the culture and conversation it creates around food and our relation within food systems, has inspired me to continue this mission as a Board member. I want to share my enthusiasm and commitment to our local market and the connections it strengthens, as well as help empower others to understand their role and power as Co-Op members. While upholding the cooperative's global ends, I hope to broaden the scope of City Market to be more inclusive and reflective of the growing needs of our community within the constraints of our environment. I am excited about this opportunity to continue challenging myself and to facilitate projects that ultimately serve the needs of our community.
Please describe any professional skills you have that will help you to be an effective Board Member. How would you help the Board to balance the business needs of a $50 million business with the need to meet our Global Ends as a community-owned cooperative?
The VT Dept. of Labor operates similarly to a cooperative in the sense that it is in business for its constituents. During my time there, my responsibility was to produce usable data that informed policymakers and directed workforce development. I regularly balanced how to effectively collect and communicate the most accurate data with given resources and time, while minimizing the burden of the data provider. I have learned to recognize when a project or data request is unreasonable or a futile effort. Even when I found personal worth in a project, I looked through the lens of "is the outcome worth all the energy and resources it takes to deliver it? Will this benefit Vermont?" In doing so, I am confident I can help the Board prioritize and address the needs of a business while staying true to the values of a cooperative. Moreover, as a former government employee, I have practice maintaining the voice of an organization even when it does not coincide with my own views. I have a firm understanding that success depends on the congruity of the Board.
Describe your prior involvement with community organizations and/or cooperatives. What did you learn from these experiences?
At Vermont Works for Women, I work with women from different backgrounds with the shared goal of gaining economic stability and independence. Helping women discover their innate strengths and unique value, while navigating personal feats and systemic challenges, has been a rewarding and enriching experience. I learned that commonalities bring us together, but diversity makes us stronger. I learned that asking for help is a sign of strength, not weakness. I discovered the miraculous power of a community. The strong support of community members and partners help sustain the operations of our programs and likewise, the success of women completing the program and gaining employment depends on the support of the VWW staff. Witnessing the tremendous power a community wields and what it can accomplish when utilized is something I will never forget.
From that experience and working on City Market's Seedling Grant Committee these past two summers, I also learned that difficult decisions often involve refraining from an emotional response. Though not always favorable or satisfying, I know not to allow emotion to supersede logic.
​What opportunities and challenges do you see in the future of City Market?
As Burlington grows, I see opportunities to expand and reach a wider audience. I see several avenues in which City Market may encourage greater inclusion, participation, and ownership. A first step would involve evaluating the community's understanding and impression of the cooperative and addressing barriers for people who do not shop with the cooperative. From my perspective, City Market is the heart of our community. I want that to be a shared sentiment – a place where everyone feels welcomed and valued. Furthermore, I see opportunities to improve waste reduction measures from reducing packaging to incentivizing folks to adopt more ecofriendly practices.
Conversely, I also see challenges in Burlington's growth considering how to stay competitive while staying true to the cooperative's mission. Another big challenge I perceive is helping people understand the true cost of food. I frequently hear the nickname "City Markup" around town. I think educating the community will shed light on the value of our local food system and how the cooperative is a steward of it. That is not to say that food isn't expensive and that we don't need to work torwards greater food access and affordability for all!