Burlington Children's Space
2015 Co-op Patronage Seedling Grants
Burlington Children's Space: Sustainable Food Education and Production - Initial Grant Award: $7,500 (actual check: $10,026.17)
Burlington Children's Space (BCS) provides families with many opportunities to eat healthy and teach healthy eating practices. Their food program, partially funded by the Child and Adult Care Food Program (CACFP), helps them serve over 29,000 healthy meals and snacks a year to children in their facility. In 2014, BCS expanded a pilot project to offer parents weekly take home food bags. The bags include the ingredients and instructions for making simple, fresh, healthy meals for 6-8 people and BCS also offers a bi-monthly cooking class for parents and staff. Take home bags have served almost 3,000 children, parents, siblings, neighbors and friends. In addition. BCS hosts family dinners every other month and educates children through hands-on gardening using a space on their playground and with two small garden plots at the Archibald Gardens.
BCS has a strong infrastructure to strengthen the children's connection to the local food system on many levels, but struggles to provide local, fresh produce at meals. This spring, they will partner with other organizations like Burlington Area Community Gardens, the Intervale Center and Shelburne Farms to start gardening on a plot in the Intervale. They'll offer workshops for parents and kids, create additional farming and gardening curriculum for their classrooms, visit farm plots with kids and families, invite family participation in growing and gleaning, and preserve surplus produce. Their hope is that their project can be replicated by other children's centers and schools as an affordable model that utilizes community support to promote sustainable food systems.
---
2016 Update! 
As recipients of a 2016 City Market Seedlings grant,  the Burlington Children's Space (BCS) is very happy to report on our progress.  At the outset of the grant we set four primary goals: increase access to resources related to gardening/food production, increase staff knowledge and comfort with gardening/food curriculum, further involve families in food and gardening education, and increase and sustain our food production options using onsite and community garden plots.  As with all grants, there were many tangible successes and some important lessons learned.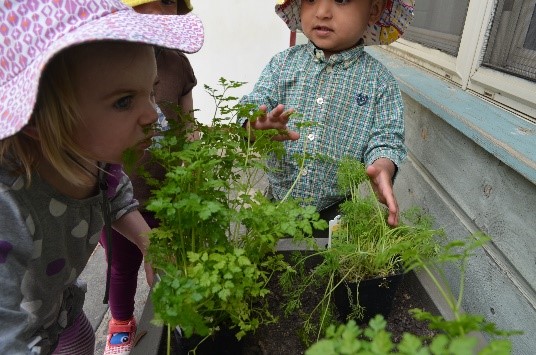 The biggest expenditure in the budget was salary for a Garden Educator. Crisitn, our Garden Educator, was hired shortly after the funds were received and was responsible for inspiring many of the positive outcomes. As a recent graduate of UVM's Farmer Education program, she used her knowledge and contacts to secure donations, create and implement a planting plan for the Intervale and Archibald Gardens plots, and coordinate volunteer efforts. She gently supported teacher's efforts to get to the gardens and helped them build their comfort by introducing her own curriculum and supporting their project work. She also built relationships with parents by holding pop-up workshops at pick up time at BCS and bringing the weekly harvest of vegetables, herbs and flowers to the school to share with families. 
Smaller expenditures like gardening books, tools, plants and soil (including two cherry trees), and community garden fees supported the work of the staff and Garden Educator. Additional funding covered the cost of transportation to Shelburne Farms to see more examples of gardens and food production. When the garden season ended and Cristin was no longer available, some of the remaining funding was shifted to BCS's chef so that she could do more cooking with children and help prepare the annual Family Feast on November 18 using many local ingredients and donated produce.
Outcomes
Some of the quantitative outcomes include the following:
52 (out of 52 children enrolled) children visited the gardens and accessed garden curriculum related to planting, harvesting, watering, and observing plant growth. Many children visited on a weekly basis throughout the growing season. 
15 teachers had access to support from the Garden Educator and all 5 classrooms reported using curriculum related to gardening and food production including infants exploring the gardens and planting with Cristin, toddlers making their own bread, a preschool project using photography and mixed media to create portraits at the garden, seed saving activities, a preschool project on pollinators supported by planting a bee garden and a biodegradable sculpture installed at the Archibald Gardens. 
Increased production at BCS in containers and Wooly Pockets (small removable planting pots that hang on a fence), at the pre-existing Archibald Gardens plots and the new Intervale plot yielding more diverse plantings and 5-35 pounds of produce weekly, which was shared with BCS's kitchen and sent home with families. ( BCS has had on site gardening and plots at Archibald for several years, but they have never yielded enough produce to send home and rarely produced enough for BCS's chef to use in meal production).
 Average parent participation in pop up gardening events was 26 parents and staff attended the playground/garden prep day, and 145 family members and staff attended the Family Feast.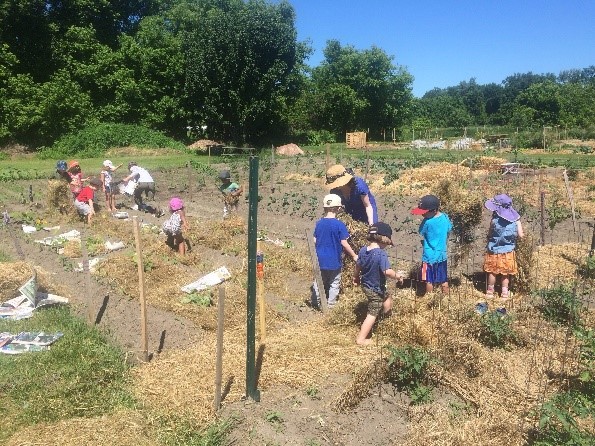 Lessons Learned
During a short period of time, BCS was able to learn a lot about the best aspects of the Seedling Grant investments. The integration of the Garden Educator was the highlight of the grant. The funding allowed BCS to hire someone for 10 hours per week for the full growing season and collect information about which parts of her job were the most critical for future planning. The funding also allowed BCS to take a chance on gardening at the Intervale to find out if it was feasible. Through the grant BCS learned, that gardening at the Intervale has a number of logistical challenges that, while interesting to try to solve, drained resources and limited participation.
One of the areas where the most learning happened was around parent participation. The original goal of the grant was to pay one or two BCS families to attend gardening classes at the Interval and receive a small stipend to take a lead in the garden. However, BCS learned that two BCS families also work on Gardens for New American projects and several others garden at local community garden plots. While interested in supporting BCS's efforts, they were not interested in assuming the responsibility of leading the gardening effort. BCS staff also learned that some families are still nervous about their children being at the Intervale, being out in rain, or the length of walk from the garden plot to the school. However, many parents enjoyed participating in the pop up projects at school ( plant seeds to take home,  snip some microgreens for your dinner) and were very happy to take produce home.
Lessons that BCS can use for future planning: 
Staff are very enthusiastic about gardening and food production curriculum and can develop meaningful projects with a little bit of support or inspiration. After working with Cristin for one season they have more confidence about their own ability in the garden. 
Families are also interested in gardening and food production, but parents of young children have limited time and energy to  take on large scale projects and are more comfortable starting small. Taste tests, pop up projects, and introducing parents to container gardening on the playground can be the foundation for future activities. 
If gardening efforts are concentrated at the nearby Archibald Gardens and the BCS playground, a Garden Educator could work for fewer hours while still impacting curriculum and staff and parent confidence. 
Building a food culture where families enjoy cooking with fresh local produce has taken BCS a number of years, building comfort with gardening will also take time. Parents are enthusiastic about bringing home produce that is familiar to them and are willing to try something new with support. 
Gardening and sustainability efforts grow slowly and benefit from reflection, persistence, and practice. 
Growth rarely happens for an organization without collaboration. In addition to support from City Market, this effort was complimented by collaborations with Shelburne Farms (for visits and staff development) Head Start (who provided the wooly pockets and staff support), a parent engagement grant from the Vermont Children's Trust Foundation, gleaned produce from the Intervale Gleaning Project, and many donations from local farms and gardeners.