Assistant Director of Operations Brent Demers on Building an Environmental Framework at City Market
Environmental stewardship is a year-round priority at City Market. But Earth Week is a great opportunity to take stock of how far we've come and to look forward to the ways we can have an even bigger impact. We sat down with Brent Demers, Assistant Director of Operations – Logistics at City Market, to get the inside scoop on how City Market is prioritizing environmental initiatives. Check out our conversation below!
Image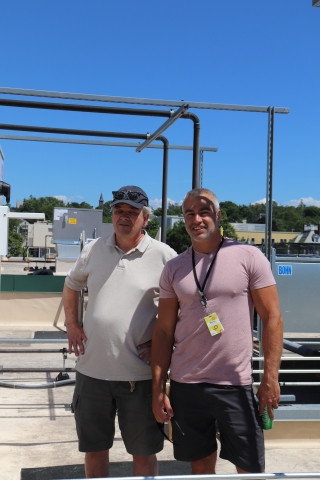 Why is championing environmental sustainability at City Market important to you? What drives you to focus on this work? 
Championing sustainability has been a strong interest of mine for a very long time, it is so important for the community we live in and the impact it has on future generations. I feel it's necessary to take the time to understand our environmental impact and take responsibility for that. I am grateful for the opportunity to create change and impact the environment through a variety of projects and initiatives here at City Market. 

We recently piloted a program working with other local businesses to pool resources to enable #4 film plastic recycling for area businesses. Can you tell us more about this program – who was involved, why it matters, and what the next steps for the project are?
Film Plastic is recyclable and is used by Trex decking and other manufacturers. However, there is no recycling solution in Burlington for this material. It takes up valuable space in our landfill and does not break down easily. Prior to the pandemic, we were able to have film plastic backhauled through one of our distributors. However, soon after the start of the pandemic they discontinued collection and we were forced to haul our own plastic to Saint Albans or to other local grocery stores who were still able to backhaul. None of these options were sustainable for us in the long term. 
We found that we were not the only business in our area struggling to divert film plastic from the landfill. We started working with Burton, CSWD, Cassella, Outdoor Gear Exchange, Ski Rack Patagonia, and OnLogic to begin our first three-month pilot program to collectively divert film plastic waste from our landfills. Since then, we've extended the pilot program for three quarters. We have collected useful data over the course of the pilot program which we will use to continue developing the program with the goal of offering it to other businesses in the community. Since we are still in the pilot, we have been strategic in scaling within our capacity and hope to offer this to more businesses. 
City Market received a GreenChill Award in 2021 for Most Improved Emissions Rate – and it wasn't the first time the EPA recognized us through the GreenChill program. Can you speak to how City Market reduces refrigerant emissions?
Our facilities department performs case cleanings once a week to optimize the airflow in our merchandising coolers, which contributes to using less electricity. During the case cleanings, we use a refrigeration leak checking device and have any leaks that we find repaired as soon as possible. We also monitor liquid levels in our refrigeration system. Any dips in refrigerant levels indicates that there could be a leak somewhere in the system. We work closely with our refrigeration service company and the technicians to understand the importance of repairing leaks in a timely manner. 
In the last few years, we have added cooler doors to our open cases along with variable frequency drives on our condenser fans and compressors, reducing load and wear on the system. We also installed the first transcritical CO2 refrigeration system in the state of Vermont at our South End store. We are continuously making efforts to reduce energy consumption and refrigeration leaks in our system, and we take pride in this work.

What aspect of City Market's sustainability work are you most proud of?
What comes to mind in regards to City Market's sustainability is our Environmental Framework. This framework gives us a foundation of purpose and intent when approaching new initiatives and it also helps us tell the story in the great work we do. 
When I think of individual projects there really isn't just one that comes to mind. What does is the collaboration with the Burlington Electric Department (BED) and Vermont Energy Investment Corporation (VEIC). Without this collaboration - including their financial incentives - so many of the projects we have done to reduce emission and energy usage would not have happened. Being involved in the community and working with local businesses making connections that lead towards a common goal is what excites me the most. 

What do you think are some critical areas of sustainability that grocers and retailers should focus their investments on? 
With City Markets Environmental Framework there are 3 major themes: waste management, energy and climate, and natural resource management. I think for all grocers and retailers, these areas should be evaluated often. Refrigeration has the greatest impact on energy usage and emissions in our industry, so I would recommend that be an area of focus. Ethan Bellavance, an Energy Consultant at VEIC, has been a critical resource in offering ideas and solutions for our refrigeration system and if anyone needs guidance I certainly would recommend reaching out to Ethan. BED is also a great resource and have executed many projects in collaboration including lighting upgrades and controls. With the changing landscape of waste resources, we work closely with CSWD to stay up to date with any compost and recycling shifts and to make efforts to reduce landfill-bound materials. 
More recently, we've put a lot of effort into improving our air handling systems across our stores. This was prompted by the onset of the Covid-19 pandemic, and has proven to be an important environmental health and safety initiative. We upgraded to MERV-13 filters which remove 99.99% of all airborne particulate (including airborne viruses). This system means that the air in our shopping areas turns over entirely 2-3 times per hour and even more frequently in higher volume areas like staff offices. This is another great example of the intersections between environmental and public health initiatives.