Turnips, Where Have You Been?
Every Sunday afternoon I do a demo down in the Produce department. The demos feature local vegetables that are often a little quirky, or at least something that your average customer might not have tried before. Recently I demoed scarlet turnips. I have to admit that scarlet turnips weren't on my radar before (never mind that I don't usually volunteer for turnip demos).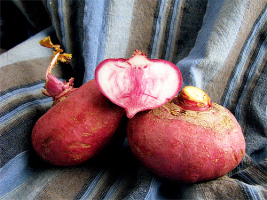 I did a little research and found out that scarlet turnips are sometimes called "Japanese radishes" because of their mild, radishy flavor. They're bright pink on the outside, almost like beets, and white with pink striations on the inside. Very pretty! The Japanese connection gave me the idea to try braising them in butter and then adding a splash of soy sauce at the end. That idea also made me think of steamed turnip cakes dipped in soy sauce, like you find at A Single Pebble, and which I love. Anyway, suffice it to say that these little turnip morsels turned out amazing, buttery, mild…. And just as I was doling out samples, along comes the farmer!
Caroline: "Try a sample, these are scarlet turnips."
David Marchand (Riverberry Farm): "I know, I grew them!"
Caroline (looking up): ""Oh, you must be David Marchand. So what's the story with scarlet turnips?|
David: "I grow them because I like them. They're nice and mild, better than purple-topped turnips. I like to marinade them and put them in salads. These are delicious."
So there you have it, straight form the source. The farmer grows them because he likes them, and the food education coordinator goes home to cook them for her family because SHE likes them. Sometimes eating local food just comes down to taste…. And trying new things. And sometimes we are our own best guinea pigs.
Braised Turnips with Soy Sauce
A good-sized pat of butter
A couple of scarlet turnips, sliced thinly
A splash of soy sauce
Finely minced parsley
Melt the butter (I used salted Organic Valley butter) in a medium-hot skillet. Add the turnips and sauté for a few minutes until they start to brown. Add a splash of water, stir, and cover to steam-cook the turnips until tender, about 8 minutes. You can check and stir them periodically. They should be golden-brown in places, almost caramelizing, when they are done, and in case tender all the way through. Add a splash of soy sauce directly to the pan and sprinkle on minced parsley. Serve warm, OR eat right out of the pan (just don't let anyone catch you).