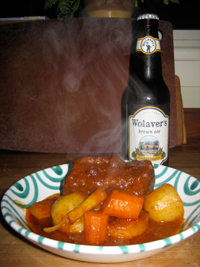 Cold weather is upon us, and nothing makes me happier than a big pot of soup or stew simmering on the stove or in the oven. Unlike a lot of meals that have to be timed to finish right before you sit down to eat to taste any good, stews can be started any time during the day and finished when you're ready to sit down and eat. Another thing I love about soups and stews is that that you can use thrifty cuts of meat.
It's ironic that I should be starting my blog writing about meat, since I was a vegetarian for 12 years, but it was my move to Vermont that taught me to appreciate the benefits of local meat from producers like Misty Knoll (chicken) and Hardwick and LaPlatte (beef). Eating local meat is important to me because the meat is healthier and the animal has been treated better than conventional feed-lot meat (just take a look at the film, Food, Inc) to get an eye-popping look at the meat industry).
As much as I enjoy a good steak, it's the thrifty deals that have been calling my name lately. I'm talking about local meat that you can buy for less than $4.00/lb, like Misty Knoll chicken wings and chicken liver, or Hardwick and LaPlatte beef liver, short ribs, and soup bones. Here's a run-down of some of my favorite deals:

Misty Knoll whole chicken - $3.89/lb
Misty Knoll chicken wings - $2.99/lb
Misty Knoll chicken liver - $2.79/lb
Hardwick short ribs - $2.99/lb
LaPlatte beef liver - $1.99/lb
Hardwick soup bones - $.99/lb

When can you find these deals? City Market gets fresh deliveries of LaPlatte and Hardwick beef sides every Wednesday, which are trimmed in-house into the various cuts you see in the meat case, including the packages of liver and bones. We get fresh deliveries of Misty Knoll on Thursdays, including about 12 packages of chicken liver, which are generally pretty popular. If you don't see something in the case, always ask. (And pssst…our Meat & Seafood department is always happy to cut a whole chicken into parts for you, so you can save money per pound by buying a whole chicken rather than packages of breasts or thighs).
What makes some cuts of meat less expensive than others? Well, in the case of liver, we are simply out of the habit of cooking with it, and haven't been putting much demand for it on our local grocery stores. In the case of bone-in parts, like short ribs, or tougher cuts, like beef chuck or round, time is a big factor. Jamie Lewis, our Meat and Seafood Manager, says, "Take brisket for example. If you were to try to grill it or put into a pan at high heat, you couldn't hope to chew it. But braise it at 250 degrees for 3-4 hours with some wine, broth, and aromatics, and it will melt in your mouth. All that connective tissue and collagen that makes it tough to chew melts away and now adds a new dimension of flavor." Beef brisket, chuck, and round all come from larger parts of the animal, which makes them less expensive per pound than other cuts (in the $6.99-$7.99/lb. range, still well below small, choice cuts like tenderloin.)
One more way to spend less on local cuts of meat is to look at the reduced meat packages. These are generally 50% off the price per pound, and can be eaten the same day or wrapped well and frozen for up to 3 months. You can get great deals on more cuts of Hardwick and LaPlatte beef that way, and stock up your freezer.
Here's a recipe that will fill your kitchen with wonderful aromas. Nab 1-2 packages of short ribs if you see them, otherwise feel free to use a package of beef brisket, chuck, or round. This thick, savory stew is nicely balanced with a salad and something light and sweet for dessert.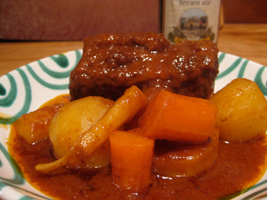 Cinnamon Brown Ale Stew with Short Ribs

 
½ cup all-purpose flour
2 Tbs. paprika
1 tsp. salt
Freshly ground black pepper
2-4 lbs short ribs (or 1-2 pounds beef chuck or round)
1 Tbs. olive oil
1 onion, diced
4 cloves garlic, minced
1 tsp. cinnamon
1 12-oz bottle of brown ale (see what's available in the single-bottle 
  box in the beer cooler if you don't want to buy a 6-pack)
24 oz. tomato purée
2 lbs russet potatoes or Yukon Gold
3 carrots
2 parsnips

Preheat the oven to 350 degrees. Mix the flour with paprika, salt, and pepper. Coat the short ribs on all sides with the flour mixture. Heat the olive oil on med-high in a large Dutch oven or oven-safe pot. Add the short ribs and brown on all four sides, a few minutes on each side. Remove the short ribs and set aside. Add diced onions with a sprinkle of salt and sauté until translucent. Add cinnamon. Add garlic and sauté for about one minute. Pour in the brown ale to deglaze the meat. Add the tomatoes. Bring to a boil, then add the short ribs. Cut potatoes, carrots, and parsnips into small chunks, cover the pot, and cook in the oven for 2-4 hours.