Sustainably Wildcrafted Foods - Why We Care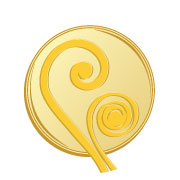 Our golden fiddlehead seal of ethical harvesting
The first of this season's wildcrafted foods has arrived with the pungent introduction of leafy green and purple-stemmed ramps in our front Produce display at City Market.
These will be followed by foraged fiddleheads, daylilies, and Jerusalem artichokes  - and perhaps other "wild" cards -  from a small group of individuals, may of whom we have worked with for years, who are commited to sustainable harvesting practices. In recent years, wildcrafted foods have become more popular, leading to certain abuses in harvesting and resale that are harmful to the habitat in which these foods grow, and to the continued supply of these foods in years to come. We strive to ensure that our sources of wildcrafted foods meet the high standards we set.
Wildcrafting is the practice of sustainably harvesting plants from their natural habitat for food, medicine, or other uses. The plants are wild-growing, rather than cultivated, which adds an element of surprise and discovery to the harvesting of them. Despite what the name implies, they are not necessarily limited to "wilderness" areas but can be found in urban green spaces and suburban backyards, along sidewalks and fencerows, streams and rivers, fields and forests.
Wildcrafted foods are the ultimate "local" foods because they are abundant in particular areas, often having a history of being collected by native peoples for thousands of years. There are also many wildcrafted vegetables, plants, and herbs that were introduced to our continent several hundred years ago from Europe or Asia. These "non-native" edible wild plants are also delicious and have many nutritional benefits. Most wildcrafted vegetables have seasons that are short and fleeting – enjoy them while you can!
We've created a wild edibles brochure this season to help guide you along your path of discovery about wild edibles, which you can find online and near the wild edibles in our store.
Here's a peek at what's in it:
Ramps/Wild Leeks (Allium tricoccum)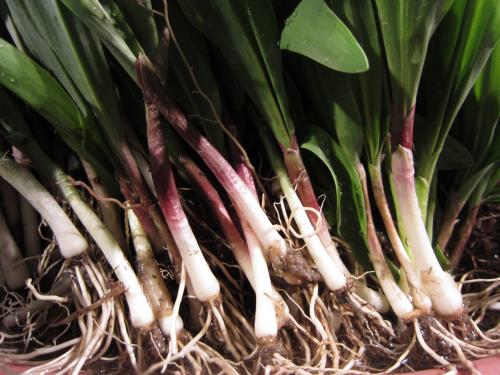 Ramps are a wild-growing member of the onion family. Also called "wild leeks," these delicately pungent green plants share their name with the Abenaki-named Winooski River ("Onion River") as well as our own "Onion River Co-op."
How they grow: Ramps appear in late March and early April in cool, shady areas with damp soil, such as wooded areas beside streams, rivers, and lakes. About the size of a scallion, they have a white bulb, a slender stalk with a purplish tint, and two broad green leaves. In most areas, they are one of the first wild edibles to emerge from the ground.
How to store: Store ramps in a clean, dry plastic bag in the refrigerator for up to a week.
How to prepare: Wash ramps well under running water to remove any dirt from them. Trim off any roots clinging to the bulb. Once ramps have been washed and dried, you can use both the bulb and leaves for cooking.
Cooking tips: The flavor of ramps is stronger than scallions, often described as a cross between onions and garlic. In Appalachian regions, the most common way to cook them is to fry them with potatoes in a skillet and serve them with bacon, eggs, and biscuits. You can also slice them raw in salads, turn them into pesto, pickle them in vinegar, and use them in soups as a base or a garnish.
Health and nutrition: Ramps are a spring tonic, high in compounds that cleanse the blood, and high in vitamin C and beta carotene.
Ostrich Ferns /Fiddleheads (Matteuccia struthiopteris)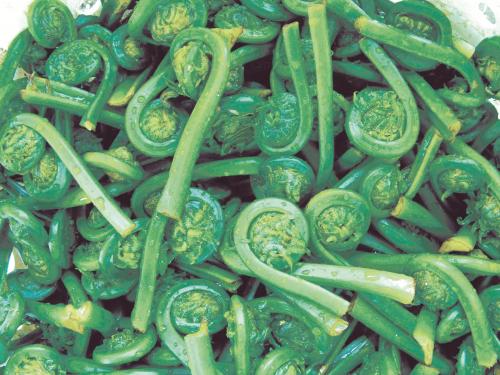 Edible fiddlehead ferns are the coiled tips of a variety of fern called the Ostrich fern that is popularly eaten in Vermont, Maine, Quebec and the Maritime regions. Fiddleheads have a grassy, nutty flavor and a texture similar to asparagus.
How they grow: Fiddleheads emerge from the ground in tight clumps in mid-April to early May in wooded areas with rich, damp soil.
How to store: Use as soon as possible, or within 5 days, for best color and flavor.
How to prepare: Both the Ostrich fern stalks and the coiled fiddleheads are edible. Remove any brown, papery chaff clinging to the coil. Wash under cold water to remove any dirt.
Cooking tips: Fiddleheads should be thoroughly cooked before eating. They can be boiled or steamed until tender, and then dressed with a little butter. They can also be blanched until half tender in a little salted water and then sautéed with garlic in butter or oil and a little wine or stock. They are also delicious roasted with olive oil and sea salt. Incorporate into stir fry, pasta, pizza, and quiche.
Health and nutrition: With their dark green color, fiddlehead ferns are high in vitamin C, beta carotene, and minerals. Note: Most sources suggest avoiding raw fiddleheads, as they may cause stomach upset.
Wild Jerusalem Artichokes (Helianthus tuberosus)
Jerusalem artichokes are a wildflower perennial in the sunflower family that can grow 6-10 feet tall with delicate yellow flowers and knobby tubers that visually resemble ginger. Samuel de Champlain sent the first samples from his travels along the eastern seaboard of the U.S. to France, noting the taste of the tubers was similar to artichokes (they are often marketed in grocery stores as "sunchokes"). The name "Jerusalem" is thought to be a mangling of the Spanish girasol and Italian girasole, which means "spinning sun."
How they grow: The plants grow in sunny areas in poor/sandy soil conditions and shoot up and spread out from their network of tubers underground. The flowers bloom in late summer and the tubers sweeten and mature in the fall, particularly after the first hard frost.
How to store: Due to their thin skin, tubers will rapidly lose moisture; keep in sealed plastic bags in your fridge for up to 2 weeks.
How to prepare: Scrub tubers well. You can eat the thin skin of the tubers or, if you choose, you can peel them – however, after cutting, they begin to discolor and turn gray almost right away, so many recipes suggest tossing them into cold lemon or vinegar water before proceeding.
Cooking tips: Wild Jerusalem artichokes should be eaten cooked, and have a smooth, somewhat nutty flavor, somewhat reminiscent of freshly steamed artichoke. They can be boiled and eaten as a side-dish, pureéd into creamy soups, or roasted in chunks. When fully cooked, they have a softer texture than potatoes, which lends itself to long, slow braising. In fact, many sources recommend cooking them this way to avoid the digestive complaints associated with them (more on that below).
Health and nutrition: Jerusalem artichokes are high in an indigestible carbohydrate called "inulin," which may be beneficial to human health in many ways. However, digesting inulin requires the help of various bacteria in the large intestine, which can cause a large amount of gas in some individuals, creating intense abdominal discomfort. Please eat Jerusalem artichokes in moderation the first time, and consider long, slow cooking to help ease digestion. As a side note, Jerusalem artichokes are cultivated for animal feed and for the fructose that gets used in the processed foods industry.
Daylilies(Hemerocallis fulva)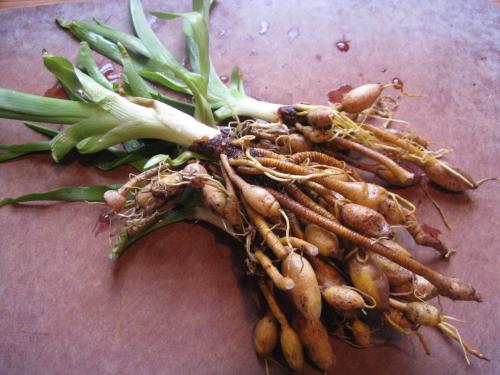 Daylilies are hardy and prolific perennials that produce many fresh green shoots in the spring and large blossoms, most commonly yellow or orange, in the summer. They are popular in traditional Chinese cuisine.
How they grow: Daylilies spread from a network of tubers underground, which accounts for their prolific growth.
How to store: Flowers and buds should be eaten soon after harvesting; tubers can be stored in the fridge in a plastic bag for 2-3 days.
How to prepare: The tubers are frequently compared to fingerling potatoes, but with a slightly nuttier taste. Choose tubers that are firm and plump and wash well to remove any dirt. The shoots can be eaten as well, when young and tender. Closed buds and flowers are also edible.
How to cook: Daylily tubers, like potatoes, can be eaten sautéed in a little butter with sea salt and pepper. The tightly closed flower buds can be eaten raw in salads and also stir-fried or sautéed with other vegetables. Like summer squash blossoms, you may find recipes for stuffed daylily blossoms and battered and fried blossoms. Dried daylily petals, called "golden needles" by the Chinese, are an ingredient in many Chinese recipes, including hot and sour soup.
Health and nutrition: 5-10% of people who eat daylilies may react to them with digestive disturbances (nausea, gas, and stomach upset). As with all wild edibles, if this is your first exposure, eat only a tiny bit and wait an hour to see how you feel before consuming more.
Recipe Suggestions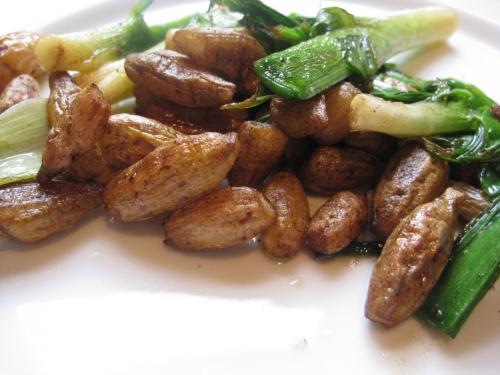 Sautéed daylily tubers and stems
Ramps: Lightly sauté the bottom half (bulb and stem) in olive oil, then add a splash of lemon juice, a little tamari, and the leek greens. Sauté for one or two more minutes. Delicious!
Fiddleheads:Use fiddleheads as you would any other cooked green vegetable, in pasta salads, on pizza, in stir fry, etc. They also make excellent pickles. 
Wild Jerusalem Artichokes:Try slow roasting them. They have a soft, delicate flavor.
Sautéed Daylily Buds/Tubers: 2 Tbs. oil or butter; 2 cups daylily buds, washed and patted dry; ¼ cup water (as needed); salt and pepper to taste. Fry buds in oil until lightly browned.  Add small amount of water and salt and pepper to taste. Cover and simmer over very low heat until buds are tender (10–15 min). Drain and serve hot.  (Adapted from Billy Joe Tatum's Wild Food Guide and Cookbook). Follow same method for sautéing daylily tubers and stems (above).
Wild Edibles Resources
Edible Wild Plants: Wild Foods from Dirt to Plate, by John Kallas (includes lots of cooking tips)
The Forager's Harvest, by Samuel Thayer (includes in-depth preparation instructions)
Identifying and Harvesting Edible and Medicinal Wild Plants, by "Wildman" Steve Brill  (includes wild edibles recipe section)
Nature's Garden, by Samuel Thayer (includes in-depth preparation instructions)