The Pleasures of Roasted Squash Soup
I know what you're thinking. The point of soup is to throw things together in a pot and be done with it, right? Why bake something in the oven first, only to then cook it again on the stove (which incidentally, is the casserole principle in reverse, and a major reason why I believe casseroles aren't more popular these days – who has the time, anyway??). But stick with me here for a minute while I dish up not one but three reasons to try this soup: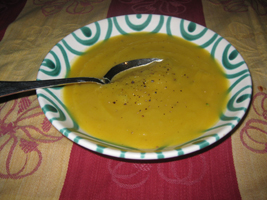 1) So easy! Roasting winter squash deals with the problem of wrestling with the squash on your cutting board and trying to get the peel off of those rounded sides. Simply cut the squash in half, scoop out the seeds, and lay it cut side down on a baking sheet in a 400 degree oven. OR don't even cut it at all but put it in the oven whole. When you can easily prick it with a fork all the way through, it's done. The peel easily separates from the squash meat.
2) So tasty! Roasting the squash first brings out wonderful caramelized flavors, sweetens the squash, and gives the soup a velvety texture.
3) So convenient! Since most of the flavor comes from the delicious roasted squash, you hardly need to put anything else in there. A little onion, maybe a pinch of seasoning, and then thin it down with some water or broth. Done.

Roasted Winter Squash Soup
3 cups roasted squash, such as 2 carnival squash, 
   or 1 small butternut*
2 Tbs. butter
1 onion
½ tsp. thyme
Pinch cinnamon
1 bay leaf
2 cups broth
2 cups water
Salt and freshly ground pepper to taste

* (if your squash is bigger, simply roast it all and save extra to put in muffins, pancakes, waffles, etc.)
Roast squash (this step usually takes about 30-40 minutes). Melt butter in a medium sized pot and add diced onion, thyme, cinnamon, and bay leaf. Sauté until golden. Add broth, water, and roasted squash. Bring to a boil and then simmer, covered, over low heat for about 30 minutes. Remove bay leaf, allow to cool slightly, and blend until smooth. Add salt and pepper to taste. Serve with some nice crusty bread, cheese, and a salad. Makes 5 servings.