Feeding Kids on a Budget: Pizza 2 Ways
"I want string beans and broccoli on my pizza." So goes the odd request from Nikolas, age 3, otherwise known as the pint-size food tyrant of Walnut Street. His wish is, more often than not, command, even if it means tweaking things so his wish is… well, what we wish. In this instance, not able to stomach the idea of string bean pizza – think watery frozen string beans - we talked up corn and broccoli. Sold.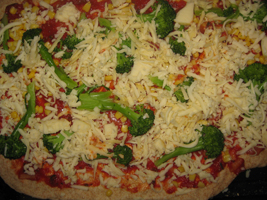 Surveying the mess after the pizza was made, I thought – do sane people really make pizza with their 3-year old? But the kid loves pizza, and making homemade pizza is a good way to involve him in the kitchen, serve up vegetables, and spend a fraction what you would on carry-out pizza. And since everyone was in good spirits after our pizza party, the mess was actually a snap to clean up.
A lot of pizza dough is fussy, crumbly, tricky to roll out. Not so good for making with kids. This one is soft and stretchy and can be made in a fairly short amount of time. It's from the New Basics Cookbook by Julee Rosso & Sheila Lukins. A jar of tomato sauce would simplify steps, but we made our own from Bionaturae strained tomatoes (the 3-year old doesn't like tomato chunks). For toppings, we chose a chunk of conventional mozzarella from the Cheese department for Nikolas's pizza.
Now here's where the fun comes in: Open your fridge and pull out whatever ingredients you have on hand for your own pizza. Steam any vegetables first before putting them on the pizza. Our grown-up pizza consisted of the tomato sauce, plus steamed kale chopped up finely (be sure to squeeze the extra water out), bacon, and a hunk of this month's Cave to Coop cheese. Often we'll put caramelized onions on top, because we always have onions on hand. And maybe a sprinkle of fresh herbs, like parsley.
Roll up your sleeves, crank the oven, and roll out the dough. Try to keep your 3-year old occupied with the cheese grater as long as possible. When he tires of it, let him help use the rolling pin, cut up pieces of steamed broccoli with a dull cheese knife, and spread toppings. His floury face will thank you for it.
Whole Wheat Pizza Dough
To cover 2 standard size cookie sheets (which gives you extras for lunch), 1 ½ the dough recipe and use 1 package instant yeast instead of active dry yeast.

1 cup warm water
1 package active dry yeast
1 ½ cups all-purpose flour
1 cup whole wheat flour (not ww pastry flour)
2 Tbs. olive oil
½ tsp. salt

Combine the warm water, yeast, and all-purpose flour in a large bowl and stir. Add the whole wheat flour, oil, and salt. Mix with a wooden spoon or your hands. To keep clean-up simple, add a little flour to the large bowl and knead your dough right in it until it's smooth and elastic, about 5 minutes. Pour a little oil in the bowl and turn the dough around in it so it's coated in the oil. Cover with a kitchen towel and let it rise until doubled, about 1 hour. Divide into two and pat each piece into a flattened ball. Cover and let rest another 15 minutes and then proceed with rolling them out, topping them, and cooking them in a very hot oven (as hot as you're comfortable with – like 425 for about 15 minutes). Makes two 12-inch pizzas (4 portions) if you don't 1 ½ the recipe.
Tomato Sauce

2 Tbs. olive oil
1 onion, diced
1 clove garlic, minced
24 oz tomato puree, such as Bionaturae
1 ½ tsp. dried oregano
½ tsp. salt
Freshly ground pepper

Sauté onion in olive oil until golden, about 5 minutes. Add garlic and sauté for 1 minute more. Add pureed tomatoes and spices and cook, uncovered, for about 15 minutes. Generously covers 2 pizzas on cookie sheets.