Community Supporting Agriculture
The big fire at Pete's Greens has been on my mind this past week.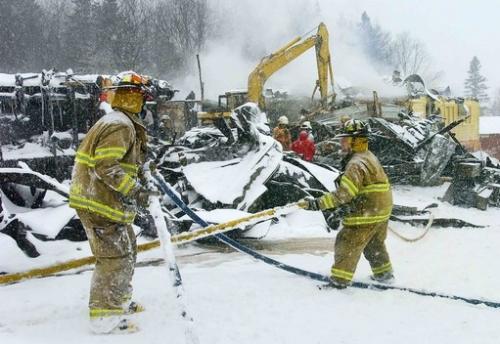 The morning after the fire at Pete's Greens. Photo by Glenn Russell for the Burlington Free Press
The photos in the Burlington Free Press of all those lovely carrots and potatoes spilling out the side of the burned barn made my heart ache.
The fire has reminded me that in our delicate, nascent local food system, each farm, each barn, each person is vitally important to the whole. When Pete's Barn burns down, there are 350 families throughout Vermont that won't receive their CSA shares for the rest of the winter. Here at City Market we will miss his truck pulling up to fill our winter produce shelves with golden beets, savoy cabbage, shallots, a few varieties of onions, and red fingerling potatoes. We'll find other sources for these items, but they'll probably be coming from California for the rest of the winter.

This delicacy of our local food supply has been echoed in other conversations I've been having: I've been talking with a farmer in Southern Vermont for the past few months. He's growing some very innovative crops – sunflower seeds, flax, and canola oil. The last I heard from him was back in November when he promised to send me samples of each. Now it's been a few months and I know he's had some health problems. How precarious that the local supply for each of our bulk bins, each of our produce shelves, rests on the health and well being of each of the local farmers that we work with.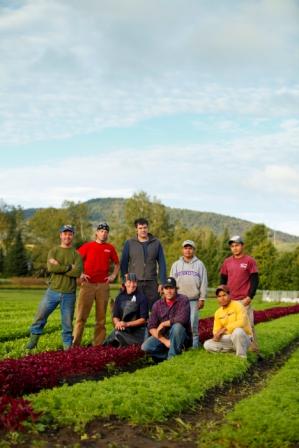 The Crew at Pete's Greens.

Given our globalized food supply, I know the consequences won't be starvation. Our buyers will find other sources for the veggies, oils and seeds. But those sources are likely to be far less sustainable and far less beneficial to the Vermont economy.

In the week since the fire, it is heartening to see our small Vermont community pull together to nurture this local food system. Since the barn burned, there have been a myriad of fundraisers and events planned to help Pete (and our local food system) rebuild. This is truly Community Supported Agriculture.

City Market will donate 1% of our sales Thursday, January 20 through Sunday, January 23. We are also accepting donations directly from customers and will pass them along to the farm. There's a list of all the other ways to help at our website.