Back to School: Morning Madness
Submitted by
mknowles
on Wed, 08/19/2015 - 12:30
Going back to school can be hard. Alarm clocks shrewdly remind us that lazy mornings are a thing of warmer months, and it's time to trade in beach towels for backpacks. If you're like me, you dream about being organized and prepared the night before so that mornings are a little less rushed, and I'm more inclined to actually sit down for my breakfast.
We all try, but for many of us, mornings can turn into a bit of a scramble to pack lunches for the day, along with waking the rest of the house, walking the dog, fighting for the shower, and (sometimes miraculously) making at least one bed in the hours before getting to work. Trust me, we've all been there. For the mornings when you're sure the clock is ticking so fast it must be broken, try these simple ideas for breakfast that the whole family can enjoy.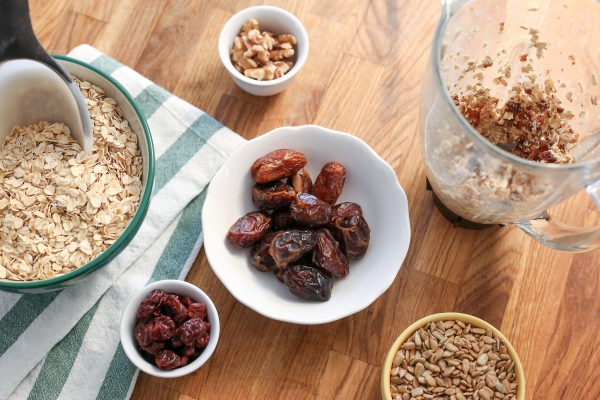 Photo credit: Oatmeal, Dates & Seeds, www.personalcreations.com
Breakfast:
Overnight Oats
Did you know that in Vermont we eat the most oatmeal per capita than any other state in the US? It's funny, but when I think about it, I can really believe it. Soak oatmeal overnight in yogurt, milk, (or my favorite, kefir) and it will be  ready to go in the morning! Add almonds, flax seeds, or whole berries for extra nutrients and flavor.
Smoothies
Smoothies are great—packed with nutrients and great to take on the go. Sneak some spinach or kale in with blueberries and banana for extra fiber and vitamins. You can cut time in the morning by putting ingredients in the blender the night before and holding it in the fridge. Add the liquid (like milk or kefir) and blend in under a minute when you wake up.
Loaded Toast
Sometimes the mornings are just too hectic for anything other than tossing some bread in the toaster. But don't fret! Use a hearty whole grain bread and throw on some peanut butter (or almond, cashew, or sunflower butter) and sliced fresh fruit, like bananas or strawberries, to get a well-rounded breakfast to help you focus in homeroom (or at work). For a savory option, add avocado instead of nut butter.
In a pinch when packing a lunch? Try these no-fuss, 2-ingredient sandwiches:
Cucumber & Cream Cheese
Cream Cheese & Jelly
Tomato & Avocado
Tomato & Cheddar
Ricotta & Honey
Grilled Cheddar & Apple Butter
Sliced Egg & Tomato
Ham & Apple
Red Pepper & Hummus
Banner Photo: Crosley with Apple, Flickr, Randen Pederson