2021 COTS Tree Sale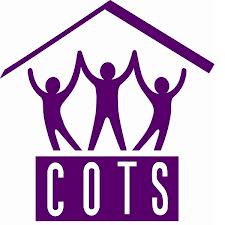 UPDATE 12/6/21: We are sold out! Thank you to everyone who made our 24th Annual COTS Tree Sale a resounding success! Stay tuned for an update on the total funds we raised for the Committee on Temporary Shelter.
UPDATE 12/4/21: We are sold out of trees at our Downtown store! Trees are still available at our South End store while supplies last!
It's that time of year again! This year marks our 24th Annual COTS Tree Sale! The sale will kick off on Wednesday, December 1st at our Downtown store and expand to our South End store on Friday, December 3rd. The Tree Sale will continue until all the trees are sold (we anticipate selling out at the Downtown Store on Saturday, December 4th).
Once again, we will be selling fresh, local balsams from Moffatt's Tree Farm in Craftsbury, Vermont for $40 each (all sizes). All proceeds will go to the The Committee on Temporary Shelter which provides emergency shelter, services, and housing for people who are homeless or marginally housed in Vermont. COTS advocates for long term solutions to end homelessness.
Buy a Tree, Plant a Tree!
When you buy a tree from City Market at this year's COTS Tree Sale, the Intervale Center will plant a tree for you somewhere in Vermont! Your tree will be planted in the spring of 2022. Every year, the Conservation Nursery, a program of the Intervale Center, plants 30,000 Vermont-grown, native trees and shrubs along rivers and streams throughout the state. Your tree will live for decades, providing habitat for animals, reducing erosion, filtering pollutants before they reach waterways, and sequestering carbon.
Volunteers Needed!
Once again we're looking for volunteers to help out during our COTS Tree Sale! This includes everything from helping with unloading trees on delivery days to helping customers load the trees to their vehicles. By signing up to volunteer, you agree to take additional safety measures and also recognize that physical distancing may not always be possible. Click here to sign up to volunteer!
COTS Tree Sale Safety Precautions
Sale is spread across both stores to encourage more opportunity for social distancing
Payment options are available outside so customers can avoid going indoors to complete their transaction
Sanitizer and disposable masks are available
According to COTS:
In 2020 COTS served around  2,200 individuals, including 347 children;
$20 covers a night of emergency shelter for an adult at COTS' year-round shelter (The Waystation);
The Daystation, COTS' daytime center for adults who are experiencing homelessness, provides a no-cost, nutritious noontime meal as well as access to the internet, phone and laundry facilities;
$75 pays for a new backpack and school supplies for a child staying in COTS family shelter;
COTS Housing Resource Center is the largest homelessness prevention program in Vermont, helping hundreds of households annually avoid the crisis of homelessness;
In 2020 COTS housing navigators helped 288 households in COTS shelters and the community secure permanent, sustainable housing;
$1,100 is the average financial assist needed to help households in our community avoid losing their home;
In the past year, 26 families stayed at the Main Street or Firehouse family shelters, including 44 children.
In 2021, our motel outreach team provided re-housing and support services to 1,271 adults and 75 children staying in motels.
After the 2020 sale, City Market staff presented a check totaling $14,678.02 to COTS and a check totalling $6,925.58 to the Intervale Center. Last year marked the 23rd Annual Tree Sale to benefit COTS, bringing the total donation to over $173,000. If you missed the tree sale and would like to donate to COTS, please visit them online.