2020 COTS Tree Sale
2020 Recap
Thank you to everyone who purchased a tree to support COTS and the Intervale Conservation Nursery!
After the 2020 sale, City Market staff presented a check totaling $14,678.02 to COTS and a check totalling $6,925.58 to the Intervale Center. This year marked the 23rd Annual Tree Sale to benefit COTS, bringing the total donation to over $173,000. If you missed the tree sale and would like to donate to COTS, please visit them online.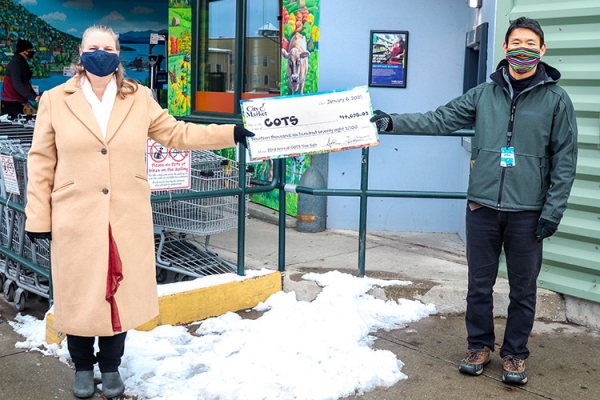 Overview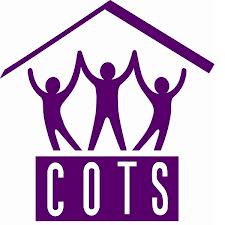 In December 2020, our 23rd Annual COTS Tree Sale expanded to include our South End store. The tree sale started at our Downtown location on Wednesday, December 2, 2020, and at our South End location on Friday, December 4, 2020. The sale ran until trees were sold out, which happened in a record 5 days this year.
We sold fresh, local balsams from Moffatt's Tree Farm in Craftsbury, Vermont for $40 each (all sizes). All proceeds go to the The Committee on Temporary Shelter which provides emergency shelter, services, and housing for people who are homeless or marginally housed in Vermont. COTS advocates for long term solutions to end homelessness.
Buy a Tree, Plant a Tree!
When you buy a tree from City Market at COTS Tree Sale, the Intervale Center will plant a tree for you somewhere in Vermont! Your tree will be planted in the spring of 2021. Every year, the Conservation Nursery, a program of the Intervale Center, plants 30,000 Vermont-grown, native trees and shrubs along rivers and streams throughout the state. Your tree will live for decades, providing habitat for animals, reducing erosion, filtering pollutants before they reach waterways, and sequestering carbon.
Volunteer
Check back here next year for information about volunteer opportunities
According to COTS:
In 2019 COTS served more than 2,300 individuals, including 766 children;
$20 covers a night of emergency shelter for an adult at COTS' year-round shelter (The Daystation);
The Daystation, COTS' daytime center for adults who are experiencing homelessness, provides a no-cost, nutritious noontime meal as well as access to the internet, phone and laundry facilities;
$50 pays for a new backpack and school supplies for a child staying in COTS family shelter;
COTS Housing Resource Center is the largest homelessness prevention program in Vermont, helping hundreds of households annually avoid the crisis of homelessness;
In 2019 COTS housing navigators helped 278 households in COTS shelters and the community secure permanent, sustainable housing;
$1,100 is the average financial assist needed to help households in our community avoid eviction;
In the past year, 52 families stayed at the Main Street or Firehouse family shelters, including 97 children.