We ♥ Local Food
Savory Carrot Recipe Competition 2012
February 4-12, 2012
Thanks for all the submissions! Cumin Roasted Carrots took first place! Congratulations to April Howard. Her recipe will be featured on our hot bar next week!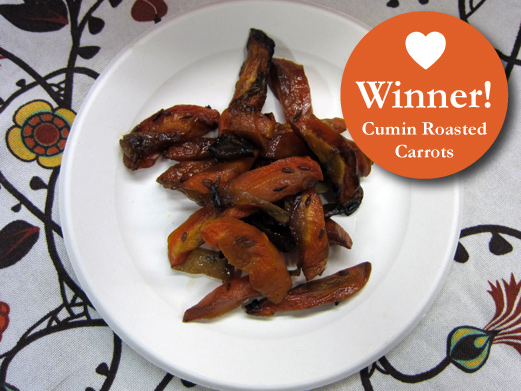 Three Finalists
Carrot Ginger Soup
Recipe submitted by Sally Henkel

Sally says, "Not only is this a vegan soup, but it's also great for winter days. The carrot and ginger medley create a savory soup, loaded with flavor. I love making this for friends and family dinner."

*** WINNING ENTRY ***
Cumin Roasted Carrots
Recipe submitted by April Howard

April says, "Simple ingredients and easy to prepare, but still a warming, delicious side dish."

My Mom's Carrots
Recipe submitted by Theresa Lorenz

Theresa says, "This was my mom's recipe - she fed 10 picky kids for 35 years. We all liked these carrots – it was a great recipe to get kids to eat their carrots."
The Competition
Local carrots are healthy and sweet and are one of the few vegetables still available from local farms in February. They're also incredibly versatile and taste great in soups or salads, roasted, mashed, pickled, in savory breads, chutneys, or pretty much anywhere else you can think to put them.
Three finalist recipes were selected based on:
Proportion of local ingredients (the higher the better)
Simplicity (we love simple recipes)
Taste
Health  
Originality
The finalist recipes were sampled at the Burlington Winter Farmers' Market on Saturday, February 18 and people voted on their favorite. Congratulations to April Howard for getting the most votes. She won a $100 gift card to the Co-op!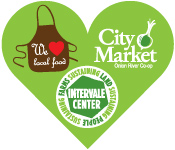 We ♥ Local Farmers
Throughout the competition period, customers were ab be able to purchase hearts for $1 to support the Intervale Center. Over $3,000 was raised to support local farmers! Go Co-op!