COTS Tree Sale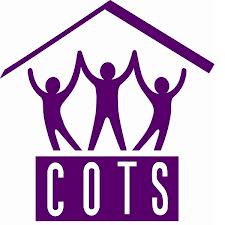 2017 marked our 20th Annual COTS Tree Sale and we can't thank you enough for your continued support of such a wonderful organization, and a huge thank you to our amazing Member Workers and Gail, our Tree Diva!
The Committee on Temporary Shelter provides emergency shelter, services, and housing for people who are homeless or marginally housed in Vermont. COTS advocates for long term solutions to end homelessness.
A successful tree sale takes dozens and dozens of volunteers to tie trees to cars, unload trees on delivery days, and assist customers. If you are a City Market Member Worker (who has already attended a Member Worker orientation), you will receive credit for your volunteer hours.
Paper Snowflake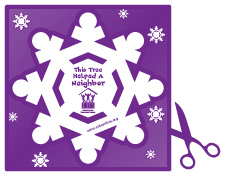 Make your own paper snowflake to hang on your COTS Tree! Download and print out this activity sheet to get started.
According to COTS:
$20 covers food and a night of emergency shelter for an adult at the Waystation.
The Daystation, a daytime emergency shelter, is seeing an average of 35 people per day.
$50 pays for two new backpacks and school supplies for two children in their family shelters.
Provided service to 125 familes, some of whom were also in shelter 
In the past year, 48 families stayed at the Main Street or Firehouse family shelters, including 75 children.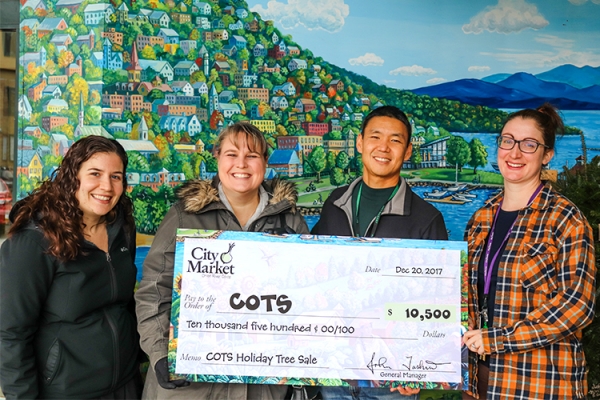 After the 2017 sale, City Market staff presented a check totaling $10,500 to COTS Director of Development & Communications, Becky Holt. This year marked the 20th Annaul Tree Sale to benefit COTS, bringing the total donation to over $136,000. If you missed the tree sale and would like to donate to COTS, please visit them online at www.COTSonline.org/how-you-can-help.