Rally for Change
Anytime you check-out at City Market, you can choose to "round up" your total to the nearest dollar. Each month, we support Feeding Chittenden and other organizations working to strengthen our community.

In September, you collectively donated $17,559.22!
$8,779.61 went to Co-op Seedling Grants
$7,023.69 went to Feeding Chittenden
$1,755.92 went to ACORN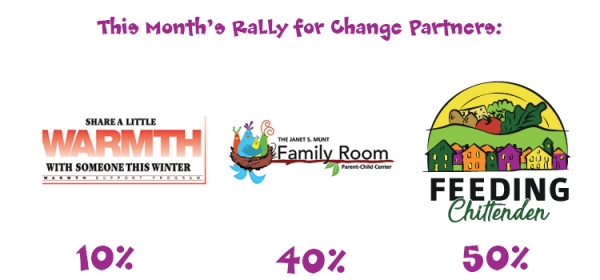 October's 50% Partner: 
In September, Feeding Chittenden received a total of $10,012.51 through August's Rally for Change register round-ups.
As we continue to adapt and grow under COVID-19 conditions, we are focusing on expanding access in order to ensure that anyone in need can find support through Feeding Chittenden. We need to empower choice so families get the food that they need in a way that meets them where they are. Feeding Chittenden's Food Access Center is our new initiative focused on increasing access to healthy food by growing our home delivery distribution capacity throughout Chittenden County and creating choice by offering an online ordering system that allows food insecure families to choose the grocery items that they need – minimizing stigma, reducing waste, and increasing accessibility. The Access Center would not be able to grow in this way without your support.
Rally for Change has made a major impact on countless lives in our community. Between the health and financial concerns that come with a global pandemic, many community members have been struggling. For instance, Gina, a single mother who comes to Feeding Chittenden's food shelf for groceries, has at times found herself asking, "how far can I stretch this?" when preparing meals for her two young sons. With the support of Feeding Chittenden's grocery distribution services -- services which your efforts directly fund-- she is able to do what every parent strives for: cook healthy, delicious meals to nourish her family. Gina says, "there's a lot of enjoyment for me in being able to put the effort into a meal, because I do not want to microwave. Everything that goes on my table, start to finish, is all about the ingredients, and the time." And she makes sure to nourish herself, too; as she has come to know well, "you cannot pour from an empty cup." Without your efforts and partnership we would not be able to provide families like Gina's with the fresh, nourishing ingredients that they depend on and deserve. Thank you so much for your continued partnership and support.
See how we are feeding the homeless during COVID-19.
More about Feeding Chittenden:
In 2018, CEFS embarked on a listening campaign to gather input on our future direction from our program participants, neighbors, volunteers, donors and other stakeholders. Through this campaign, we collected information on the changing needs of those we serve and our role in the broader community. 
Feedback from these sessions focused on our role as a source of food, community and opportunity for those we serve. 
We also heard over and over during these listening sessions that we were seen by both those we serve and those we work with as "more than a Food Shelf" and that the scope of our programs was not accurately reflected in our name. 
The feedback we received through our listening sessions mirrored the experiences that we have had regularly with community members – including our guests, volunteers, supporters, etc. – who are nearly always surprised during their first visit to our organization when learning about our variety of programs, the volume of people who we serve every day and our mission of providing more than just food to people who are facing food insecurity and hunger. 
While we operate the Chittenden Food Shelf as our cornerstone program, we also operate the following programs and services:
            - Good Food Truck: bringing meals, groceries and outreach services to local neighborhoods throughout Chittenden County
            - Homebound Grocery Delivery: helping older adults and people with disabilities who are homebound access our services through deliveries of groceries and prepared meals
            - Food Rescue: fighting food waste locally by working with local markets and farmers to save ~10,000 lbs of edible, nutritious food every month 
            - Hot Meal Program:  operating 6 days a week and profviding thousands of fresh, buffet-style meals each month
            - Community Kitchen Academy: providing culinary job training and support to people who are un-employed through a partnership with the Vermont Foodbank
            - Service Coordination: providing program referrals, case work and support to our guests who need additional services. 
After working with FourNine Design to explore rebranding, we determined that the name "Feeding Chittenden" would better reflect the varied work and advocacy we undertake to help all members of our community who are facing food insecurity and hunger. 
"Feeding Chittenden" has long been our website URL – www.feedingchittenden.org – and has been our tag on our various social media channels. Our supporters in the community are already familiar with this name, and we hope that this will ease our transition.
October's 40% Partner:
For 30 years, the Janet S Munt Family Room has been providing community and support to thousands of families of all shapes and sizes with children ages 0-7 in the Greater Burlington area. With playgroups, caregiver education classes, mentorship programs, preschool, meals, summer gardening, and the Building Strong Families Pediatrics clinic, we give everyone who becomes part of our Family Room family a chance to spend quality time together, and build skills and relationships in a judgement-free zone.
When our physical location closed due to the pandemic, we stepped up and delivered food, diapers and activity kits to our families while also live streaming lessons and play activities, and providing support online and by phone to caregivers.
This fall we are thrilled to welcome preschoolers back to our space both in-person and through virtual learning, and offer caregiver support online and through home visits. All of our playgroups and education classes are free of charge and everyone is welcome.
Find out more online at http://www.TheFamilyRoomVT.org/ or call us at 802-862-2121.
October's 10% Partner:
What many of us take for granted is a real struggle for so many of the people served through the WARMTH Program. Parents, single mothers, veterans, the disabled and seniors have to make some very difficult decisions, sacrificing necessities such as food and medicine in order to stay warm. It's a very real hardship that many Vermonters are faced with daily.
Last year, 1,550 households received assistance with their heating fuel through the WARMTH Program. We expect an unprecedented demand for help because of the pandemic. This year will be very different in one particular way – the person calling for WARMTH assistance could be your neighbor, your child's teacher, a colleague – someone who has never had to ask for help before.
Patricia was in her mid-70s and had been ill. She was extremely hesitant to use the WARMTH benefit, and thought perhaps she would wait. She said she already kept her house at 58 degrees, and maybe by setting the thermostat down to 55 degrees, she could last until seasonal fuel assistance became available in late November.
I explained that there was no way her fuel would make it to the end of November even if she did keep the temperature at 55 degrees. And I also reminded her that if she ran out of fuel, a delivery might take a few days, and would require someone to bleed her furnace.  I am grateful that we were able to get her a delivery of fuel to keep her warm.
- CVOEO staff member
Learn more here.
Past Recipients