Rally for Change
Anytime you check-out at City Market, you can choose to "round up" your total to the nearest dollar. At the end of the month, we donate 50% of those funds to Feeding Chittenden (previously Chittenden Emergency Food Shelf), 40% to an organization that aligns with our Global Ends, and 10% to a local non-profit.

In June, you collectively donated $17,095.48! 
$8,547.74 for Feeding Chittenden
$6,838.19 for King Street Center
$1,709.55 for the Vermont Folklife Center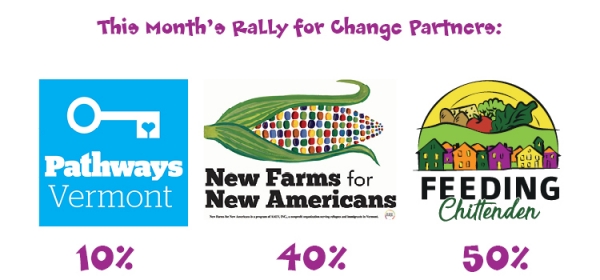 July's 50% Partner: 
In April, Feeding Chittenden received a total of $8,289.65 through the March Rally for Change register round-ups.
In response to the COVID-19 emergency we have moved swiftly to change our operation in order to provide nutrition in the safest way possible for those who are most vulnerable. These changes include:  
• A transition to a take-out dining service with our soup kitchen which feeds on average 50 people a day, Monday through Friday
• Distribution of pre-boxed groceries in our food pantry to over 500 people a week, on Monday, Wednesday, and Friday
• Increased deliveries to our homebound program from 150 to 200 households a week, including the creation of the Emergency Grocery Delivery Program, which serves as a hotline for households who need food delivered
• Creation of an Emergency Meal Delivery program which prepares and delivers over 1200 meals daily to homeless and displaced individuals living in temporary shelters throughout Greater Burlington
We have already seen drastic increases in the number of people we serve and the amount of food we are distributing. The number of households coming for groceries has increased 30%, with numerous people attributing their vulnerable position to job loss, reduced hours, and school closings. We expect these numbers to continue to climb and will provide additional groceries, meals and increase deliveries to address this need.  
We are looking ahead to some hard times for people we serve. For those who rely on school meals and a weekly paycheck, it will take time to recover. Our team is focused on safety for themselves and others and we're taking this one day at a time.
We want to thank you and your team for the increased support during this time- from prepared meals to grocery bag donations, we honestly could not do this work without City Market.  
See how we are feeding the homeless during COVID-19.
More about Feeding Chittenden:
In 2018, CEFS embarked on a listening campaign to gather input on our future direction from our program participants, neighbors, volunteers, donors and other stakeholders. Through this campaign, we collected information on the changing needs of those we serve and our role in the broader community. 
Feedback from these sessions focused on our role as a source of food, community and opportunity for those we serve. 
We also heard over and over during these listening sessions that we were seen by both those we serve and those we work with as "more than a Food Shelf" and that the scope of our programs was not accurately reflected in our name. 
The feedback we received through our listening sessions mirrored the experiences that we have had regularly with community members – including our guests, volunteers, supporters, etc. – who are nearly always surprised during their first visit to our organization when learning about our variety of programs, the volume of people who we serve every day and our mission of providing more than just food to people who are facing food insecurity and hunger. 
While we operate the Chittenden Food Shelf as our cornerstone program, we also operate the following programs and services:
            - Good Food Truck: bringing meals, groceries and outreach services to local neighborhoods throughout Chittenden County
            - Homebound Grocery Delivery: helping older adults and people with disabilities who are homebound access our services through deliveries of groceries and prepared meals
            - Food Rescue: fighting food waste locally by working with local markets and farmers to save ~10,000 lbs of edible, nutritious food every month 
            - Hot Meal Program:  operating 6 days a week and profviding thousands of fresh, buffet-style meals each month
            - Community Kitchen Academy: providing culinary job training and support to people who are un-employed through a partnership with the Vermont Foodbank
            - Service Coordination: providing program referrals, case work and support to our guests who need additional services. 
After working with FourNine Design to explore rebranding, we determined that the name "Feeding Chittenden" would better reflect the varied work and advocacy we undertake to help all members of our community who are facing food insecurity and hunger. 
"Feeding Chittenden" has long been our website URL – www.feedingchittenden.org – and has been our tag on our various social media channels. Our supporters in the community are already familiar with this name, and we hope that this will ease our transition. 
July's 40% Partner:
New Farms for New Americans (NFNA) is a program of AALV, Inc., a nonprofit ethnic community organization based in Burlington. New Farms for New Americans is AALV's longest running program providing clients with the resources they need to produce an abundance of culturally significant foods using traditional agriculture methods. NFNA supports participant's agrarian skills and knowledge, to help them grow and eat fresh, local, organic and culturally important crops. New Farms for New Americans provides participants land access, education and opportunities to connect to the agricultural networks in Vermont. Participants in the program bring a great deal of agricultural experience from their homelands and NFNA works to honor and support these agrarian traditions while also recognizing the financial, mental and physical benefits of fresh air and fresh food.  
The program oversees 7.3 acres of community gardens and all farmers have access to subsistence-size plots. Farmers typically cultivate 1/16th or 1/8th of an acre parcels and report saving up to $3,000.00 on food costs every year; while feeding an average of 15 people. There are over 10 culturally significant crops growing at the farm. Some examples include: snake gourd, bitter melon, taro root, too-kook-re (phonetic spelling from Nepali), lemongrass, water spinach, roselle, caigua, daikon, lenga lenga, African eggplants, African dent corn and mustard greens.
New Farms for New Americans farmers have so much to teach and share with the Vermont agricultural community and we are excited to be the City Market July Rally for Change Recipient.
A bit more about AALV: AALV serves refugees, immigrants and asylees from all over the world who are new to the United States. AALV's primary service is to provide case management support to clients. AALV also assists with job placement, workforce development, client integration, community networking, social support, and interpretation. In addition to direct client services, AALV offers classes and workshops that meet an ongoing need such as citizenship and youth development initiatives, as well as a Personal Care Attendant certification program. For more information visit: https://www.aalv-vt.org
July's 10% Partner:
Pathways Vermont's mission is to end homelessness in Vermont and provide innovative mental health alternatives. We support people to live and thrive in the community at times in their lives when they are most distressed: when they are struggling with thoughts of suicide, are experiencing homelessness, incarceration, institutionalization, mental health struggles, or substance use challenges.  
In all of our programs, Pathways Vermont helps ensure that some of the most vulnerable Vermonters are in a position to lead healthy and meaningful lives in their community. We believe that these objectives can be achieved by providing flexible, person-centered services that support individuals to access permanent housing and live independently in the community. In addition to addressing clients' quality of life and holistic wellbeing, our programs strive to reduce individuals' reliance on other costly resources, including state-funded motels, emergency rooms, psychiatric facilities, and the criminal justice system. Clients successfully graduate from our programs when they have achieved their self-identified goals, identify a reduced need for support, and for many, have established financial stability in housing. 
The basic philosophy of The Pathways Vermont Housing First Program asserts that while homelessness is a complex issue with multiple, intersecting causes, the solution to homelessness is simple: housing. The model intervenes in the revolving-door of services experienced by many individuals experiencing homelessness by providing immediate access to low-barrier and permanent housing. The program works to promote housing retention and community integration among individuals who tend to "fall through the cracks". In addition to housing placement in permanent, independent apartments located throughout the state, the program provides community-based service coordination, supported employment, nursing care, and psychiatric services to program participants to help them maintain their housing and be successful in creating healthy and meaningful lives. The Housing First program works with individuals, families including many veterans who have experienced long histories of homelessness, involvement with corrections, frequent contact with emergency services, and long periods of hospitalizations and institutionalization. Since 2010, our Housing First program has ended the cycle of chronic homelessness for over 800 Vermonters.  Located in 6 Vermont counties, our teams are considered 'essential' by the state and continue to house and serve families and individuals that are experiencing homelessness. Since mid-March, Pathways has welcomed 50 Vermonters into a new, permanent home!  Follow this link to watch a short inspirational film featuring stories of the folks we serve.
The Pathways Vermont Support Line (833-VT-TALKS) provides anonymous, non-judgmental support and connection for all Vermonters by phone call or text. Different from a crisis helpline or emergency hotline, the Support Line is a "warm line" — a support resource that can help prevent a situation from escalating to an emergency. The line is staffed by individuals who have experienced many of the same experiences as the callers and are trained in non-judgemental communication. The Support Line has become an important resource during the Covid-19 pandemic, with many Vermonters feeling increased anxiety, depression, and isolation from family and friends. To meet the need, The Support Line is now open 24/7! Everyone over 18 years of age is encouraged to call to find connection and understanding!
The Pathways Vermont Community Center is a valued resource for individuals seeking community and alternative resources for mental wellness in the Burlington area. The Community Center aims to cultivate a vibrant community that supports resilience through collective learning, creative exploration, and mutual support. The Community Center offers a range of services including support groups, individual peer support services, supportive employment services, art and music activities, wellness workshops, and a welcoming space for people to spend unstructured time with access to free Wi-Fi, public computers, snacks, tea, and coffee.  In response to the Covid-19 Pandemic, the Community Center has moved its services online, providing free classes, support groups, and employment services to all.
The Pathways Vermont Soteria House is a Therapeutic Community Residence for the prevention of hospitalization for individuals experiencing their first mental health crises. The program supports individuals, generally adults in their late teens and twenties, through an early episode of psychosis focusing on interpersonal relationships and "being with" the individual in need. Psychosis is considered to be one of the most expensive mental health conditions. Frequent and long-term hospitalizations combined with high rates of disability among individuals diagnosed with a psychotic disorder carries a high price tag. Soteria is remarkably cost-effective compared to inpatient hospitalization, largely due to its less restrictive nature. Additionally, by providing early intervention services, there is a great likelihood that Soteria will improve the long-term functional outcomes of residents. By focusing on abating distress, building resilience, and identifying future goals, individuals are able to obtain functional recovery.  The Soteria House remains open during the Covid-19 pandemic and staff are committed to the safety and security of all residents.
Past Recipients