Rally for Change
City Market has updated donations at the register starting October 1, 2014! Previously, we selected a different non-profit each month and donated 5 cents for each bag our customers reused (our "Change for Local Non-Profits" program). Every register also included tear off coupons so customers could donate to the Chittenden Emergency Food Shelf. In addition, each year in February we sold $1 Hearts for the Intervale Center and in September $1 Lunch Trays for Hunger Free Vermont, with all donations going to each respective organization. We've consolidated all of these programs into our new "Rally for Change" program which allows customers to "round up" their order at each register, each time they check-out at the Co-op.
Rally for Change
In the name of education, opportunity, and streamlining how we do things here at the Co-op, we created a Rally for Change program! This program allows customers to "round up" their payment at the register (e.g., a $25.42 checkout could be rounded up to $26 for a $0.58 donation). The Co-op will then donate this "round up" change to a variety of local non-profits each month (so, not just one!) that are doing amazing work in our community. Want to round up to the nearest five or ten dollars? You can do that too! Each month, we'll share who will be receiving the donations (in our newsletter, with store signage and through staff education).
With more than 4,000 transactions each day through our registers, we all have the opportunity to share what we think of as "small change" to rally for bigger community-wide change. This new Rally program will take the place of the "tear off" coupons we have at the registers and will also take the place of our Change for Local Non-Profits (or bag refunds) program.
Not to worry, a large percentage of each month's donation will go to the Chittenden Emergency Food Shelf and we anticipate that this program will actually increase their donations. Through this new program, we will also continue to offer donations to local non-profits that are on the waiting list for our previous "Change for Local Non-Profits" bag refund program (and any new ones that we add to the list!). Here's how the donation percentages will work out each month:
40% to the Chittenden Emergency Food Shelf, every month
50% to an organization that aligns with the Co-op's Global Ends
10% to a local non-profit that may not directly align so closely with our Global Ends, but still works to make our community a better place (much like the Change for Local Non-Profits Program)
This new program gives our cashiers and staff an opportunity to engage with our customers and together we'll both support and learn more about the organizations that make our community a better place to live. We're excited to give it a try and are interested to hear what you think!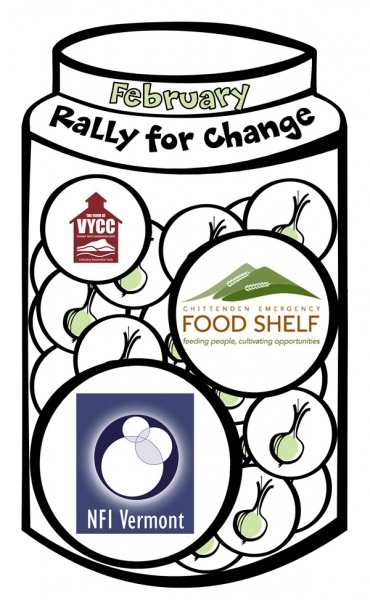 February's 50% Rally for Change Recipient: VYCC
The Farm at VYCC is a program of The Vermont Youth Conservation Corps (VYCC), a nonprofit 501c3 organization whose mission is to teach individuals to take personal responsibility for all their actions. We do this by creating residential service opportunities for youth and young adults seeking indelible outdoor experiences. 2015 marks the VYCC's 30th anniversary: 30 years of small teams, well-trained leaders, and diverse crews working to complete projects that benefit the community.  In 2012, The Farm at VYCC partnered with Central Vermont Medical Center (CVMC) to provide families with the Health Care Share (HCS), a food security initiative that provides farm fresh produce and poultry to families in need. Medical providers identify patient and employee families who are unable to afford or access fresh, nutritious food.
February's 10% Rally for Change Recipient: NFI Vermont
Since 1984, NFI Vermont has created safe and supportive treatment programs for children who struggle with severe emotional problems. Their goal is to work with families to help every child succeed.  Building on each individual's strengths and abilities, they create a unique treatment environment at home, in therapeutic foster care, or within small family-like group programs. NFI Vermont continues to focus on providing the highest quality services possible, as well as on diversification, particularly in the areas of attachment issues, trauma, alternative educational strategies, and refining wraparound services. They are always looking for Therapeutic Foster Parents to become integral members of the treatment they offer by opening their homes and hearts and providing for physical, emotional and social needs of children in a "substitute" family setting-a foster home. For more information, please call 802-658-0040.
Past Recipients
Do you run a local non-profit that aligns with our Global Ends?
Your organization can apply to become a Rally for Change 10% Partner. We are currently filling slots 2 years out (it's a popular program and our community has many amazing non-profits!). Visit our donations page to learn how to apply.