Rally for Change
Anytime you check-out at City Market, you can choose to "round up" your total to the nearest dollar. At the end of the month, we donate 50% of those funds to Feeding Chittenden (previously Chittenden Emergency Food Shelf), 40% to an organization that aligns with our Global Ends, and 10% to a local non-profit.

In February, you collectively donated $18,945.79! 
$9,472.90 for Feeding Chittenden
$7,578.31 for NOFA-VT
$1,894.58 for the Burlington Football Club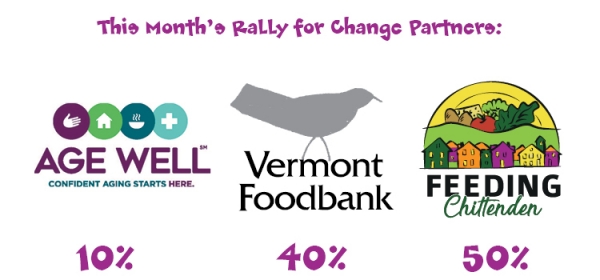 April's 50% Partner: 
On February 10, 2020 Feeding Chittenden received a total of $8,879.81 through January's Rally for Change register round-ups!
During the month of January our food shelf served 1,802 households and hosted 4,323 visits. The support from the City Market Round-Up campaign is helping us increase our capacity to serve visitors. Our numbers for households served and grocery visits hosted have increased from the last calendar year, and we have elevated our focus on care and access for senior citizens. Jiva (pictured in the attached photo) and other seniors in our region need access to proper nutrition and our goal is to help provide it.  In 2019, with the support of the city market round-up, we provided fresh fruit, vegetables, prepared meals, and shelf-stable food to over 1,800 seniors and homebound Vermonters.
Because of this support, Feeding Chittenden is able to provide a sense of community for many older adults and people with disabilities who receive meals and groceries each month through our Homebound Grocery Delivery Program. With your help, we can make sure every senior in our region has access to proper nutrition.
More about Feeding Chittenden:
In 2018, CEFS embarked on a listening campaign to gather input on our future direction from our program participants, neighbors, volunteers, donors and other stakeholders. Through this campaign, we collected information on the changing needs of those we serve and our role in the broader community. 
Feedback from these sessions focused on our role as a source of food, community and opportunity for those we serve. 
We also heard over and over during these listening sessions that we were seen by both those we serve and those we work with as "more than a Food Shelf" and that the scope of our programs was not accurately reflected in our name. 
The feedback we received through our listening sessions mirrored the experiences that we have had regularly with community members – including our guests, volunteers, supporters, etc. – who are nearly always surprised during their first visit to our organization when learning about our variety of programs, the volume of people who we serve every day and our mission of providing more than just food to people who are facing food insecurity and hunger. 
While we operate the Chittenden Food Shelf as our cornerstone program, we also operate the following programs and services:
            - Good Food Truck: bringing meals, groceries and outreach services to local neighborhoods throughout Chittenden County
            - Homebound Grocery Delivery: helping older adults and people with disabilities who are homebound access our services through deliveries of groceries and prepared meals
            - Food Rescue: fighting food waste locally by working with local markets and farmers to save ~10,000 lbs of edible, nutritious food every month 
            - Hot Meal Program:  operating 6 days a week and profviding thousands of fresh, buffet-style meals each month
            - Community Kitchen Academy: providing culinary job training and support to people who are un-employed through a partnership with the Vermont Foodbank
            - Service Coordination: providing program referrals, case work and support to our guests who need additional services. 
After working with FourNine Design to explore rebranding, we determined that the name "Feeding Chittenden" would better reflect the varied work and advocacy we undertake to help all members of our community who are facing food insecurity and hunger. 
"Feeding Chittenden" has long been our website URL – www.feedingchittenden.org – and has been our tag on our various social media channels. Our supporters in the community are already familiar with this name, and we hope that this will ease our transition. 
April's 40% Partner:
The Vermont Foodbank is the state's largest hunger-relief organization, providing nutritious food and promoting health through a network of 215 food shelves, meal sites, senior centers and after-school programs, and directly to families, children, older adults and individuals at schools and hospitals. Last year, more than 12 million pounds of food was distributed to 153,100 Vermonters.
Nearly one in four Vermonters struggle to put food on the table. Since 1986, the Vermont Foodbank has been there for our neighbors. We envision a Vermont where everyone has access to enough food every day, everyone is healthy, and everyone takes action to eliminate hunger and poverty. We feed people today and work with partners and donors across the state to ensure fewer people will be food insecure tomorrow. 
The Vermont Foodbank, a member of Feeding America, is nationally recognized as one of the most effective and efficient nonprofits and food banks in the nation. Learn more at www.vtfoodbank.org.    
April's 10% Partner:
For more than 40 years, Age Well (formerly CVAA) has provided services and support that allow older Vermonters to stay independent, and remain healthy at home, where they want to be. We integrate community resources, health services, and wellness programs to enhance and improve the quality of life for all seniors in Northwestern Vermont.  Since 1974, we have been part of Vermont's Area Agencies on Aging, coordinating services and care for Addison, Chittenden, Franklin, and Grand Isle Counties.
Vermont is ranked as the second "oldest" state in the country and the population of seniors is only expected to grow. The state's senior population is expected to nearly double in the next fifteen years. Older adults living in rural areas have less access to healthcare, including specialized healthcare, and the services tend to be more costly than those provided in metropolitan areas. Overwhelmingly, Vermonters want to grow old in their own homes. Age Well provides the services and support to ensure that is a possibility.
Age Well's offerings and services include Care & Service Coordination, a Helpline, medically-tailored home-delivered Meals on Wheels, community meals, wellness classes, transportation services, Medicare counseling, and much more. Delivered by staff members and over 1,000 incredible volunteers, our sought-after services are designed to meet the diverse needs of our clients, their families, and caregivers. We do not charge for services provided. As a nonprofit, we rely on donations and encourage clients to contribute if they are able to do so. Learn more about Age Well at agewellvt.org or call the Helpline: 1-800-642-5119.
Past Recipients