Spirits of Strength and Hope
Submitted by
choman
on Wed, 12/18/2013 - 13:16
Mary and Amrit Kami, from Bhutan and Nepal
Once in a while, you meet a person who is hard to forget. In the case of the Mosaic of Flavor series, that seems to happen every month, as one person after another makes a lasting impression on us with his or her presence, stories, and cooking. As one participant in a recent class quipped: "I don't come for the food, I come for the stories!" Still, at the end of the evening, when these inspiring people have guided us through preparing a dish or dishes from their home countries, from which they are exiled, the food is almost as unforgettable as the stories.
Take Mary, for example, the vivacious 17 year-old senior at Essex High School who helped her mother, Amrit, prepare a delicious goat curry, fragrant with cilantro, garlic, and ginger. This dish is traditionally served in September and October during Dasain, the biggest festival each year in Nepal that marks a major victory of the Hindu gods.
Helping her mother in the kitchen seemed like second-nature to Mary. Poised and self-confident, she told us how she wanted to go to community college when she graduated from high school to start a pre-nursing school track, and it was hard to believe she had only been in the country for a couple of years. She told us that in the future, she sees herself as a nurse, returning to Bhutan to help bring medical help to hard-to-reach rural areas.
Then there is Zar Ni Maw, a gentle young woman whose fierce spirit enabled her to survive the civil war in Burma. She showed us how to make a delicious pumpkin and pork curry with cilantro while telling us about her dreams to help bring access to higher education to Burmese young people.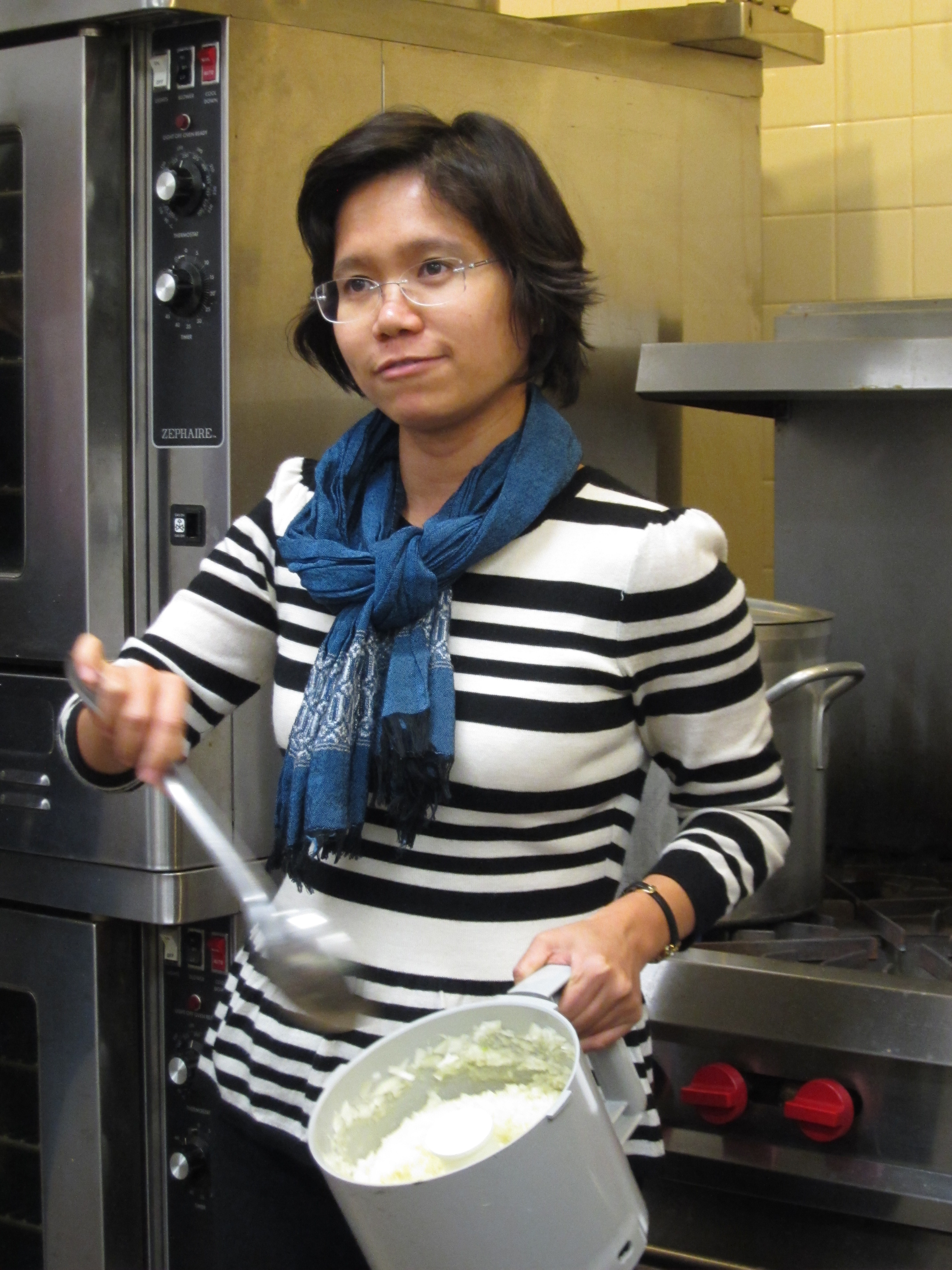 Zar Ni Maw, from Burma
She has few memories of Burma, having grown up in refugee camps along the Thai/Burmese border, but dreams of going back to help others. She was born while her parents were fleeing the civil war in Burma and hiding in the jungles along the Burma-Thailand border. Later, she lost both her parents to the war, who were political activists.
She was able to survive trauma and tragedy to land an amazing opportunity to study at Oberlin College in Ohio. Now she sends money back to support up-and-coming Burmese high school students to further their education.
Every person in these classes has a unique story to tell, and often, they are simply astounding. In this season where we tend the light within us and call upon our spirit of generosity to share our light and love with others, Zar Ni Maw, Mary, Amrit, and all of our cooks are memorable to me for their strength of spirit and their hope. I hope you will be able to join us at one of our upcoming Mosaic of Flavor classes, a collaboration of cooking classes between City Market and the Vermont Refugee Resettlement Program that is now in its third year.    
Bhutanese Goat Meat Curry, from Mary and Amrit Kami
This flavorful curry is delicious with goat meat, but you may also use beef or pork. The quantities are for a large stew serving 8 people, so adapt as necessary.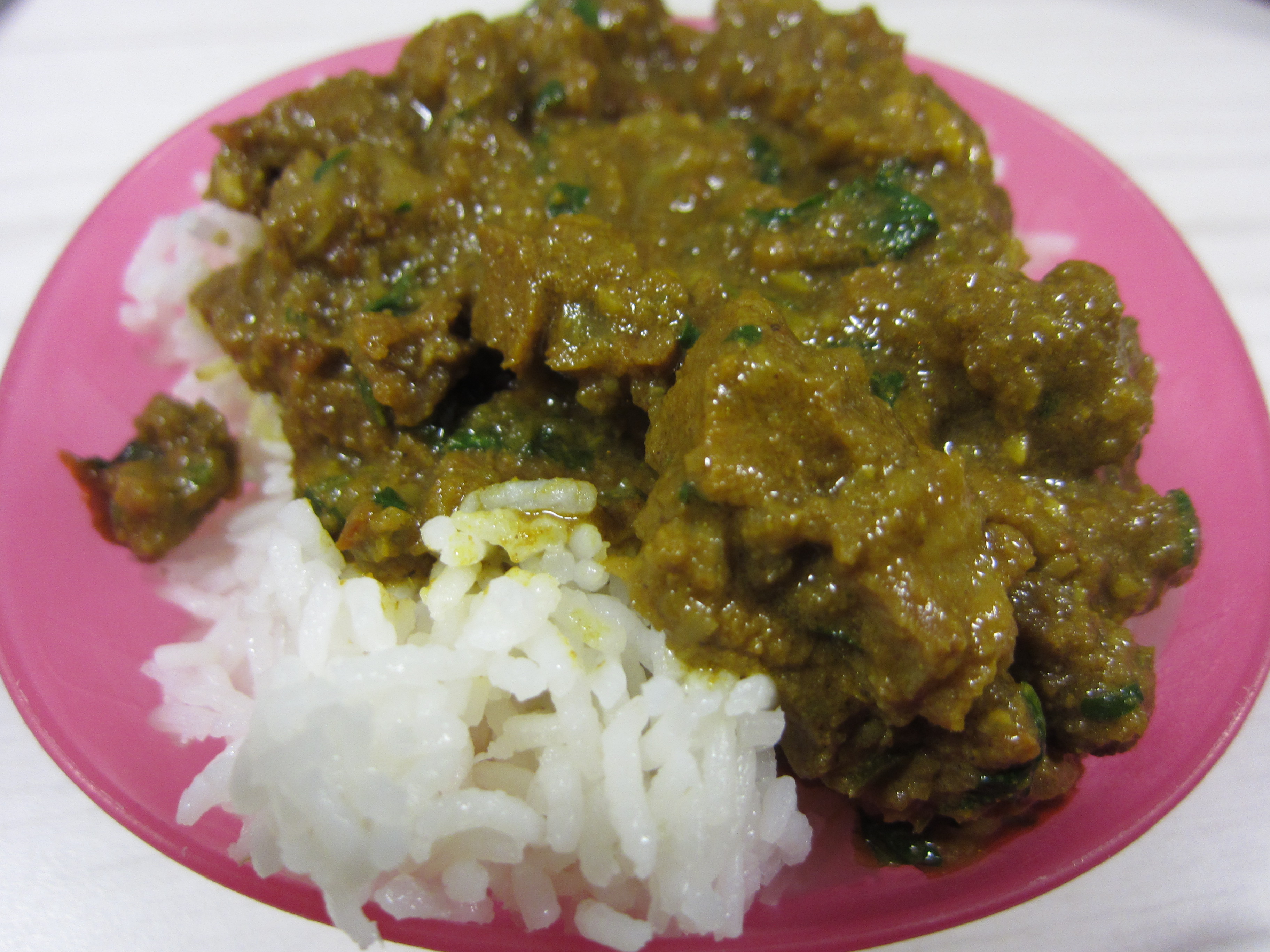 Bhutanese goat meat curry
1 Tbs. ground cumin
1 Tbs. curry powder
1 Tbs. turmeric powder
1 small to medium red onion, quartered and sliced
1 ½ inch piece of ginger, peeled and sliced
8-10 garlic cloves, peeled and chopped
Chili peppers (based on flavor preference, we used 4-5 very little chilies), stems removed
1 tomato, chopped
3 Tbs. canola oil
1 ½ tsp. salt
2 pounds goat meat in 1 or 2 inch chunks
1/3 cup cilantro, chopped
1. Combine cumin, curry powder, turmeric, ½ of sliced onion, ginger, chili peppers, tomatoes, and garlic. Add to blender with ½ cup water blend until well mixed.
2. Heat medium sized pot on medium/high heat. Add 3 Tbs. of canola oil and ¼ onion. Heat oil and onions for 2 min.
3. Add curry mixture and 1 ½ tsp. salt to pot. Add pieces of goat meat.
4. Cook for 30-35 minutes. Keep eye on curry and stir as needed. Add water to curry as needed and based on preferences for sauce amount.
5. Finish with cilantro.
Serve over Jasmine rice.
Burmese Pumpkin and Pork Curry, from Zar Ni Maw
This curry is highly flavorful, but can also get an additional kick from chile peppers. Zar Ni Maw left the chile peppers out of the recipe to suit milder taste preferences, but you can spice it up with as many green chile peppers as you want!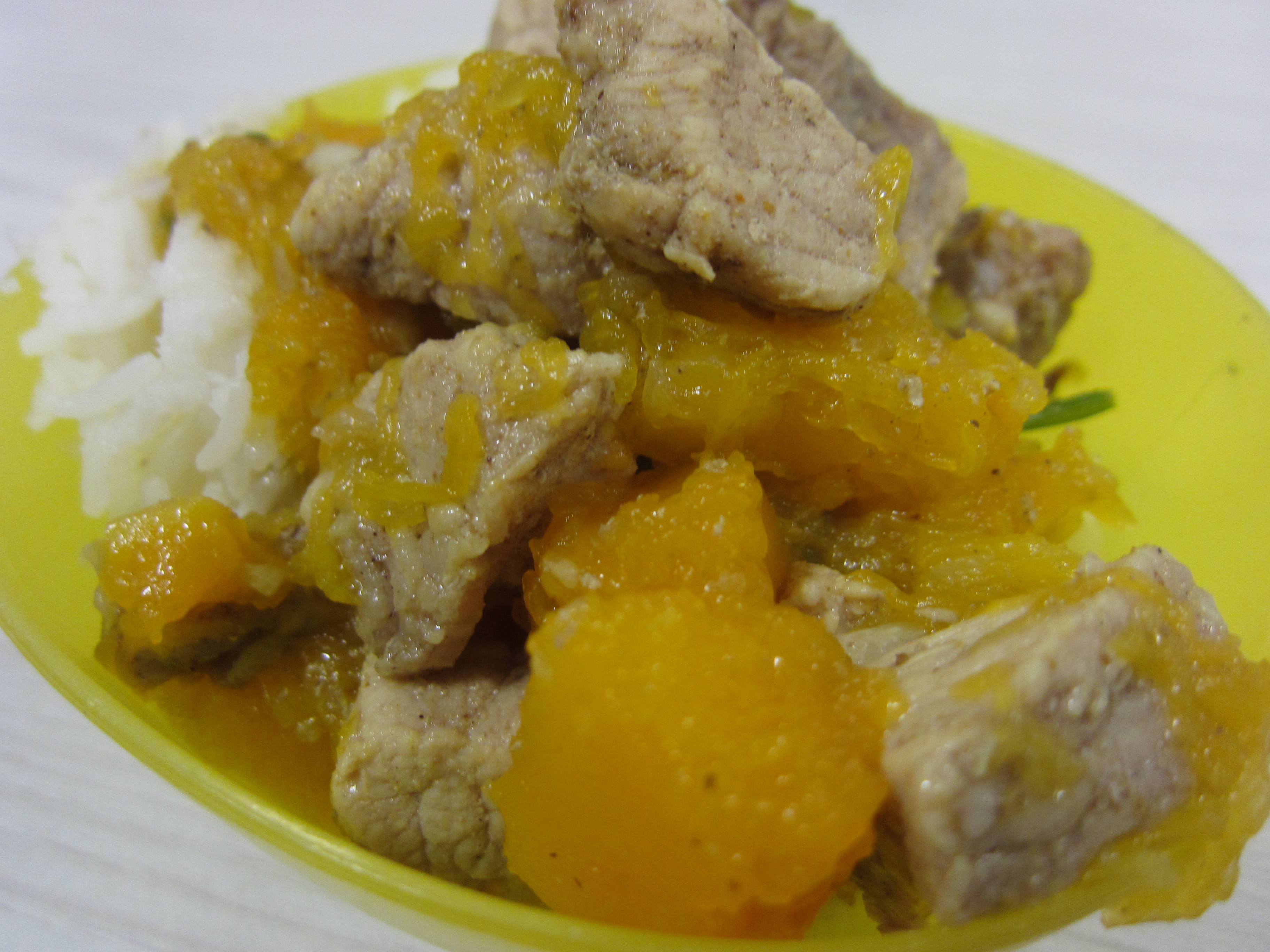 Burmese pumpkin and pork curry
1 medium yellow onion, peeled and chopped
1 head garlic, peeled and chopped
1/3 cup peanut oil
1 ½ tsp. turmeric
2 Tbs. garam masala or curry powder
1 ½-2 pounds pork (preferably loin meat)
Salt to taste
2 Tbs. fish sauce (to taste)
2 stalks lemon grass, pounded to soften and then tied into a knot
1 medium-sized pumpkin, cut into 1-inch cubes (Long Island cheese pumpkin recommended in season – pale orange rind and orange flesh)
1 medium bunch cilantro
Salt and pepper to taste
1. Make a paste in the food processor of onion, garlic, and optional chile peppers.
2. Heat oil on medium high and fry onion, garlic, turmeric, and garam masala for 3-5 minutes.
2. Cut up pork into small pieces and mix with salt and fish sauce. Add pork and lemon grass to the pan.
3. Once pork is cooked, add the cubed pumpkin to the pan. Cook until tender. Check for seasoning (salt and pepper).
4. Garnish with chopped cilantro.
Serve over Jasmine rice.