Bulk Department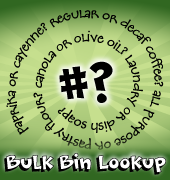 Bulk departments have always been a staple in food co-ops and with more and more savvy shoppers today, they are quickly becoming one of the most popular sections to shop. One of the appeals of the Bulk department is that you can buy as little or as much as you need of spices, cereals, rice, pasta, flour, grains, nuts, candy, dried fruit, maple syrup, a vast array of teas, coffee, and many more items. We have local granolas, beans and everything you need to make the perfect pie or canned tomatoes. Items such as citric acid, vital gluten, baking yeast and flax meal can be purchased in just the right amount for your recipe.
It's just a smart way to shop. Plus shopping in bulk is good for the environment because it reduces excess packaging. Co-op shoppers are strongly encouraged to bring their own containers, weighing them first when they are empty in order not to be charged for the weight of the container.
 If shopping in the bulk foods section is new to you, here are some helpful hints:
Mark the bin number for each bulk item on the tie of the bag. This will help speed your way through the checkout.
Please use a separate bag for each item (even those that are the same price).
If you bring your own empty jars to fill with bulk items, weigh them first at the scale in the Bulk department and record the weight on tape or the bulk tie on each container.
Change your mind? If you decide not to purchase an item after scooping it, please label it before you leave it.
Spills are inevitable. Let one of our staff know when there's a spill.
Information and cooking instructions for many of our bulk foods are located on the literature rack in the bulk aisle.
If you find yourself at home with a numbered bag full of some mystery spice, you can look up the bin number online.
Most importantly, don't be intimidated by the bulk foods section. It really is as fun and as shopper-friendly as it looks. For the expert chef or new cook in the kitchen, Bulk is the place to start when experimenting with that new ingredient you always wanted to try.
City Market also has a set of brochures specifically for the bulk section. The brochures are located next to the bulk spices and herbs or on our website.
Be sure to check out the medicinal herbs that we carry ranging from calendula to goldenseal for that poultice or homemade lip balm.  For your own benefit and that of the planet, make a habit of bulk buying!