Bulk Department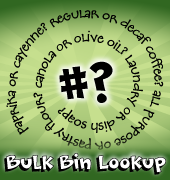 Bulk departments have always been a staple in food co-ops and with more and more savvy shoppers today, they are quickly becoming one of the most popular sections to shop. You can find as little or as much as you need of local, organic, and conventional products, including spices, oils, cereals, rice, pasta, flour, beans, grains, nuts, dried fruit, maple syrup, candy, teas, medicinal herbs, coffee, and more.
Bulk Up Thursdays
Here at City Market, we offer 10% discounts on all supplements and all bulk items on select days. Every Tuesday, shoppers save 10% on all supplements during our Take Care Tuesdays and every Thursday, shoppers save 10% on all bulk items during our Bulk Up Thursdays. Click here to learn more about this program!
Why Buy in Bulk?
Buying in bulk is better for the environment and less expensive! Reducing packaging and reusing containers means less energy is used to bring the product to you and less waste is sent to the landfills. Reduced packaging also allows you to save money by paying for the product, not the packaging.
Buying in bulk allows you to purchase only the amount you need, but get the same unit price savings as if you had bought a larger volume. So, if you've never tried a certain product, you may buy a small amount and see if you like it.
Buying small amounts of spices and flours also ensures the freshness of your ingredients. You are more likely to use these items while they are still fresh and avoid waste.
You can see the product. For the most part, you are buying simple, real food, with no preservatives or additives, which are common in packaged foods.
If shopping in the bulk foods section is new to you, here's how to do it:
Grab a container: We provide plastic and paper bags for dry items or plastic tubs for liquids and nut butters. We also sell glass jars and other containers. Cashiers know the price and tare weights of these containers so you do not need to weigh them ahead of time. We strongly encourage you to reuse your own clean containers. Please weigh them using one of our digital scales, then write down the tare weight before filling.
Select your item and fill up your container: Using the scoops provided, portion out as much or as little of the item as you'd like into your bag or container. If dispensing from the vertical "gravity bins", please pull the lever slowly as product can come out very quickly.  Please use a different bag for each item, even if they have the same price.
Write down the bin number: Write the bin number on a twist tie or piece of masking tape and use it to close your container. Take your tagged items to the register and the cashier will ring up the price.
Shopping in bulk is as simple as that!
Additional hints and tips:
If you'd like to try a product before you buy it, please ask a staff member for a sample and assistance.
The best way to get products out of the bulk bins is to use the scoops or tongs provided. For the health and safety of all our customers, please refrain from sticking hands inside bulk bins.
All bulk items are sold by the pound. You can estimate your final price by using the digital scales in the Bulk Department.
Change your mind? If you decide not to purchase an item after scooping it, please label it before you leave it.
Spills are inevitable. Let one of our staff know when there's a spill.
If you'd like to order a large amount of a bulk item, we can special order products in 25 lb or 50 lb bags (or 1 lb bags for teas and spices). You will receive a 10% special order discount.
Information and cooking instructions for many of our bulk foods are located on the literature rack in the bulk aisle or on our Brochures page.
If you find yourself at home with a numbered bag full of some mystery spice, you can look up the bin number online.
Most importantly, don't be intimidated by the bulk foods section. It really is as fun and as shopper-friendly as it looks. For the expert chef or new cook in the kitchen, Bulk is the place to start when experimenting with that new ingredient you always wanted to try.
Helpful Bulk Resources
conversion charts cooking times
brochures recipes special orders
For your benefit and that of the planet, make a habit of bulk buying!