Dumplings Usher in the Year of the Dragon
Submitted by
choman
on Sun, 01/22/2012 - 16:55
Happy Year of the Dragon!
Chinese New Year, which runs on the lunar calendar, starts at midnight tomorrow night. It's the Year of the Dragon (a very auspicious year, and one in which I was coincidentally born). We had a great time learning about dumplings in the Chinese New Year class on Thursday.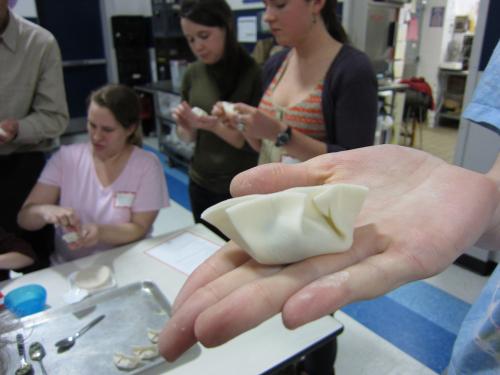 Ben Wang, Co-op member and Chinese teacher at Vermont Commons School, taught this fantastic class on dumpling making.  Ben is originally from Taiwan, and left when he was 10. He learned to make dumplings with his extended family.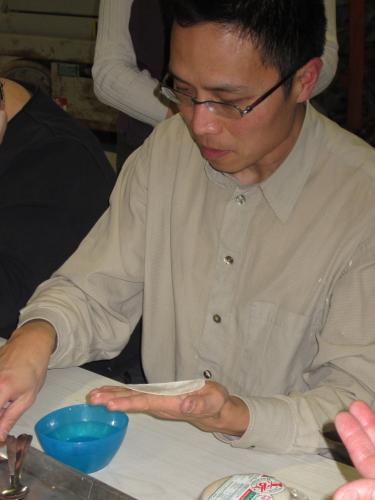 Some key things about making dumplings we learned during the class:
1.       Pork and cabbage is a traditional dumpling filling. Pork and dumplings both signify wealth and good luck for the New Year.
2.       Practically anything can become a dumpling filling. However – and this is a big however – when making a vegetarian filling, you have to steam or lightly sauté the vegetables or tofu to draw out excess moisture.  A watery fililng is the enemy of the dumplings, as it will make them explode when cooking.
3.       On the other hand, it's traditional – particularly for men, Ben says – to drink the cooking water for the dumplings after all the dumplings have cooked. Usually, a few dumplings explode, and the salt in the water, bits of vegetable and pork, and seasonings from the fillings actually provide a flavorful broth. If you've dusted a surface with flour to keep the dumplings from sticking while you fold them, that adds a little thickness, too. It's quite delicious.
We enjoyed our dumplings with Michelle's Spicy Kimchi, one of our hot new local products.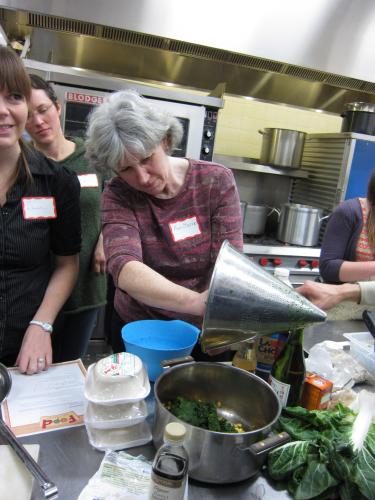 Adding the steamed spinach to the vegetarian dumpling filling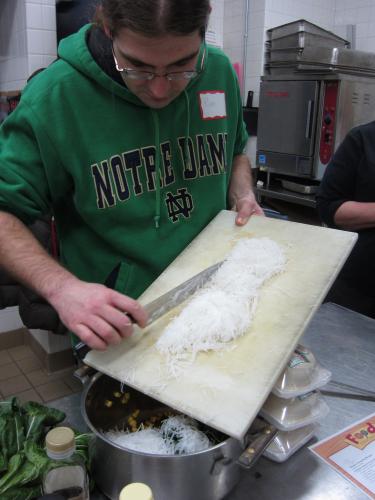 Adding soaked vermicelli to vegetarian filling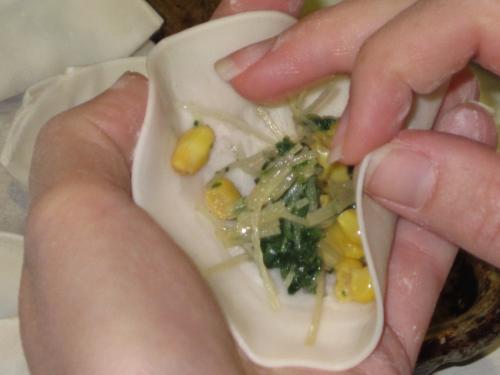 Folding dumplings. Here's a tutorial on how to fold dumplings.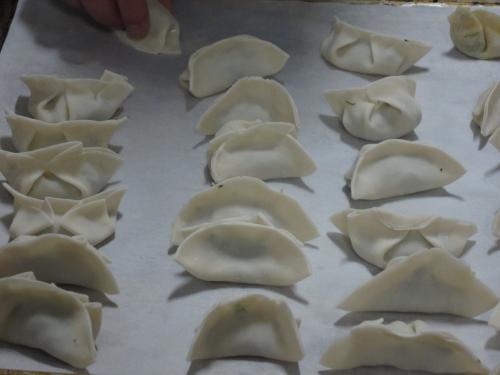 Dumplings waiting for the pot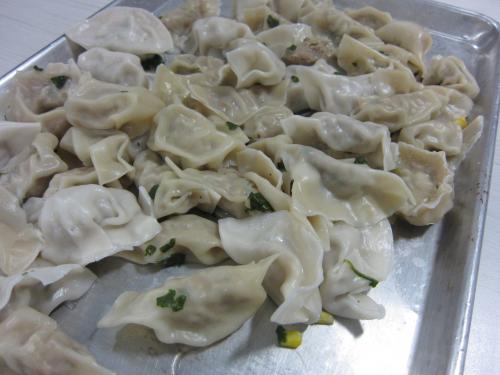 Cooked dumplings - yum.
Vegetarian Dumpling Filling
8 oz frozen spinach
2 oz bean thread (cellophane noodles)
1/2 cup frozen corn kernels
1 Tbs. toasted sesame oil
1 Tbs. soy sauce
1.       Soak the bean thread for 20 minutes, then soak with warm water to soften
2.      Finely chop the bean thread (a food processor can be useful for this step)
3.      Bring a pot of water to boil and parboil the spinach
4.      Remove the spinach quickly and squeeze out excess water
5.      In a large bowl, mix together the spinach, bean thread, corn, sesame oil, and soy sauce
-- Fold dumplings, and cook according to instructions below.
Makes about 40 dumplings
Pork and Cabbage Dumpling Filling
2 cups cabbage leaves, torn apart, then sliced into 1/4-inch strips
1 cup cabbage stalks, coarsely chopped
1 pound coarsely ground pork
 6 scallions, trimmed and finely chopped
1 egg
1 1/2 tsp. salt
1 Tbs. sugar
1 Tbs. ground or fresh ginger
1 Tbs. Chinese rice wine
1 Tbs. each soy sauce and toasted sesame oil
grinding of black pepper
1 Tbs. corn starch
1.       Bring  water to a boil in a large pot.
2.      Stir in the cabbage leaves and cook until wilted, about 1 minute.
3.      Drain the cabbage in a sieve, refresh under cold running water, shake well, and then use a rubber spatula or the back of a cooking spoon to press out as much water as possible.
4.      Blend these in a mixing bowl with the other ingredients (including the uncooked bits of stalk) until everything is well mixed.
5.      Cover and let rest at room temperature for 30 minutes to allow the flavors to meld.
-- Fold dumplings, and cook according to instructions below
Makes about 40 dumplings
Wrappers
Ben likes the white, round dumpling wrappers sold at Thai Phat Market on North St. They are sold frozen, and must be thawed overnight in the refrigerator. You can also use wonton wrappers (square-shaped) sold at City Market and snip the corners to make them rounded.
How Cook the Dumplings
a.     Boil a big pot of water with 1 tsp. salt and 1/2 tsp. baking soda
b.     Put the dumplings in
c.      When the water boils again, put in a cold cup of water
d.     When the water boils again, put in another cold cup of water
e.     When the water boils one more time, the dumplings are ready! Remove with a slotted spoon, or use a colander
Dipping Sauce
Serve with soy sauce, mixed with a smaller quantity of toasted sesame oil and an even smaller quantity of vinegar. Easy additional ingredients include minced garlic and hot sauce.