Foreign Language Cooking Classes at City Market
Submitted by
choman
on Wed, 07/02/2014 - 15:18
What's new with City Market's cooking classes? One answer: Foreign language cooking classes! Since this spring, we have been offering foreign-language cooking classes in Spanish and French, and we are thrilled with the community response. For years, we have provided a venue for instructors from other countries - Bhutan, Burma, Somalia, the Congo, Bosnia, Vietnam and more - to teach about their native cultures and cuisines. Many of them have been refugees, often in the country for only a year or two, and we have also hosted instructors from Germany, Italy, China, Peru, Mexico, and more who live locally and with whom we have been fortunate to have a connection. These classes have enriched our understanding of other places and cultures and also given us a new perspective on Vermont through the eyes of people to whom so much is new and different, including food and ingredients.
I will never forget one young woman, who told the story of arriving fresh from Burma onto a college campus and tackled her first day of cafeteria food. Since everything looked unfamiliar, she gravitated toward the sandwich/salad bar, where she at least could recognize the ingredients. She watched with curiosity as students made sandwiches, and tried to imitate them. Seeing them put turkey on bread, she did the same, only wondered at what point it would be cooked. She had never seen turkey that was white before, and assumed it was raw, as cooked turkey in her home country always has an appetizing hue. Stories like these are sometimes conveyed in beautiful English, or halting English, or sometimes in English that comes through translation provided by a daughter, granddaughter, or friend, but they are poignant and sweet. The cooks have been generous to share about their lives, their journeys, their food, and their experiences. Creating a space for that sharing to happen in their mother tongue seemed like a way of honoring where they have come from and leaning in a little more. Our participants have been eager to practice their French or Spanish, and perhaps in the future we will offer additional foreign language classes. Classes in Spanish or French are indicated as foreign-language classes in their titles on our monthly calendar, and in addition to the language immersion classes, look for English-language classes on Brazilian and Cuban cooking this summer.
Here are some pictures of recent foreign language classes at City Market:
Spanish-language class with Huertas, a community-based food access project that facilitates the planting of kitchen gardens on rural dairy farms with Latino/a migrant farm workers and their families. Alejandra (pictured with the headband), showed us how to make homemade corn tortillas and two different kinds of salsas.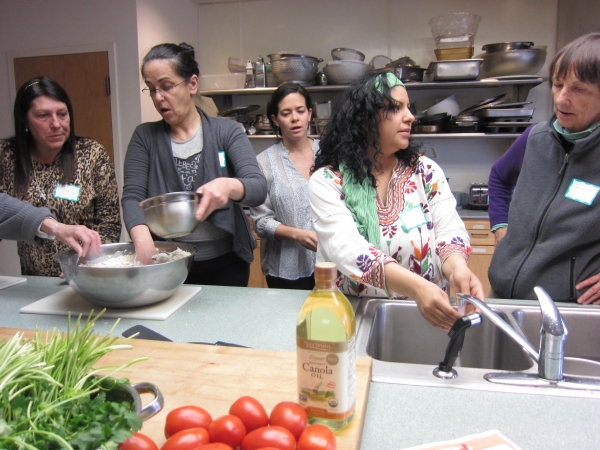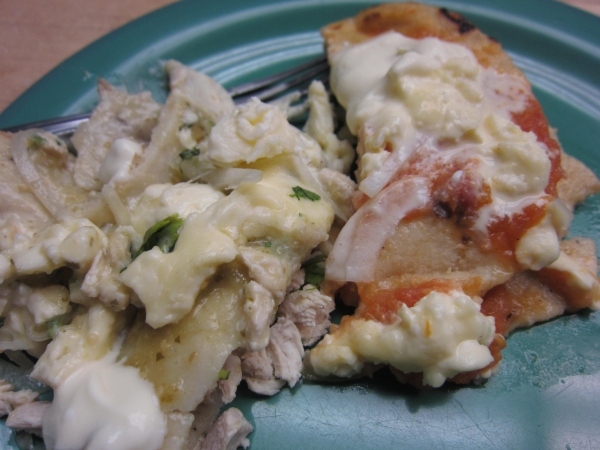 Fondue class with Alliance Française, dedicated to engendering awareness of French culture through French language classes, monthly French conversation luncheons and films, as well as picnics, potluck parties, and member outings throughout Vermont and Québec. Participants made and enjoyed classic cheese fondue and chocolate fondue.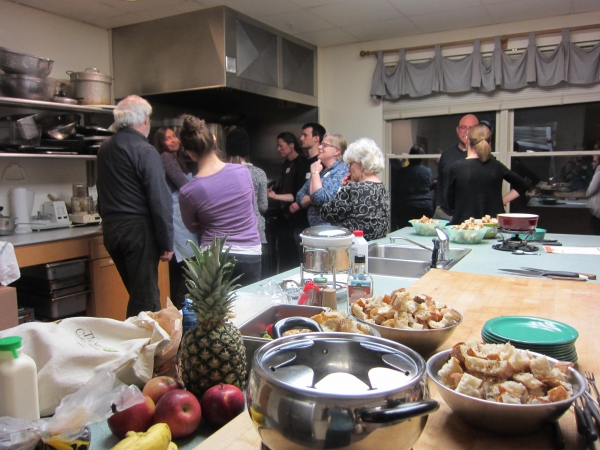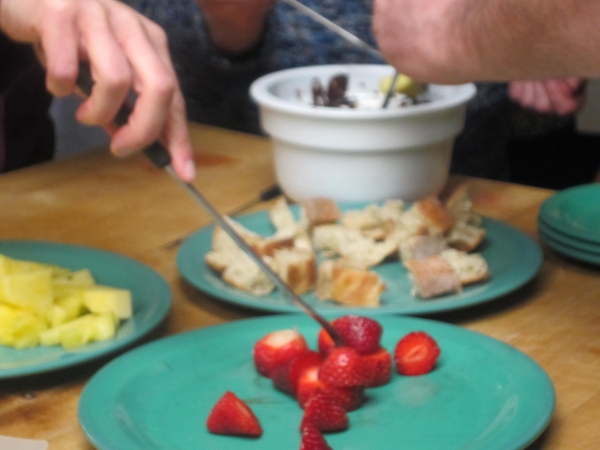 Another French-language class with Alliance Française, this time making classic and buckwheat crepes.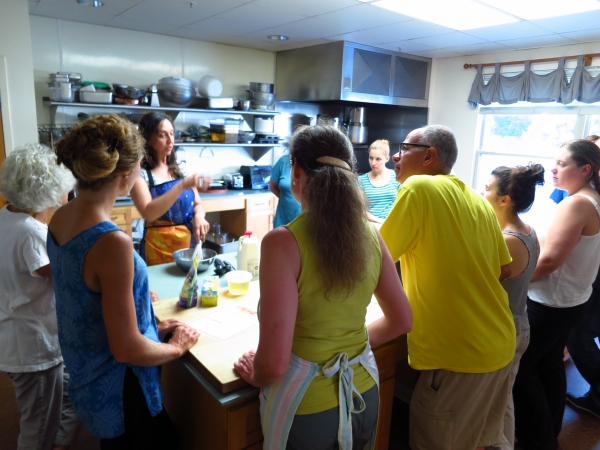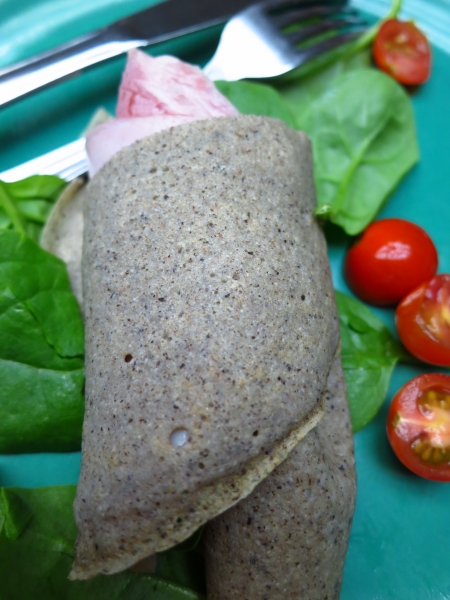 Save-the-date: The next foreign-language immersion class will be a Mexican cooking class in Spanish on Sunday, August 10th from 11:30-1:30. We will make tamales and taste Mexican herbs especially grown by and for migrant dairy workers and their families here in Vermont through the Huertas project.