Bosnian Spinach Pitas
Submitted by
choman
on Sun, 04/06/2014 - 15:46
Spring has finally sprung, and it seems like the perfect time to write about a recent Mosaic of Flavors class where we made a special Bosnian bread stuffed with spinach. Spinach will always be a "sign of spring" for me, because it's one of the first crops we get from local farmers in the springtime. Its fresh, green color and large, squeaky leaves are a welcome change of pace from root vegetables! 
Ramiza Peco was born in Bosnia and immigrated to Vermont as a young woman in 1998 due to the ravages of the religious conflict. She grew up playing outdoors all day in a town called Mostar whose ancient (circa 1566) stone bridge has been declared a UNESCO world heritage site. Isn't it beautiful? It's truly mind-boggling to think that it was destroyed during the war and faitfhully rebuilt through the tenacity of the people of Bosnia and international aid organizations.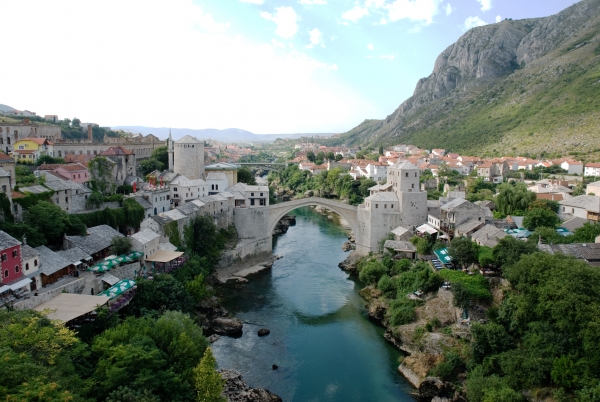 Mostar bridge
Bosnia is situated at the crossroad of Europe and Asia, and its cuisine reflects the many flavors of West and East, with culinary influences that spread from Austria all the way to Turkey and the Middle East. For this recipe, spinach-stuffed pitas ("pita sa zeljem"), Ramiza made homemade dough out of 4 simple ingredients: flour, water, oil, and salt. After allowing it to rest, she began the fascinating task of rolling it out as thinly as you can possibly imagine! Here you can see Ramiza at the beginning of the rolling-out process. She is a Bosnian-English interpreter for the Vermont Refugee Resettlement Program and a beloved member of the Bosnian community.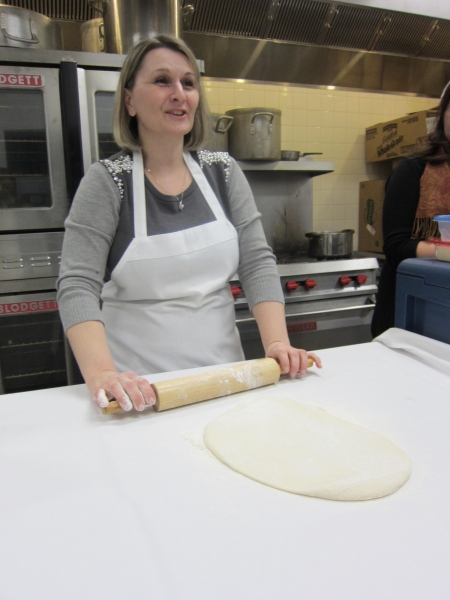 Beginning to roll out pita dough
Ramiza rolls the dough out on a regular white linen tablecloth, which provides some friction so the dough doesn't slide around and yet also allows you to peel it off at the end! She hardly used any flour to roll the dough out. By the way, this rolling out process was accomplished in the wink of an eye - it was almost magical! Here you can see two rolled-out rounds of dough side by side. If you can believe it, if she had more space, she would have rolled them even thinner.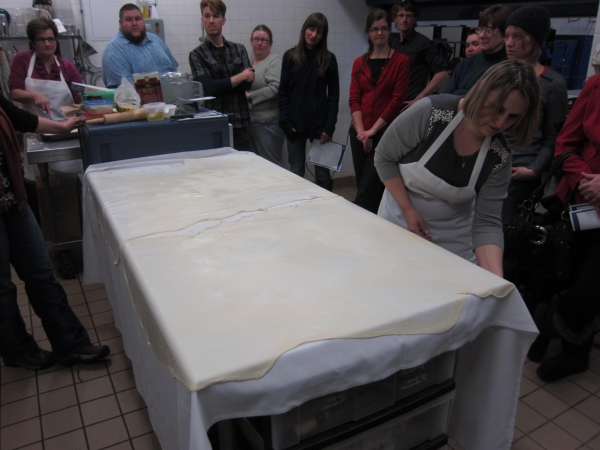 Rolled-out pita dough
Next, she placed dollops of the filling, made primarily of spinach, with a little egg and cheese, on the dough.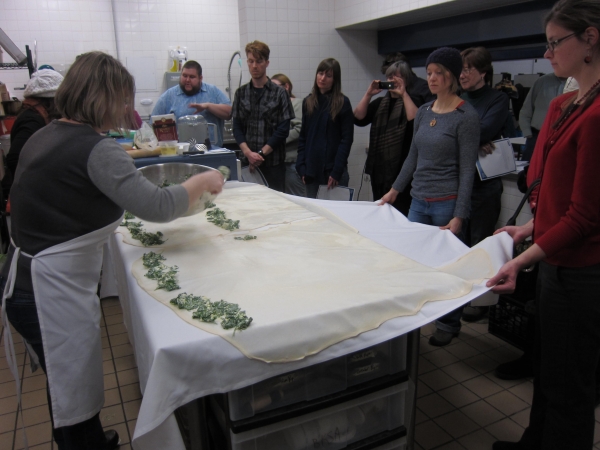 Placing filling on the dough
Ramiza handily used the tablecloth to help roll the dough into long snakes, that she then cut into 12-inch pieces.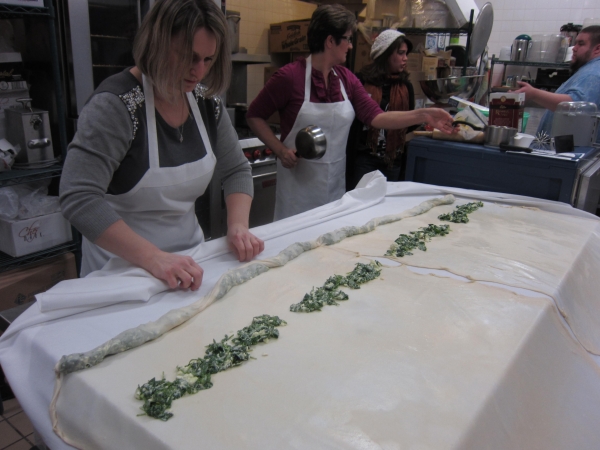 Rolling the dough up
Finally, the 12-inch pieces were rolled into snail-like spirals and placed on a baking sheet, with a little extra oil to help them crisp up.
The results tasted amazing! At home, Ramiza makes them 1-2 times/month and her family eats them for lunch or dinner with a little yogurt and salad on the side. Yum!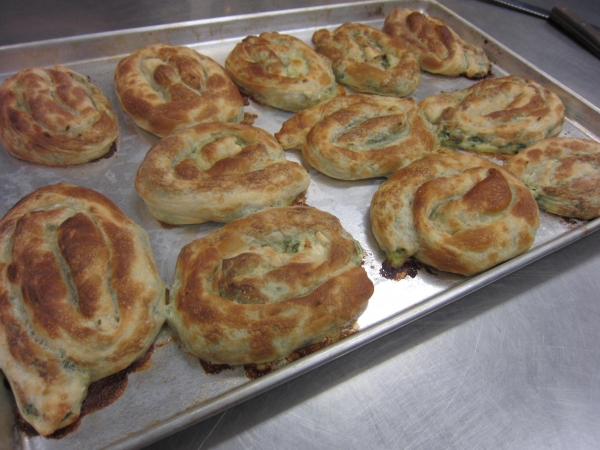 Spinach-stuffed breads
Ramiza loves to cook and bake, so perhaps we'll get to bring her back for another class! Meeting Ramiza reminds me that one country's war and loss can be another country's gain. Ramiza and the many refugees I have met through this cooking series truly embody a spirit of hope and resilience and enrich the tapestry of our community. We have much to learn from them.
PITA SA ZELJEM (Stuffed Bread with Spinach)
Bread
3 pounds all-purpose flour (such as King Arthur)
3 Tbs. vegetable oil
Pinch salt
Water as needed
Using your hands, mix the flour, oil, and salt. Add water to make a smooth, kneadable dough.
Make the dough into a ball, place in a mixing bowl coated with a little oil, and chill in the refrigerator for about 2 hours.
Filling
1pound fresh spinach
1 cup ricotta
1 cup cottage cheese
2 eggs
Salt to taste
Remove any withered leaves from spinach and cut off stalks that are too thick. Rinse the leaves in a bowl of cold water and strain. Chop the spinach.
Mix spinach with all the remaining ingredients. Squeeze out the liquid and set aside.
Remove the dough from the refrigerator.
Assembly
Take the chilled dough out of the refrigerator and place it on a pastry cloth. Spread it using a small rolling pin in a circular fashion. Let it sit a few minutes. Spread it more with your hands until it is thin and looks like phyllo dough.
Cut the dough into three strips. Spread the spinach mixture in a long row along the edge of each strip of the dough. Roll the dough to wrap around the spinach.
Cut the rolls into individual size portions. Shape each roll into a spiral.
Spray baking sheet with vegetable oil. Bake at 425 degrees for 30 minutes or until golden brown. Take out of oven and eat while warm if you like a crispy texture. If you prefer it to be soft, let it sit for a couple of hours.