Syrian Maklouba
Submitted by
choman
on Wed, 09/18/2013 - 12:24
When I first read the description of "Maklouba" (there are many different spellings for this Arabic word) for the September Mosaic of Flavors class, I had to Google it: We were trying to make what, exactly? An inverted pot of rice layered with spiced goat meat and vegetables and topped with a shower of toasted almonds and pine nuts?
Google images confirmed it was a culinary tour de force, the kind of thing that cooks might pray over as they flip it. It sounded so fancy, like the kind of thing American cooks haven't tried to pull off since the heyday of the aspic (if you, like me, are too young to remember, at least I know you've seen pictures of these gelatin molded dinners jauntily decorated with bits of lettuce and parsley).
It turns out, Maklouba is both fun to make, delicious, and remains rather mystifying! Here is what happened when we attempted to flip ours during the Maklouba class with Syrian cook Naghim Nasser (assisted by volunteers from the class):
While our Maklouba (which literally translates as "flipped upside down") wobbled and collapsed under the sheer weight of all the goat meat and potatoes we stuffed into it for our large group, it was nonetheless fascinating to watch the process of making it!
Here is Naghim preparing to brown the goat meat: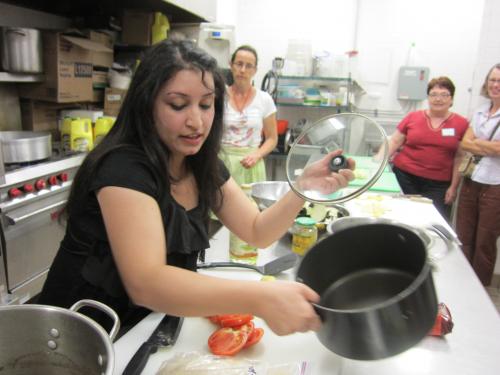 The goat meat was first cooked with a few vegetables to make a rich soup stock: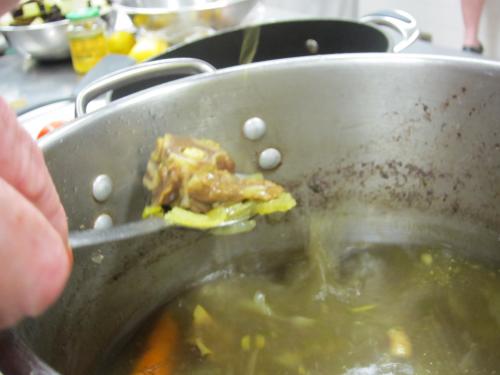 Then browned in butter: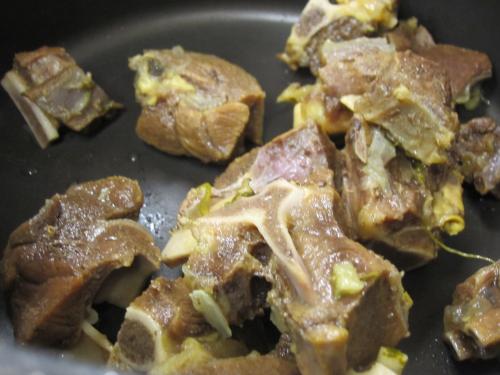 Potatoes and eggplant were fried, and tomatoes were sliced for layers of vegetables: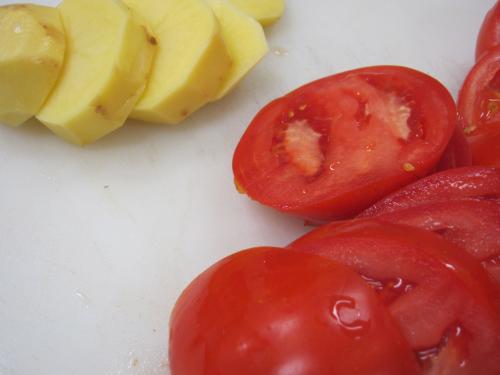 After the goat meat and vegetables were layered in the bottom of the pot, basmati rice, soup stock, and LARGE quantities of fragrant spices - mostly cinnamon and allspice - were added.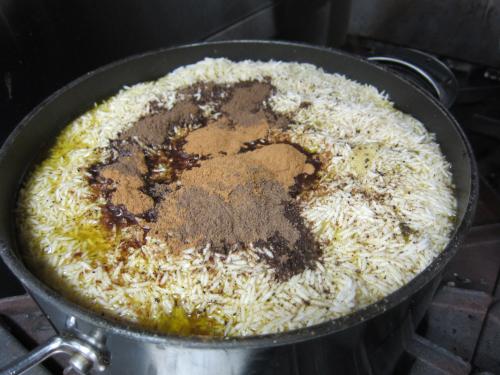 While rice cooked on the stove top (with the lid most of the way on), we used the rest of the soup stock to make a side soup with fried vermicelli noodles and peas: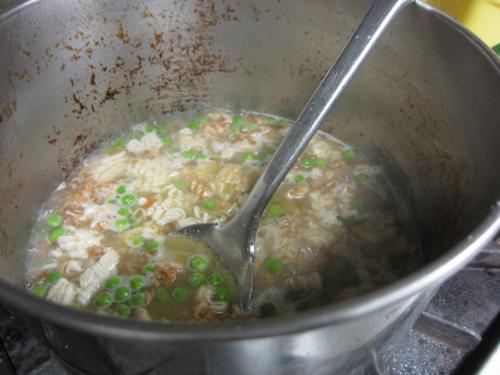 Though the Maklouba collapsed, everyone was still excited to dig in! It was served in a bowl with a ladle of soup over the top and a dollop of yogurt on top of THAT.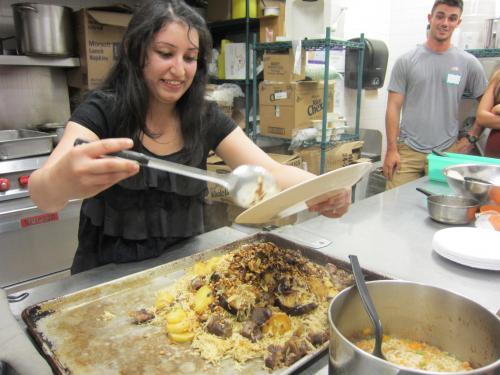 Decadent! A nice reminder that even in war-torn regions, there are warm, smart people who will invite you over for amazing food and company and whose wish, like ours, is simply for peace for their families.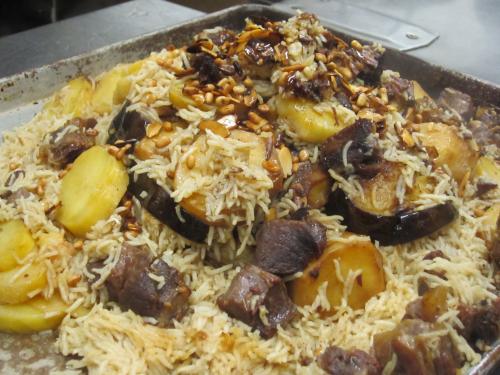 Maklouba
This is one of those dishes that are hard to quantify in a recipe, but cooks grow up learning from their mothers. The savory rice/meat mixture with its fragrant spices get a lift from the ladle of lemony soup dished over top and the dollop of fresh yogurt.
For the stock:
2 pounds bone-in meat (goat, lamb, chicken or beef), cut into chunks
1 large onion
1 clove garlic
2 sticks cinnamon
1-inch piece fresh ginger, chopped
2 large carrots
3 sprigs fresh parsley
3 sprigs fresh cilantro
Salt to taste
Pepper to taste
For the maklouba:
1 stick butter
Reserved meat from stock (above)
½ tsp. cumin (to taste)
½ tsp. coriander (to taste)
½ tsp. turmeric (to taste)
4 cups canola oil
3-4 potatoes, sliced into ½-inch thick pieces
1 large eggplant, peeled and sliced into ½-inch thick rounds
2 large tomatoes, sliced
2-3 cups basmati or long-grain rice
1 Tbs. cinnamon
1 ½ tsp. allspice powder
Salt to taste
Freshly ground pepper
For the side soup:
Reserved stock
1 package vermicelli noodles (or ramen noodles)
1 cup frozen peas
2 cloves garlic, minced
Juice from 1 lemon
For serving:
Plain yogurt
Toasted almonds
Toasted pine nuts
First, to make the stock: Heat water in a large pot. Add meat. Skim foam until clear. Add onion, garlic, cinnamon sticks, chopped ginger, whole carrots, sprigs of fresh cilantro and parsley, salt and pepper. Reduce heat and simmer about 45 minutes, or until the meat is tender.
When cool enough to handle, separate meat pieces (taking out any larger pieces of bone) and set aside. Strain and reserve liquid.
To make the mahklouba: Brown meat in butter and sprinkle with cumin, coriander, and turmeric to taste. Place pieces in the bottom of a large, heavy-bottomed pot.
Heat oil in a large, deep skillet over medium heat. Fry potato slices until tender and remove to plate with paper towel to drain. Layer potatoes over meat pieces. Repeat frying process with eggplant slices, layering over potato. Layer sliced tomato over eggplant.
Pour rice over veggies and meat, shaking pot gently to settle into dish. Pour reserved stock over rice, slowly. You can also use half stock and half water, so that you have enough stock left over for everyone to have a side of soup. Add more stock/water if necessary to cover rice completely, plus a little more.
Cover pot tightly and simmer on medium heat until rice is soft (about 30 minutes).
Remove lid. Place large platter on top of pot and carefully turn upside down. Tap gently on bottom of pot.
Serve with a ladle of soup on top, a sprinkle of fried almonds and pine nuts, and a dollop of yogurt.