The Roots of Eat Local Week
Submitted by
mklepack
on Fri, 09/23/2011 - 15:31
Is it premature to get nostalgic about the early days of the Local Food Movement?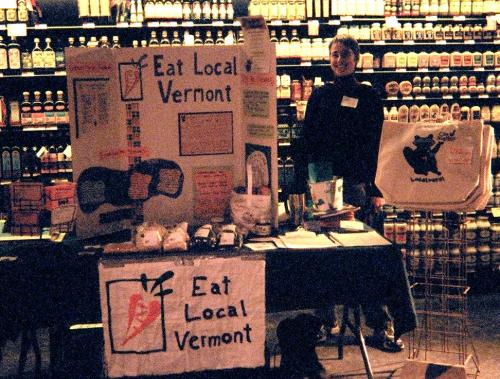 The Champlain Valley Localvore Pod tables at City Market in 2008
Back in the day (well, just 5 years ago, really), there were 9 Localvore Pods across the state. These were groups of ordinary people who wanted to know more about where their food came from and organize community resources that helped educate people on why it is important to eat more locally. They hosted potlucks, created farm directories, placed direct orders for large quantities of things like Quebec oats and local beans. 
But what these groups were most known for were their Challenges –the annual 100-Mile Challenge (also known as the Localvore Challenge) – where they asked their friends and neighbors to try only eating food growing within 100 miles of their homes for an entire month. Some groups allowed 5 'wildcards' for things like chocolate and bananas. Some groups had the 'Marco Polo Exceptions' for spices and salt that the early explorers could have carried around in their pockets.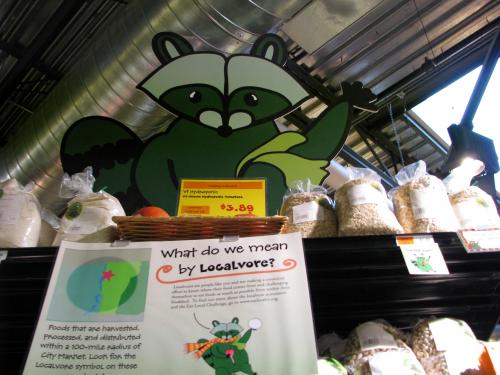 Anyone remember the localvore racoon? He's been retired for a while now.
We loved these challenges – and they made a big difference. A farmer once told me, "These localvores have done more to create demand than any state program or non-profit organization."
But, as grassroots groups do, the volunteers that drove these efforts forward lost steam or moved on to other community projects. One particularly active group – the Mad River Valley Localvore Pod – is the only one that still maintains an active website but no longer hosts challenges.
When the Burlington pod dissolved a few years ago, City Market picked up the reigns. We just couldn't have a fall go by without celebrating the local harvest!
Then, starting last fall, we tried something new – rather than the month-long challenge of standing in our kitchens alone trying to create 3 all-local meals a day, we wanted a community wide celebration.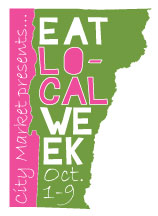 Burlington's celebration of local food is now known as Eat Local Week. We've got events hosted by businesses and farms across town. This year at each event, enter our drawing to win a $300 gift card to City Market or $200 to the Burlington Farmers' Market. With a home brew workshop, a pie-making class, a farm tour, and much, much more, it'll be a week of good eating, local farms and lots of fun.