It's that time of year again...
Submitted by
choman
on Wed, 11/17/2010 - 13:28
I've been asked to write a column on baking substitutions for the December Onion Skin. Serendipitously, I ran across this recipe for cookies over on 101 Cookbooks. Can you guess what kind of flour they're made of?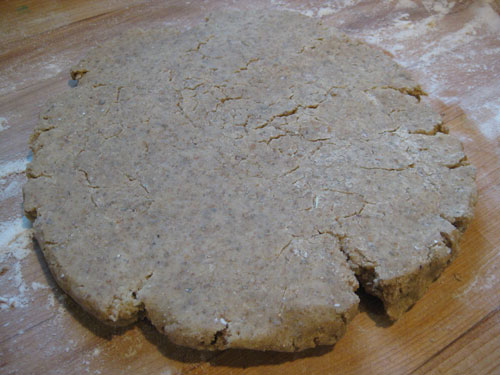 Shortbread cookie dough with local flour
Rye flour, isn't that interesting? Thumbing through a few different cookbook classics, I discovered that this recipe is indeed a straight-up substitution of rye flour and cream cheese in a basic shortbread cookie.
I didn't make any changes to the sugar content, because a shortbread cookie is low in sugar to begin with, with a flour:sugar ratio of 4:1. And the fat provided by the butter and cream cheese, you ask? Well, those good-quality fats slow the absorption of the carbohydrates and keep you from eating too, too many.
Most importantly, though, I got to play around with our local rye flour from Butterworks Farm.
I brought some of these cookies in to work, and everybody liked them. (They passed the kid test, too – Nikolas and his friends gobbled them up.) A couple of people thought they would be tasty with some kind of glaze. A maple glaze would be lovely with the nutty taste of these cookies, so I'm including a recipe below.
Oh - and one more thought. I'm going to try making these as a cracker soon, substituting olive oil for the butter and leaving out the sugar. I think that's pretty much all a cracker is. Substitution, taken to its logical and hopefully tasty conclusion....!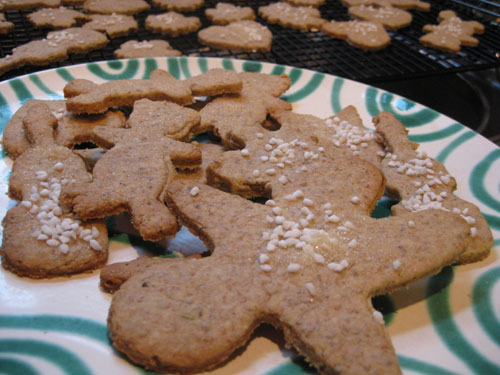 Swedish rye cookies with local flour
Swedish Rye Cookies
1 cup local rye flour
1 cup local whole wheat pastry flour (I used ½ cup all-purpose flour and ½ cup whole wheat pastry flour)
1/2 tsp. fine grain sea salt
1/2 cup cream cheese, room temperature
1/2 cup unsalted butter, room temperature
1/2 cup fine-grain natural cane sugar
large grain sugar (for sprinkling)
organic powdered sugar (for snow)
Line a couple baking sheets with parchment paper.
In a medium-sized bowl combine the flours and salt. Set aside. In an electric mixer (or by hand) beat the cream cheese until light and fluffy, add the butter and do the same, mixing until the two are well combined. Beat in the sugar and mix until well incorporated. Add the flour mixture to the butter mixture and stir only long enough to combine the two. The dough should no longer be dusty looking. Turn the dough out onto the counter, knead once or twice to bring it together, shape into a ball, flatten, wrap in plastic and chill it in a refrigerator.
Heat your oven to 350F degrees, and arrange the racks in the top and bottom thirds.. When you are ready to roll out your cookies do so on a lightly floured work surface. Roll the dough out to 1/4-inch thickness, and cut into shapes with the cookie cutter of your choice. Place on the prepared baking sheets an inch apart, and sprinkle each cookie with a bit of large-grain sugar. Bake for six or seven minutes, just until cookies are fragrant, and getting a bit golden at the edges - avoid over-baking or they will come out on the dry side (they make take longer in some ovens; in my oven they took twice as long). Allow to cool, and dust cookies with a bit of powdered sugar or a maple glaze, if desired. Makes dozens of small cookies.
Adapted from 101 Cookbooks
Maple Glaze
2 Tbs. unsalted butter
1/4 cup pure maple syrup
1 cup confectioners' sugar
In a small saucepan, melt butter and syrup together over medium heat. Whisk confectioners' sugar into hot mixture until smooth. Brush or drizzle on cookies.
Adapted from Martha Stewart