Homemade Potato Gnocchi
Submitted by
choman
on Wed, 10/16/2013 - 12:21
How do you make gnocchi? Chef Antonino DiRuocco shows us how!
The first time I tried to make gnocchi, I was 22, living abroad, and a vegetarian. I had no idea how to cook, yet alone to make Italian specialties, but I had it in my head that I would make spinach gnocchi and pictured myself reclining with a plate of perfectly fluffy, bright green gnocchi (because despite the starchiness of the object of my desire, these would be not only delicious, but also HEALTHY, darn it!). Hours later (it may have been 10 or 11 p.m. by this time) - every surface of my small studio apartment was covered with gnocchi and flour as I, in my foolishness, had tried to simply fold in watery spinach and then kept adding more and more flour until I had a massive amount of dough (was it too wet? too dry? by this point, I had no idea. Perhaps another egg would help bind it!). Upon boiling, these little green nuggets became a gluey mass in the pot, and it would be a long time before I could forget the smell of sodden spinach.
[If only I had taken a cooking class!]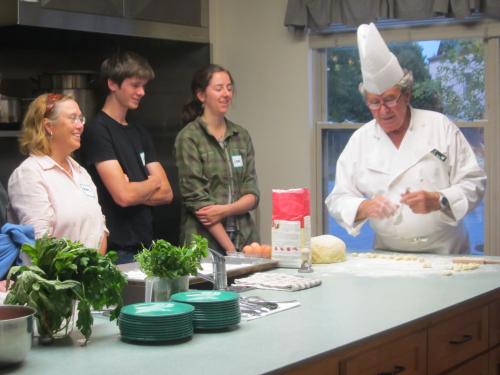 City Market homemade gnocchi class
So I was equal parts nervous and delighted when our new cooking instructor, chef Antonino DiRuocco, wanted to kick off an Italian cooking series with homemade Italian gnocchi. Pillowy and soft, these were EVERYTHING you dream of in gnocchi, and the recipe worked beautifully. Starting with cooked potatoes (and they must be warm when you mix the dough), you combine the ingredients and make a dough that looks not unlike bread dough. The same way you can get a feel for your bread dough by kneading it a few times, this gnocchi dough was mixed and kneaded on the counter just a couple of times until it stayed together in a ball and had that shiny, springy look that all great dough has.
Next, Tony showed us to how roll pieces of the gnocchi dough into a long snake about 1 inch in diameter, and then to cut off 1/2-inch pieces. But the real skill was in getting those little grooved marks on them, as Tony shows us in the video.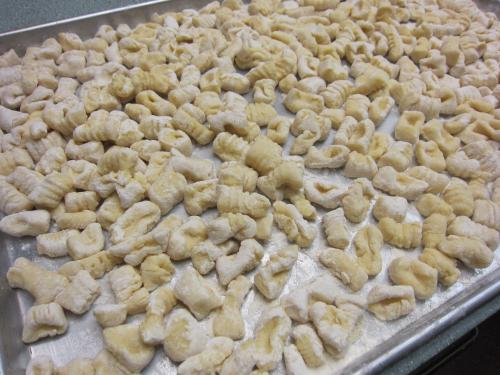 Gnocchi shaped by participants in the gnocchi class - ready to be boiled
Tony served them with homemade marinara sauce and homemade pesto sauce.
Potato Gnocchi
This recipe for homemade potato gnocchi was taught in a City Market class on Italian cooking with chef Tony DiRuocco. It's delicious with basil pesto or marinara sauce.
1 ¾ pounds large purple potatoes or yellow (Yukon) potatoes, scrubbed
1 large egg
1 tsp. salt
¼ tsp. freshly ground white pepper
2 cups unbleached all-purpose flour, or as needed (plus extra for flouring work surface)
¼ cup salt
Place the potatoes in a large pot with enough cold water to cover. Bring the water to a boil and cook, partially covered, until the potatoes are easily pierced with a skewer but the skins are not split, about 35 minutes. (Alternatively, the potatoes can be baked in a preheated 400-degree oven until tender, about 40 minutes.)
Drain the potatoes and let them stand just until cool enough to handle. (The hotter the potatoes are when they are peeled and riced, the lighter the gnocchi will be.) Working quickly and protecting the hand that holds the potatoes with a folded kitchen towel or oven mitt, scrape the skin from the potato with a paring knife. Press the peeled potatoes through a potato ricer. Spread the riced potatoes into a thin, even layer on the work surface, without pressing them or compacting them. Let them cool completely.
In a small bowl, beat the egg, salt, and pepper together. Gather the cold potatoes into a mound and form a well in the center. Pour the egg mixture into the well. Knead the potato and egg mixtures together with both hands, gradually adding enough of the flour, about 1 ½ cups, to form a smooth but slightly sticky dough. It should take no longer than 3 minutes to work the flour into the potato mixture; remember, the longer the dough is kneaded, the more flour it will require and the heavier it will become. As you knead the dough, it will stick to your hands and to the work surface: Repeatedly rub this rough dough from your hands and scrape it with a knife or dough scraper from the work surface back into the dough as you knead.
Wash and dry your hands. Dust the dough, your hands, and the work surface lightly with some of the remaining flour. Cut the dough into six equal pieces and set off to one side of the work surface. Place one piece of dough in front of you and pat it into a rough oblong. Using both hands, in a smooth back-and-forth motion and exerting light downward pressure, roll the dough into a rope ½-inch thick, flouring the dough if necessary as you roll to keep it from sticking. (When you first begin making gnocchi, until your hands get the feel of the dough, you may find it easier to cut each piece of dough in half to roll it.)
Slice the ropes into ½-inch thick rounds. Sprinkle the rounds lightly with flour and roll each piece quickly between your palms into a rough ball, flouring the dough and your hands as needed to prevent sticking. Hold the tins of a fork at a 45-degree angle to the table with the concave part facing up. Dip the tip of your thumb in flour. Take one ball of dough and with the tip of your thumb, press the dough lightly against the tines of the fork as you roll it downward toward the tips of the tines. As the dough wraps around the tip of your thumb, it will form into a dumpling with a deep indentation on one side and a ridged surface on the other. Set on a baking sheet lined with a floured kitchen towel and continue forming gnocchi from the remaining dough balls. Repeat the whole process with the remaining pieces of dough. At this point, the gnocchi must be cooked immediately or frozen.
To Cook Gnocchi:
In an 8-quart pot, bring six quarts of water and ¼ cup of salt to a vigorous boil over high heat. Drop the gnocchi into the boiling water a few at a time, stirring gently and continuously with a wooden spoon. Cook the gnocchi until tender, about 1 minute after they rise to the surface.
Remove the gnocchi from the water with a slotted spoon, draining them well, and transfer to a wide saucepan with some of the sauce to be used. Top with remaining sauce and serve.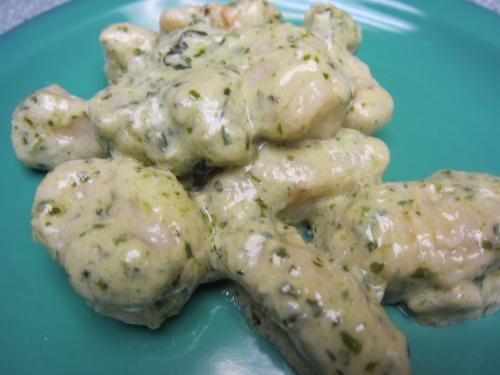 Gnocchi with pesto cream sauce