Roasted Butternut Squash with Lentils & Goat Cheese
Summary
| | |
| --- | --- |
| Yield | |
| Source | Adapted from The Sunday Times |
| Prep time | 1 hour |
| Cooking time | 30 minutes |
| Total time | 1 hour, 30 minutes |
Description
The tangy freshness of goat cheese pairs beautifully with rich butternut squash.
Ingredients
3 1/2 cups
squash, butternut
2
rosemary, fresh (sprigs or 1 teaspoon dried)
1 tablespoon
balsamic vinegar
Instructions
Preheat oven to 350°F and line a baking pan with parchment paper. Peel onions and slice in half. Dice one of the onion halves and set aside. Cut each of the remaining halves into large chunks. Place red onion chunks and cubed butternut squash on the baking sheet, season well with salt and pepper, scatter with the leaves from one sprig of rosemary and splash liberally with olive oil. Put in the oven for 40-45 minutes, stirring occasionally, until the squash and onions are soft.
Meanwhile, heat 2-3 Tbs. olive oil in a saucepan, then add the diced onion, celery, garlic and bay leaf, plus the chopped leaves from the other sprig of rosemary. Cook over a gentle heat for about 5 minutes, until the vegetables have softened. Add the lentils and 4 cups of water. Bring to a boil, then simmer for about 30 minutes, until the lentils are just soft.
Drain off all but about ¼ cup of the cooking liquid, then add ½-1 tsp. salt and a sprinkle of freshly ground pepper. Stir in the vinegar and 2 Tbs. olive oil.
Divide the lentils between four bowls and scatter the top with the onions, squash and any oil and rosemary from the baking tray. Dot with a few clumps of the goat's cheese, and add a splash more olive oil, if desired.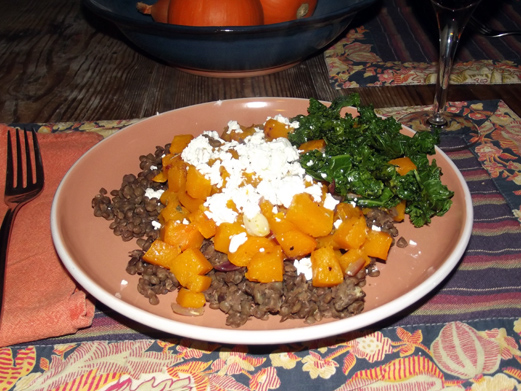 Notes
Try using red lentils for a creamy consistency and French lentils for a firm consistency.
Apple cider vinegar works well as a substitute for balsamic vinegar.