The Cabbage Patch
Submitted by
choman
on Tue, 11/29/2011 - 14:20
Is there any plant that we have more examples of than brassicas in the Produce department? If so, I would love to know. We eat the roots, stems, leaves, buds, flowers, and even the seeds – in the form of spices and oils – of brassicas, a genus of the mustard family. Or simply "cabbages," as many people call them.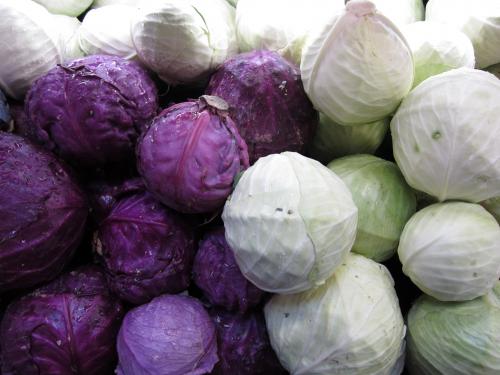 Red and green cabbage (Lewis Creek Farm in Starksboro & Pomykala Farm in Grand Isle )
From roots like horseradish, rutabagas and turnips, to stems like kohlrabi, leaves like kale and cabbage, and flowers like broccoli and cauliflower, brassicas have it all. A Kindergarten class could do a whole lesson on "plant parts we eat" and never leave the brassicas.
I was amazed to learn that canola oil is made from rapeseed, a bright yellow flowering member of the brassica family, whose name derives from the Latin word for "turnip," rapa or rapum (and is still evident in the name "broccoli raab").
Brassicas are high in Vitamin C, which is why in the wintry climates of Eastern Europe, in particular during the Cold War when tropical produce like oranges did not make it into Soviet-controlled areas, people were still able to get enough Vitamin C. Culturing cabbage by making sauerkraut increases the Vitamin C and makes its other vitamins and minerals more available to our bodies, in addition to providing a healthy dose of probiotics to keep our digestive systems running.
And kale is simply wondrous, nutritionally speaking. Dark, leafy green, it has not only healthy amounts of Vitamin C, but beta carotene, Vitamin K, and minerals like calcium and iron. And all the brassicas are high in fiber. But mostly what I love is how fresh they taste, especially this time of year, when it's often the last green plant standing.
I've been noticing many beautiful local brassicas in the Produce department. A hearty, cold-resistant crop, brassicas are perfectly suited to Vermont growing conditions. Here are some stand-outs.
ROOTS: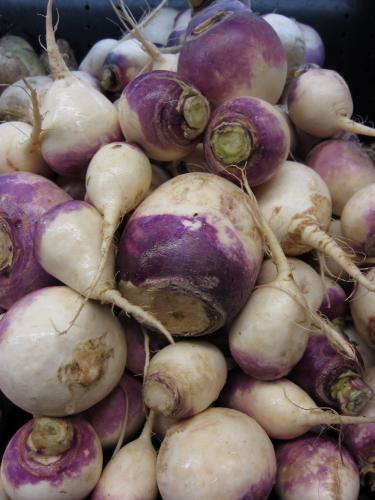 Purple-top turnips (Riverberry Farm in Fairfax) - I love them mashed with potatoes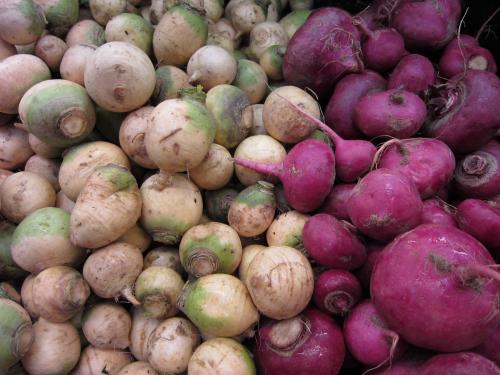 Golden-top turnips and scarlet turnips (Pete's Greens in Craftsbury and Riverberry Farm)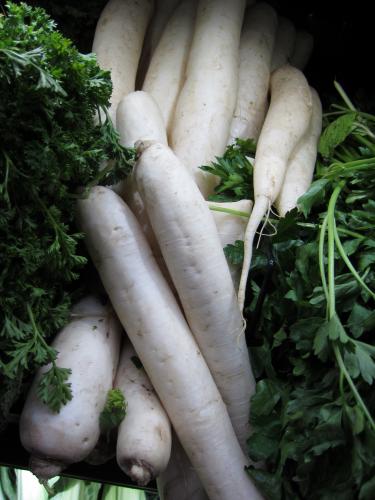 Daikon radish (Dog River Farm in Berlin and Littlewood Farm in Plainfield) - I grate a little alongside carrots in a salad with miso dressing
STEMS: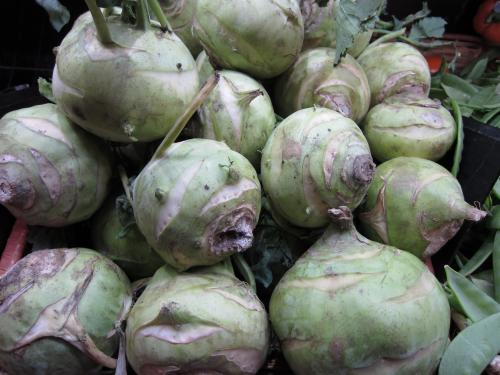 Kohlrabi (Lewis Creek Farm) - adds crunch to salads; add to a Waldorf-style salad with apples and walnuts
LEAVES: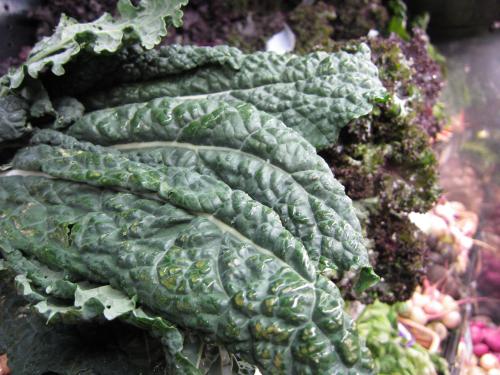 Lacinato kale and curly-leaf kale (Miskell's in Charlotte and Riverberry Farm) - make "massaged kale" salads, or steam with a little garlic and add olive oil and sea salt at the end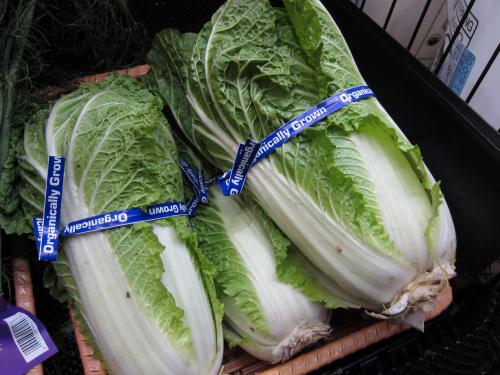 Napa cabbage (Riverberry Farm): The classic cabbage in Korean kimchi; it's also great in stir-fries
FLOWERS: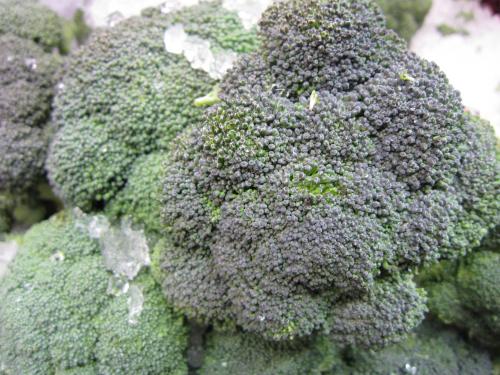 Broccoli (CA) - Steam it and add a little butter and sea salt at the end.
BUDS: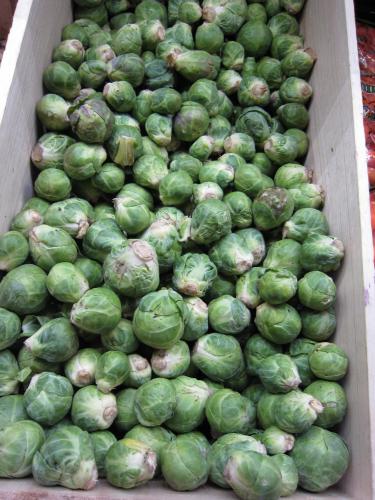 Brussels sprouts (CA): Delicious roasted with olive oil, salt, and pepper - and dare we say bacon??
Massaged Kale Salad with Asian-Style Peanut Dressing
from Meg Klepack, Outreach & Local Food Manager
"All the massaged kale salad recipes I've found use a simple olive oil and sea salt dressing. Bored with olive-oil coated kale, I had an epiphany – I could use any of the more interesting dressings I make for green salads for a massaged kale salad. I stole an Asian-style peanut dressing from another recipe and the result was pure kale bliss. If peaches aren't in season, you can easily substitute apples. Feel free to use walnuts or sunflower seeds in place of pepitas."
1 nice big bunch curly green kale, raw
1 peach (or apple)
1/4 cup pepitas, toasted
¼ cup feta cheese
for the dressing:
1/4 cup rice vinegar
1/4 cup soy sauce
3 Tbs. plain yogurt
4 tsp. fresh ginger
4 tsp. sesame oil
4 cloves garlic
1 Tbs. peanut butter
2 tsp. chili-garlic sauce
1 1/2 tsp. brown sugar
Throw all the dressing ingredients into a blender or Cuisenart and puree until smooth. Rip or chop the kale into nice bite-size pieces. Drizzle the dressing over top of the kale until it is nicely moistened, but not so much that it pools in the bottom of the bowl (you'll probably have more dressing than you need for 1 batch of the recipe). Using your hands, massage the kale for 2-3 minutes until it is bright green and slightly softened. Dice the peach into nice sized chunks and sprinkle overtop. Add the pepitas and small chunks of feta cheese. Don't toss the salad before serving – the peach, pepitas and feta cheese fall to the bottom and the presentation is much more beautiful if they are layered on top of the green kale.