Feeding Chittenden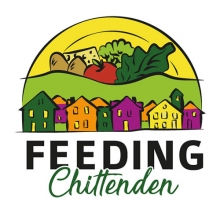 Over the last year, Feeding Chittenden has pivoted from a congregate meal site to curbside pickup of pre-bagged and boxed groceries, as well as increased deliveries to older adults, people who have a disability, are sick or injured, or are unable to leave their home. Additionally, a hotline for emergency deliveries was created to get immediate hunger relief to households who could not visit our location and had nowhere else to turn for help. 
Feeding Chittenden is evolving from a Food Shelf to a Food Access Center, with the intent to reduce barriers for vulnerable Vermonters in need of assistance, including New Americans, Veterans, BIPOC communities, people experiencing homelessness, and children. Feeding Chittenden is helping to coordinate communities of practice around culturally responsive foods with the intent of introducing a more inclusive, human centered approach to food distribution. Our order-ahead online system will allow community members to go to our website, select the foods that best meet their needs, and then schedule a time to pick up groceries at our location in the Old North End or have them delivered right to their door. We are currently piloting this initiative with other programs within Champlain Valley Office of Economic Opportunity, our parent organization.
While our Food Shelf is our flagship program, we also operate the following programs and services:
Home Grocery Delivery: help older adults and people who stay at home due to limited mobility or fragile health access our services through deliveries of groceries and prepared meals.
Food Rescue: fight food waste locally by working with local grocers, markets and farmers to save ~10,000 lbs of edible, nutritious food every month.
Hot Meal Program: provide a warm breakfast to-go each weekday morning.
Community Kitchen Academy: provide culinary job training and support to people who are un-employed through a partnership with the Vermont Foodbank.
Good Food Truck: serve meals, groceries and outreach services in collaboration with our CKA program.
Garden/Nutrition Education: Use our recently built raised beds to provide education around growing food and the nutritious details of each crop. Use the space around the raised beds  for educational workshops and seedling giveaway. 
Job Summary:
Volunteer opportunities include:
Packing fresh and nonperishable food items for grocery distribution
Re-packing bulk items like coffee and fresh lettuce greens donated by our local farmers
Helping to package orders and deliver food through our new Order Ahead program
Assisting folks who are receiving groceries
Helping to prep and distribute breakfast
Delivering groceries to older adults and people with disabilities through our home delivery program
Rescuing food from local grocery stores and delivering to Feeding Chittenden
Hosting virtual and/or physical food drives
Advocating for increased food access and food security
Learn more and access the required volunteer application by visiting their volunteer page: https://feedingchittenden.org
Note: Currently their volunteer shifts range from 2-4 hours, once a week. There are also opportunities to combine program duties. For example: one can do a food rescue run and work in grocery distribution after they drop it off.