The Farm at VYCC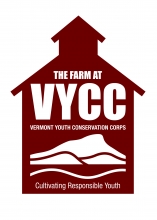 The Farm at VYCC (Vermont Youth Conservation Corps) is a non-profit, educational farm that develops youth leaders through experiences in sustainable agriculture. The majority of the food produced is distributed to Vermonters experiencing food-insecurity through our Health Care Share, an innovative CSA (Community Supported Agriculture) partnership with local hospitals. Working together, we provide a weekly share of fresh vegetables and poultry to around 400 families in need throughout Vermont. Through cultivating responsible youth, we work together to feed and educate our community!
Job Summary:
Depending on the season, VYCC needs volunteers to help with the following tasks:
Seeding
Greenhouse work
Greenhouse construction
Preparing fields for summer crops
Planting
Harvesting
Packing Health Care Shares
Washing produce
Processing chickens*
Canning/preserving
*If interested in processing chickens, please indicate that in your email or phone call.
Mid May through June, VYCC needs volunteers Tuesday, Wednesday, and Thursday from 9am-12pm and 1pm-4pm to help get ready for the Health Care Share season. July through September, volunteers are needed on Tuesdays and Wednesdays during the same time shifts to help with harvesting (Tuesdays), packing health care shares (Wednesdays), washing produce (Wednesdays), and other field projects.
If interested in helping us out, click the link below to fill out an interest form or email Susie at volunteer@vycc.org with your availability.