Age Well Community Partner Volunteer Program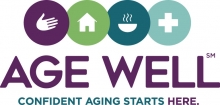 For more than 40 years, Age Well (formerly CVAA) has provided services and support that allow older Vermonters to stay independent, and remain healthy at home, where they want to be. Age Well integrates community resources, health services, and wellness programs to enhance and improve the quality of life for older adults (60+) in Northwestern Vermont. Since 1974, Age Well has been part of Vermont's Area Agencies on Aging, coordinating services and care for Addison, Chittenden, Franklin, and Grand Isle Counties.
Age Well's offerings and services include: Care & Service Coordination, Senior Helpline, Friendly Visiting Volunteers, Meals on Wheels, Community Meals, Wellness classes such as Tai Chi, Medicare Counseling, and much more. Delivered by staff members and over 1,000 incredible volunteers, our sought-after services are designed to meet the diverse needs of our clients, their families, and caregivers. They do not charge for services provided. As a nonprofit, they rely on donations and encourage clients to contribute if they are able to do so.
Job Summary:
There are several ways to give your time to those who need it most. Opportunities to volunteer are available in Addison, Chittenden, Franklin, and Grand Isle including:
Delivering Meals on Wheels
Veterans visiting other veterans
Transportation to Medical appointments
Friendly visits
Grocery shopping
Budgeting assistance
Special events
Contact Info:
For more information, please visit: https://www.agewellvt.org/giving-back/volunteer
Contact: Laura Need, Volunteer Coordinator: 802-662-5273 or volunteerservices@agewellvt.org
 
Please note: Age Well Meals on Wheels volunteers deliver meals every morning Monday-Friday and our Friendly Visiting Volunteers assist clients M-F between the hours of 8:00 am and 4:30 pm. They do not have availability for volunteers in the evenings or on the weekends.