November & December South End Member Artist: Lydia Ode
Submitted by
aluedersdumont
on Fri, 11/01/2019 - 15:15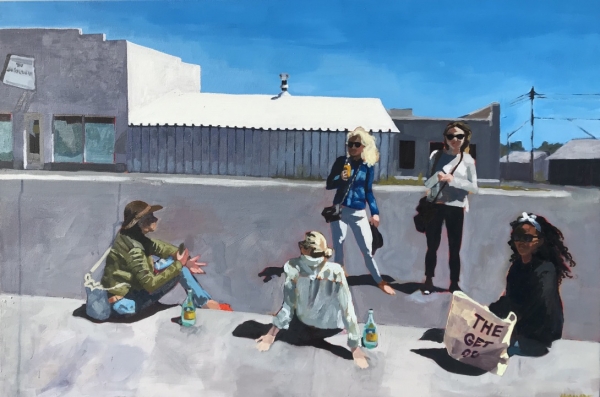 I'm in it for the color and light. I'm drawn to physical structures, rigid forms and, more recently, people. I find beauty in everyday moments, and I work to capture those moments to create a sense of place in my work.
I grew up in Burlington, Vermont and live here now with my husband and two children. I studied at the Rhode Island School of Design where I completed the first year foundation studies. I graduated from  Middlebury College where I studied Art History— and just about everything else. While at Middlebury, I created large scale oil paintings of cityscapes, construction equipment, and industrial structures. I took a break from art after college and worked in the kitchen at a ranch, fashion marketing in Vermont and financial services in San Francisco. I'm now back in Vermont, a relatively new mother, and I'm currently painting what I call 'people-scapes'— and other things!  I'm having so much fun.
Commissions: I do commissions, but not all of those I have completed are posted on my website. If you're interested in one, please contact me directly and we can discuss details! I've painted everything from summer cottages and pets to hockey coaches and rappers. I paint for occasions such as anniversaries, birthdays, Mother's Day and Father's Day, and baby and bridal showers.
To learn more or inquire about a piece contact:
Website: www.lydiaode.com
Instagram: @lydia_ode
Email: lydiaode.art@gmail.com