May Featured Member Artist - Laura Smith
Submitted by
lcosgrove
on Thu, 05/03/2012 - 11:40
In Search of Puella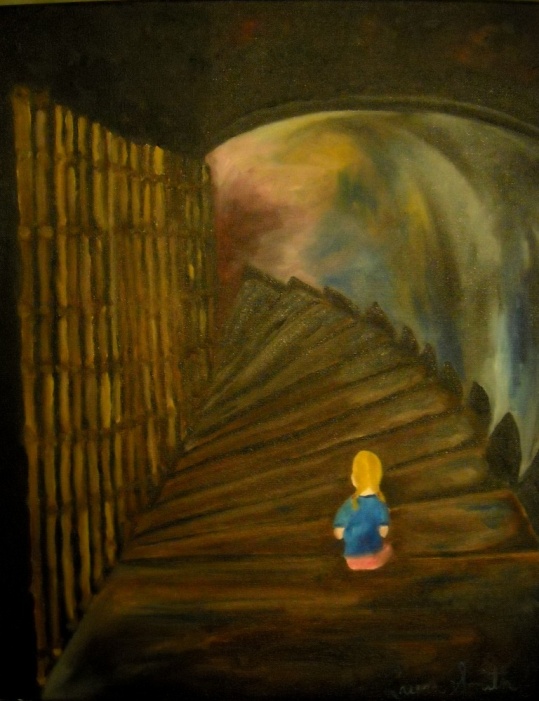 Oil Paintings at City Market
Laura Smith is a farmer, civil servant and dreamer who lives in an intentional community in Huntington, Vermont. She is a student of Archetypal Dreamwork at the North of Eden Center for Archetypal Dreamwork in Montpelier, Vermont.
She has this to say about her work:
In March of 2011, I dreamed that the Anima (female divine Archetypal figure) was teaching me how to paint as we painted together. In the dream, I felt incredible support and love in my place of child-like creativity with her. I felt very close to her, like she really cared about me. It was like she had all the time in the world for me and it didn't matter if I made a mistake. During a particularly difficult spot in my dreamwork, my dream therapist suggested that I draw or paint an image from the dream. This opened the door to a previously unexplored part of me. I think of this new found creativity as a gift of the dreamwork; something unexpected and profoundly moving for me, a place to deeply explore and feel into what the dreams bring.
All of the work shown here is inspired by my dreams. Each of my images holds the purity and intention of a dream. Carl Jung said that art is the language of the soul, that the dream is the truth. Our soul can't speak to us in words in an intellectual way. The dreams speak to us in images and, through the dreamwork, we are invited to feel into what they show us. My artwork is an expression of my soul journey.
I also write about my journey in Archetypal Dreamwork on my blog at www.insearchofpuella.blogspot.com. The rest of my artwork may be viewed there. To inquire about purchasing paintings, please contact me at 802-734-0180, or e-mail laura@starkhollowfarm.com. To find out more about Archetypal Dreamwork visit North of Eden's website at www.northofeden.com.