February & March Downtown Member Artist: Alyx Sellars
Submitted by
aluedersdumont
on Fri, 02/01/2019 - 09:22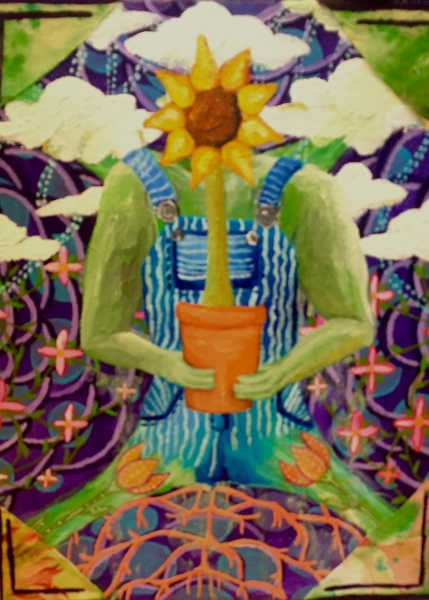 "Blessed Sustenance"
"In honor of the plants, animals, insects, flowers, elements, and people that expel endless energy to provide us with nourishment, nutrients, and full bellies.  It is too easy to forget too often how much effort it takes to grow a strawberry, tend to an apple tree, or raise a tomato plant from seed to sprout to fruit.  This series of paintings, made using acrylic paint on canvas (some pieces mixed with textiles) is an ode to all the beings that work tirelessly and with an open heart to provide us with beautiful, bountiful food."
Alyx Sellars is happy to say she lives an artist's dream come true.  Alyx was born in Anacortes, Washington at the ferry landing on the Puget Sound and was raised in Vermont.  After graduating high school, Alyx traveled through the Caribbean as well as Central America before attending The Evergreen State College on the West Coast.  There she studied creative writing and consciousness studies as well as receiving her yoga teaching training certificate through the Dharma Yoga Center.
While Alyx has many passions (yoga, writing, travel, etc.) visual arts has always been the driving force in her life's work.  Alyx has drawn on her experiences, the inspiration of human nature, and her dreams to inspire her art.  She has little expectation for any particular message to be portrayed to her audience, but rather she hopes that the pieces will move an individual and expand their perspective; ultimately, to give them something they need.  Alyx believes that art is a deep, heartfelt expression that is meant to be shared, not owned or claimed.  That is why she sees her art process as making a gift.
When Alyx moved back to Vermont and started a shared family art and music studio in the garage adjacent to her apartment, her dreams became reality.  She spends her time creating and gifting with her family and dogs in her home studio as well as teaching yoga.
To learn more or inquire about a piece please email: alyxsellars6@gmail.com