February Featured Member Artist - Art from the Heart
Submitted by
JCobb
on Mon, 02/03/2014 - 13:01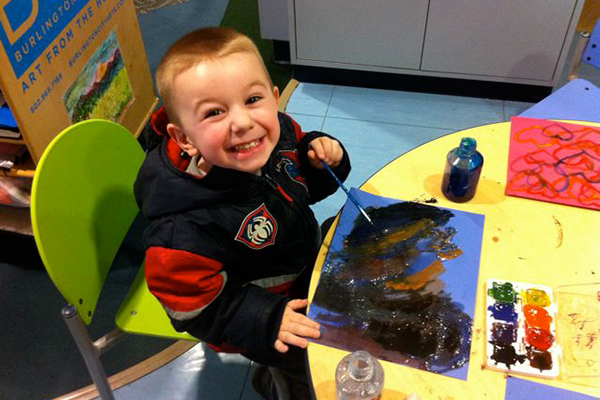 Art from the Heart is a program of Burlington City Arts in collaboration with the Vermont Children's Hospital at Fletcher Allen Health Care. With the aid of devoted volunteers, Art from the Heart helps hospitalized children feel better by providing them with time and materials to experience the joys of painting and creative work. Waiting areas, in-patient hospital rooms, exam rooms and chemotherapy infusion bays become temporary art studios for patients, families and care givers - transforming the hospital environment for over 1400 patients and support people each year.
Creating together relaxes us and supports a playful and friendly experience and perspective. When volunteers visit patients and families they offer choices and comfort, instead of poking and prodding (necessary but uncomfortable parts of hospitalized care). Family members are invited to participate or take some time for other needs while volunteers create with kids. Children who are seriously ill, needing to spend long periods of time in the hospital are painting, crafting and making paper airplanes to fly down the halls. Art projects become stories, engaging bodies and imaginations to take wings of unique dreams and visions to soar beyond the walls of a hospital room. Creativity calls kids, families, care givers and friends to be actively playful.
The World Health Organization defines health as a state of total physical, mental and social well-being not just the absence of disease or fragility. Making art in medical settings is scientifically proven to reduce pain, tiredness, emotional distress and many other aspects that negatively effect well-being, while at the same time enhancing positive emotions and communication. Since 1997, Burlington City Arts has implemented Art from the Heart in service to a wholehearted and a wholly healthy culture.
Started in 1994 by Abby Rose, Art from the Heart is modeled after the Harlem Horizon Art Studio at the Harlem Hospital Center in NY. The only program of its kind in Vermont and a model used by pediatric wards in other states, Art from the Heart volunteers visit seven days a week.  Art Kits with project ideas and supplies are available to patients around the clock, improving the physical, mental and social health of children and care givers, and helping to enhance the creative life of Burlington.
For more information about Art from the Heart or BCA's many programs in the community, visit www.burlingtoncityarts.org/art_from_the_heart or www.facebook.com/burlingtoncityarts.