August & September Downtown Member Artist: Kimberly Bombard
Submitted by
aluedersdumont
on Thu, 08/01/2019 - 07:56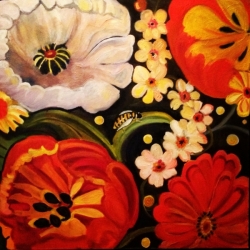 My preferred medium is oil. I love its slipperiness and tactile texture. I love delicately smoothing oranges, yellows, and light blues around a canvas.
From my very first memories, I have always seen myself as an artist. I vividly remember coloring in kindergarten: I experienced a pleasant feeling like a trance, a kind of meditation, pure joy. I still feel that way when I paint.
My process usually starts with a rough sketch with colored pastels in this phase. I work out the details there. If it doesn't look right, it is scrapped. If I'm happy with the composition, then I start with the paint.
I prefer a big fat brush when I work, pretty rough with lots of paint. The last task I perform is the background which can be a favorite part, as I like the negative spaces. Lately I have been incorporating wall paper in my work for the background.
Through the years, I have collected all sorts of ephemera. I buy wallpaper and fabric because of my love for it. I am drawn to its history, or to the graphics. It inspires me. I like patterns in the background because my style is less orderly and it gives some order to the paintings.
Sometimes I am asked how long it takes to finish a painting, which is an impossible question to answer. They are done when done. It takes hours of looking at it to decide this.
I enjoy painting still lives because it is an easy way to fall into color. I am all about color and movement. In many ways, I have been putting myself through my own school of painting where I break apart the subject, simplify it, and then put it back together.
Flowers, to me, are the opposite of still, growing and dying in a short time frame. They are perfect symbols for life, death, love, and beauty.
My brushstrokes are layered with my own internal emotions depicting how I feel when I paint the stroke, whether its happiness, sorrow, satisfaction, or love, it's all in the strokes.
In my time as an artist, I have been fortunate enough to have had many positive experiences in life and with my art. I have had numerous solo and group exhibitions as well as having been featured in various local and regional publications. Here are just a few:
Solo Exhibitions:
Trident Newbury street Boston Mass
Burlington City Arts
Spell bound
Healthy Living
Left Bank Home and Garden-Burlington Vermont
Mirabelle's - Burlington,
Teresa Davis studios @ the S.E.B.A Center - Burlington, VT
The Daily Planet - Burlington, VT
Indigo- Burlington, VT
S.E.A.B.A Gallery - Burlington, VT
Subaru Car Dealership –Burlington Vermont
South End Art Hop - Burlington, VT
Art's Alive Festival - Burlington, VT 2013 second place winner Juried exhibit'
Publications
Burlington Free Press - South End Art Hop, Arts Alive, and Featured Artist
Seven Days - Spotlight Artist and Multiple Featured Cover Artist