April & May's Downtown Member Artist: Hailey Schofield
Submitted by
aluedersdumont
on Mon, 04/01/2019 - 09:00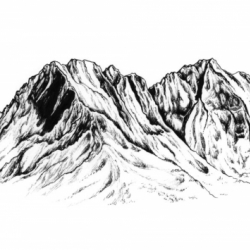 Wild Mountain Ink is created by artist Hailey Schofield in Missoula, MT. She is inspired by the mountains of the west and the beauty of wild places. With this sense of place, she renders the natural world into forms of repetition created while exploring the wilderness. Her art features a blend of realism accented with abstraction. Through this she explores her passions, spirituality, and sense of self.
Hailey Hannah Schofield's art has morphed over the years. Her art started from drawing to painting to her passion in college: printmaking. Hailey's work has returned to her love for high detailed black and white drawings.
She graduated from the University of Vermont with a Studio Art degree, focusing in printmaking and silk screening. After graduating, she went on to teach high school art and later elementary school art. Her passion is still teaching although now she is taking a break to focus on her own art career.
Her work is inspired by the mountains she adventures through. Her work shows the high contrast features of the mountains of her home and travels. Her work is all original pen and ink drawings and then her new interest, porcelain jewelry. Hailey enjoys the texture, color, and plasticity of porcelain.
Her studio and adventure dog is named Tucker, also called Tucky.
To learn more or inquire about a piece contact:
Email - wildmountainink@gmail.com
Website - www.wildmountainink.com