Co-op Kids Club
Through this program, we hope to encourage healthy eating habits for our youngest shoppers by offering a free banana to every child under the age of 12 accompanied by an adult. We encourage kids to sign up for our Co-op Kids Club by filling out a short registration form (available at our Fruit Stand, at the Customer Service desk or online) to be given to any cashier at check-out. Once a child is registered, he or she will receive an official Co-op Kids Club membership card in the mail that they can show each time they visit the store and participate in our Free Fruit Program. Additionally, Co-op Kids Club members will receive a coupon to redeem for a gift to be picked up at Customer Service during the child's birthday month.
As a member of our Co-op Kids Club, participants can also join our Co-op Explorer program! Pick up a card at Summervale, Old North End Farmers Market, Winter Farmers Market, or Drop-In Activities. Get a punch each time you attend a Kids Club event until you reach 5, then be entered to win a gift!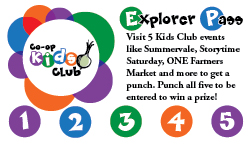 We are eager to launch this program and engage with the youngest members of our community! As part of our mission, we seek to provide access to healthy choices to all of our members and we hope this program will help us to do just that. Our Fruit stand will be located in the Produce Department during store hours. We ask that kids take a Co-op Kids Club sticker and display it at the register so that our cashiers can identify participants.  Below are some Frequently Asked Questions with more information about the program. For further questions, please contact our Outreach and Education Manager at MQuilty@citymarket.coop.
FAQs:
Q: Can I take fruit to my child who is at home, in the car, at school, etc.?
A: No, the child must be present in order to participate. This program is designed to help empower kids to make healthy snacking choices, so we do require kids to be present to choose the fruit and wear the sticker.
Q: Can I send my child over to Produce to pick a piece of fruit while I shop in a different department?
A: Due to safety concerns, children must be accompanied by a parent or supervising adult when selecting their piece of fruit.
Q: My child doesn't like/is allergic to bananas. Can he/she take a different piece of fruit?
A: We chose bananas as the fruit available in this program because they don't need to be washed and they can be easily peeled. Bananas are easy for us to source, the price is relatively stable, and the bananas provided in this program are organic and fair trade!  That said, if the child is allergic, or really dislikes bananas, they could pick a local empire apple as a substitute, after checking in with a staff member.
Q: I thought the program only covered bananas.  Why are there a different kind of fruit in the basket?
A: If there are no bananas in the basket that means that we currently don't have any appropriately ripe bananas available.  Depending on the season, other types of fruit will be provided instead.
Q: What should I do with the banana peel?
A: You have two options: you can peel the whole banana right away at the Co-op Kids Club station and compost the peel in the provided compost bucket, or hang on to the peel and compost it in our indoor café just past the registers. Thank you!
Q: What do I need to do at checkout?
A: Please make sure your child takes and wears a Co-op Kids Club sticker each time they take a piece of fruit.  Please have them wear the sticker in a visible area where the cashier can see it.  Please also point it out to the cashier, or let them know your child took a piece of fruit as part of Co-op Kids Club when you are checking out.  If your child has brought their Co-op Kids Club membership card, feel free to show that to the cashier as well.
Q: What if we are participating frequently and do not want to take a sticker every time? What should we do at check-out to let them know that we participated in the free fruit program?
A: Once your child receives his/her membership card, he/she can show that to the cashier in place of the sticker.
Q: My child is older than 12 years.  Can they still participate?
A: This program is specifically designed for kids ages 12 and under.
Q: It looks like the Co-op Kids Club banana basket is empty. What should I do? Can I select a banana from elsewhere?
A: Please check in with a Produce staff member and let them know the basket is empty so they can refill it for you. Please do not choose fruit from the larger banana display as a substitute.
Q: Why do you need my child's birthday month?
A: We will send a birthday card with a coupon to redeem a small birthday gift during their birthday month. It is optional to provide this information.
Q: We've moved since I first gave you our address. How do I submit a change of address?
A: Just fill out a new registration form (found at the Co-op Kids Club stand or Customer Service Desk) and indicate that it is a change of address. Please turn in the form at Customer Service. If you are a member, be sure to update your address for your membership as well in the case of a move.
Q: I have questions about the program. Who should I contact?
A: You can send an email to kidsclub@citymarket.coop.