Rachel Jolly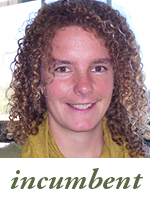 Why would you like to serve on the Board of Directors of the Onion River Cooperative?
After six years of sitting on City Market's Board, I'd be honored to serve a third (and final, per the amended bylaws) term. After serving two years as Vice President and one as Secretary, I now consider myself an experienced voice in City Market's policy governance model and I would welcome the opportunity to continue to give back to our store. When I joined in 2008, there were 2563 members; the store was looking at $23.8 million in annual sales. This July, we topped 9100 members and celebrated a justifiable boast of being the top grossing store in the nation with over $36 million in sales. While the majority of this success is attributable to the amazing staff and management of
the store, the Board helps provide a level of 'checks and balances' by ensuring that the coop achieves its ends and avoids unacceptable situations. I would like to serve on the Board because I enjoy giving back to a store of which I'm a partial owner and to a mission which supports values I share: supporting a healthy, thriving community, strengthening the local food system and supporting the cooperative model.
The work of the Board is not operational – that is, it does not deal with the daily operations of the store. Instead, the Board deals with the overall policies that identify and guide the mission of the Cooperative. How will you stay focused on the larger vision, without being distracted by the day-to-day operations of the store?
While I found this difficult in my first year or two on the Board, I'm now accustomed to the boundaries and procedures of policy governance that allow and encourage management to do its best work and a community volunteer Board to do our's. The facilitation we are lucky enough to have for each meeting in Michael Healy, a City Market member and professional food co-op consultant, also consistently keeps me on track, as does my faith in the experienced leadership of our General Manager.
What strengths and skills would you bring to the work of the Cooperative's Board?
I bring a professional and personal work history of coming to meetings prepared, on time, and ready to engage. My knowledge of how far City Market has come in the past six years and where it aims to go in the coming six helps me to provide strategic leadership and thoughtful perspectives in our meetings. The communication skills I've gained through my past work in environmental education and my current work at Vermont Works for Women allow me to be an effective team member. After almost twenty years of living in Burlington and supporting our local food system, I feel well connected to our region's farmers and products and enjoy sharing ideas when planning member and Board education events.